For nearly 60 years, AMDA College of the Performing Arts (AMDA) has been recognized for providing world-class education and training for aspiring artists. Throughout its rich history, AMDA has endeavored to foster an environment for students to develop the skills, confidence, and imagination to contribute to their community not only as creators but also as conscientious citizens of the world.
What began with a mission to train students in the core disciplines of acting, musical theatre, and dance theatre has blossomed into a multidisciplinary education spanning the varied fields of performing arts and entertainment. AMDA continues to grow and expand from its foundation, offering innovative programs to ready students for careers in the fast-changing worlds of arts and media.
Today, AMDA is one of the only degree-granting performing arts institutions offering programs in both New York City and Los Angeles. The two campuses (AMDA College of the Performing Arts in Los Angeles and the American Musical and Dramatic Academy in New York) provide students with unique opportunities to live, study, and train in two of the world's most influential entertainment hubs. Learning and artistic growth are enriched by the unique professional and cultural resources in each location, such as film and television studios, theatres, museums, galleries, libraries, and performing arts centers.
Distinctive Programs
AMDA's programs are designed to provide students with a strong foundation in the arts while giving them the tools to work and thrive in the entertainment and media industries. This approach offers numerous paths for those working toward careers in the arts, entertainment, and media, including undergraduate degrees (Associate of Occupational Studies, Bachelor of Fine Arts, Bachelor of Arts), graduate degrees (Master of Arts, Master of Fine Arts), and Conservatory Certificates. Students can choose from an array of areas of focus within each program, so they can concentrate on their passions and interests.
The programs at AMDA are rounded out by offerings for high school and college-age students to explore their talents and develop their skills. The High School Conservatory provides students from all over the world incomparable opportunities to live, train, and perform on our campuses. The AMDA Gap Program allows adult students to dive into their creative passions and experience an eight-week urban performing arts adventure like no other.
Distinguished Faculty
Mastering one's craft requires innate talent, as well as discipline and a strong technical foundation. At AMDA, students are taught, trained, guided, and nurtured through this journey by our accomplished instructors. The AMDA faculty is composed of esteemed and award-winning performers, actors, directors, musicians, and choreographers currently working in the arts and entertainment fields. The wealth of their experiences and the individual attention given to each student result in educational opportunities truly unique to AMDA.
Modern Facilities, New Technologies
Both AMDA campuses feature state-of-the-art facilities to support the educational backbone of the AMDA experience. The Performing Arts Libraries allow access to the entire history of performance and media. Students practice and hone their craft in fully equipped rehearsal studios, dance studios, and music rooms. While performance occurs in nearly every space on our campuses, both have numerous stages for everything from full-scale productions of musicals and plays to film and video screenings, cabaret-style showcases, and student-created works.
AMDA is at the forefront of adopting new technologies to enable students to create and share content through contemporary and emerging media. Students are trained in production using equipment and tech essential to the success of today's creators, artists, and innovators.
Vibrant Diversity and Culture
At AMDA, equity, diversity, inclusion, and belonging are key values reflected in the curriculum, creative productions, services, and student body. The AMDA community of artists includes students and alumni from all 50 states and more than 70 different countries. Ten percent of the student body is international.
The artistic community and culture of AMDA is informed and enhanced by the broad spectrum of students, faculty, and staff. This is evident in the classrooms, performances, student groups and activities, residence halls, and gathering places across both campuses.
Performance Is Key
A core component of AMDA training is the myriad performance opportunities offered throughout the year. These include plays, musicals, dance concerts, intimate black box performances, readings, student-initiated work, and much more. The wide array of genres, styles, and venues helps students fulfill their passion for performance in a number of environments.
AMDA students are eligible to audition for all roles in performance and productions. AMDA proudly embraces diversity-conscious, community-reflective, and inclusive casting. The gender, race, body type, and ethnicity of performers are only considered if germane to the character or story.
A Multitude of Career Opportunities
The unparalleled performing arts education at the center of the AMDA experience opens opportunities throughout the entertainment industry. Students are educated in the business of arts and entertainment, professional practices, and auditioning. In addition to receiving instruction from working professionals on campuses in industry hubs, guest speakers and auxiliary programs offer additional industry insight and expertise from some of the top names in the business, from performers to directors and producers. At the end of each semester, AMDA hosts showcases for audiences that include top agents and casting directors, giving graduating students direct connections to the next steps in their careers.
The breadth of opportunities for AMDA graduates can be seen in the thousands of alumni with prominent careers in nearly every aspect of performance and entertainment. AMDA alumni can be found working with the biggest names in media: Hulu, Fox, HBO Max, Netflix, Disney, ABC, Amazon, NBC, Warner Bros., and Comedy Central, among many others. They are behind the scenes and in the casts of Emmy-winning television shows, box office blockbusters, and the most buzzworthy Broadway productions.
The Next Leap Forward
AMDA has always sought to better serve students and prepare them for the evolving industry landscape. This can take the form of small adjustments to the curriculum to adapt to changes in the profession and the world around us, or big steps, such as the addition of the Los Angeles campus and BFA programs. Now, with change happening faster than ever, AMDA is excited to announce the latest program additions, a leap forward designed to further prepare the students of today for their careers in the future.
● Acting for Camera AOS/Certificate: The AOS and Certificate Acting for Camera programs are designed for performers interested in careers in acting for film, television, and new media. Students also develop skills for creating original content for current and emerging platforms.
● Online BFAs in Acting and Music Theatre: AMDA's extraordinary performing arts training and education are now available online to students all over the world.
● MFA in Writing for Theatre and Media: The Master of Fine Arts in Writing for Theatre and Media is a three-year program designed for students who are passionate about developing the professional-level skills necessary to conceive and create production-ready narratives.
● MA in Theatre: This intensive program is completed in one year, including three semesters of immersive courses and an original thesis project. Students graduate with highly developed skills in the analysis of theatre literature, history, and criticism.
Quotes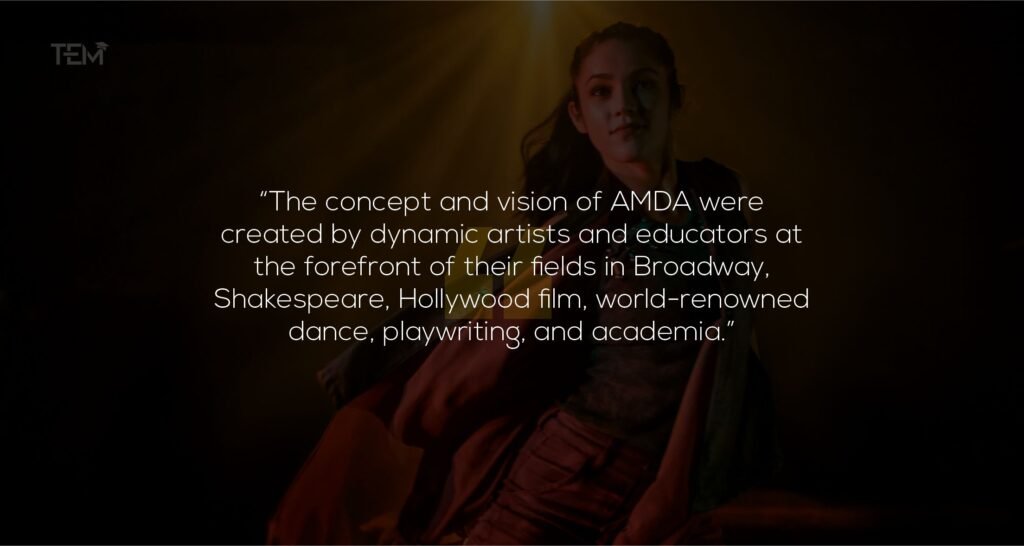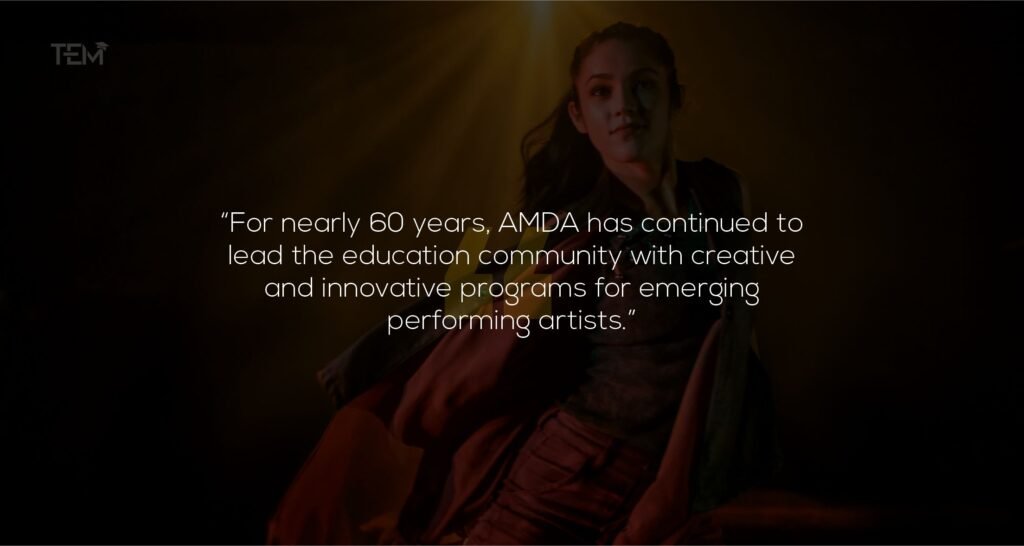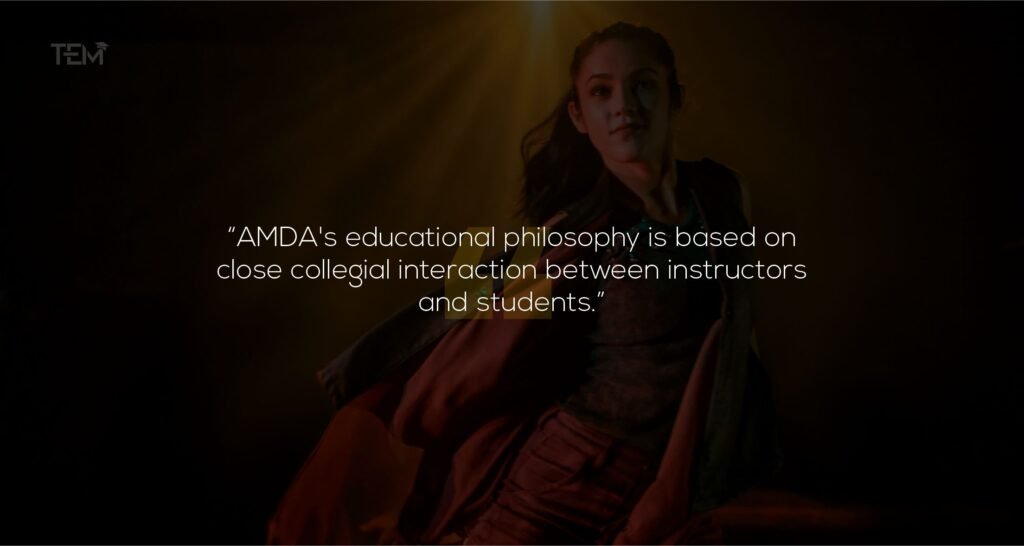 Also Read: 10 Most Prominent Arts and Science Colleges, 2022