The deadly and devastating Australian fires have destroyed more than a thousand homes and scorched millions of acres of land. Since September, at least 24 people have died while 28 tourists have been confirmed missing. Australia is a continent prone to bushfires. However, people who lived for tens of thousands of years have been familiar with fire management and how it contributes to the health of ecosystems (regenerating the land).
A lack of rain, low soil moisture, and dry weather for long can help enable small fires to grow in size. Carelessly discarded cigarettes to lightning strikes and arson are some common human errors that fuel the uncontrollable fires. People have a misconception that climate change is the main reason for forests catching fires. Greenhouse gas cannot start a fire on its own however it can make the situation worse. The Climate Council suggests bushfire conditions are now more dangerous than they were in the past. Notably, Australia experienced its hottest year on record in 2019, increased by 1.5 degrees Celsius higher than the average.
World's biggest and 5 times larger than amazon fires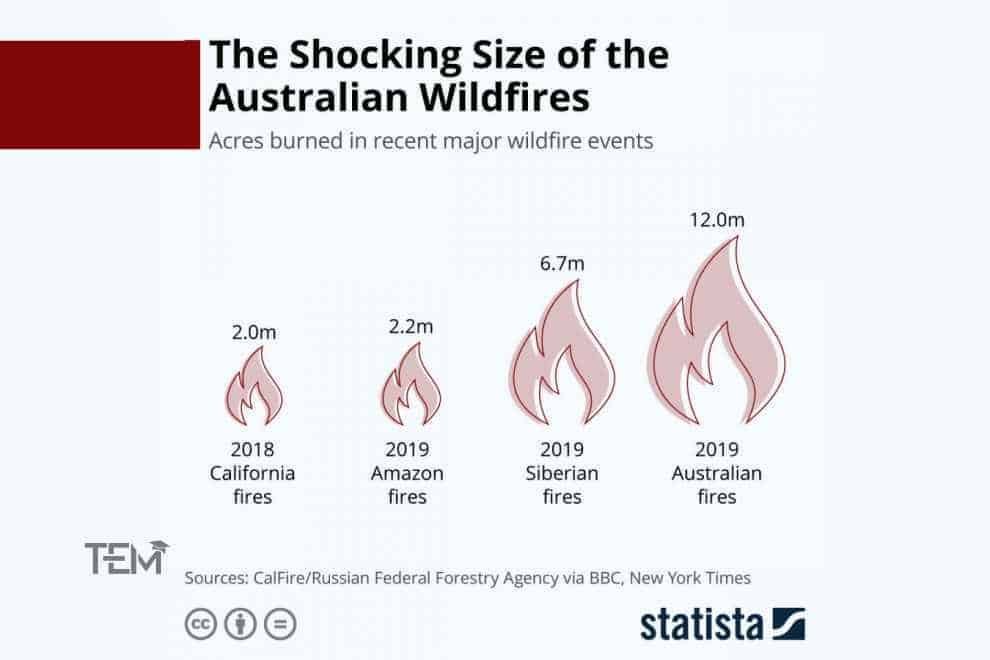 In 2019, the Amazon Wildfires not only burnt 2.2 million acres of land but also heated the internet like never before. The world's seven largest advanced economies after weeks managed to help "lungs of the Earth" with just $22 million for reforestation. While in less than 24 hours after Paris's Notre-Dame caught fire in April, $945 million had already been pledged for the cathedral's restoration.
According to the information provided by the BBC, the New York Times, as well as local fire and rescue organizations about 12 million acres have burned so far in the Australian fires. The massive fires are thinning people's survival as they are compelled to run to the coastal areas. The resulting smoke has disrupted weather patterns across the continent and has even already turned glaciers of New Zealand brown.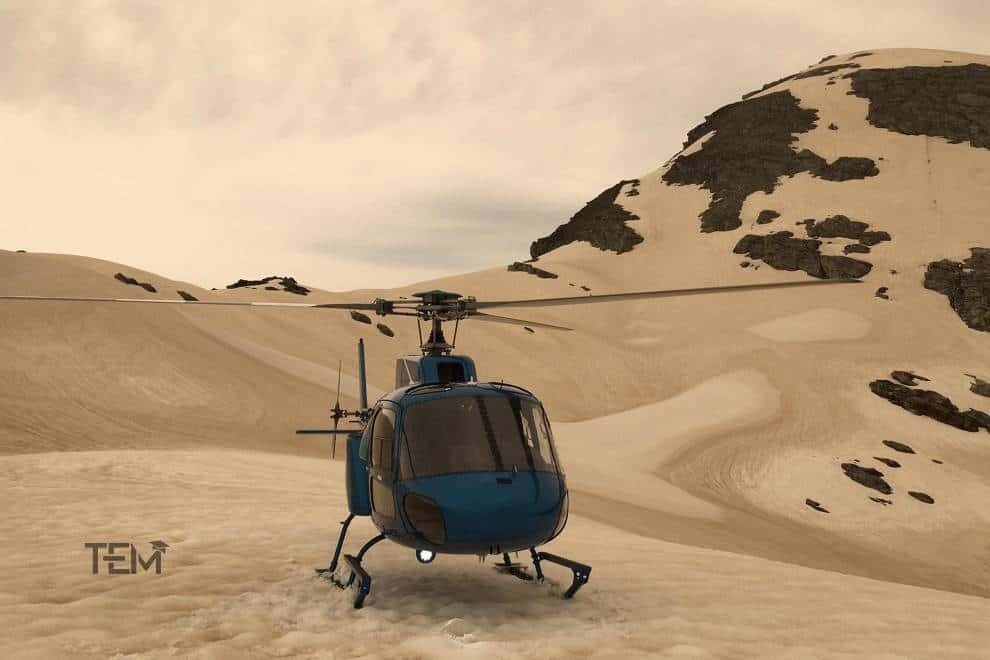 The wildfires that are current ripping across Australia are far more serious than any similar acts of nature that happened in recent years. Very few people around the world are aware of the magnitude of these fires while global media is just estimating the ongoing fire crisis. Australian fires are causing an incalculable amount of property and life loss that will test humanity for sure.
A half-billion animals killed so far
Federal environment minister Sussan Ley told ABC that Australian wildfires may have killed 30 percent of the wildlife in New South Wales. The estimation has made after been observed that 30 percent of their habitat was destroyed. Wildlife experts and ecologists from the University of Sydney have estimated that nearly a half-billion (480 million) animals have been killed directly or indirectly by the fires. The figure includes mammals, birds, and reptiles. Australian authorities warn the worst is yet to come.
Reportedly, the fires in New South Wales could be responsible for wiping out all of the Koalas, who were already endangered in the region.
Heavy rains last week gave the emergency crew a bit of help in some areas. There are still over 100 raging fires burning across the country. While the New Zealand sky turns orange due to Australia bushfire, southwest Sydney observed the air quality has been declared hazardous.
A family treated 90,000 animals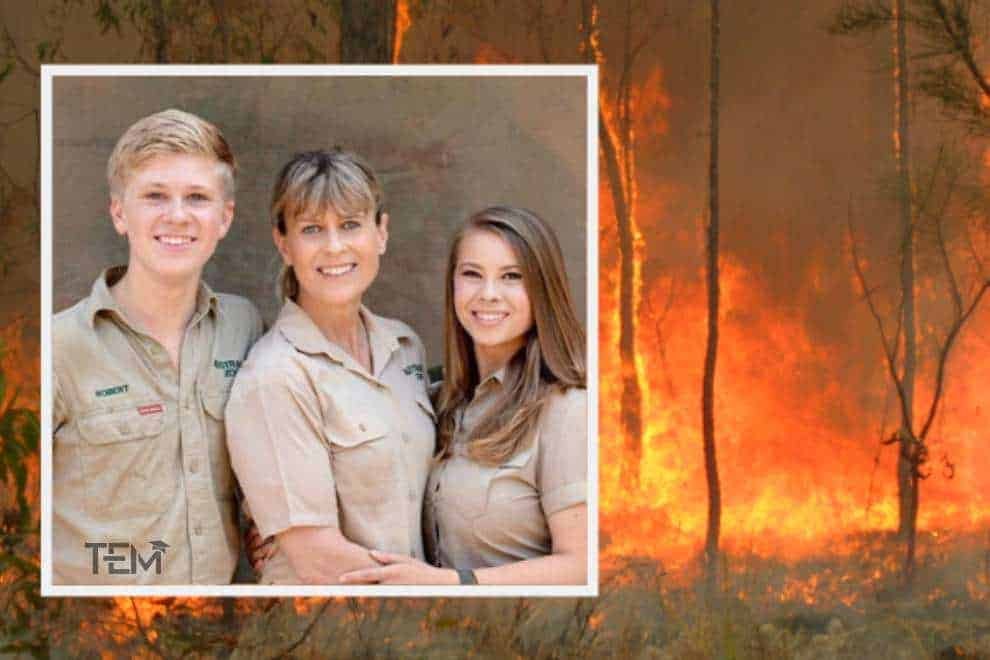 "With so many devastating fires within Australia, my heart breaks for the people and wildlife who have lost so much."
Through an Instagram post from Bindi Irwin, daughter of famous wildlife adventurer Steve Irwin, empathizing with 90,000 animals that are saved by her family from the Australian wildfire. The Irwin family has continued Steve's legacy many years after his death by rescuing animals and nursing them back to health.
The family runs Australia Zoo Wildlife Hospital, currently busier than ever treated those patients being Wildlife Warriors. Dedicated to Bindi's grandmother, the zoo has been safe from the fires so far. The zoo treats about 8,000 sick and injured native animals every year which is way less than the current number.
Terri Irwin, Bindi's mother made a post (video) on Twitter, thanking all of the supporters of the zoo.
"Our 497 staffs are SAFE. @AustraliaZoo is SAFE. Our conservation properties are SAFE. We are treating more animals at our Wildlife Hospital."
Singapore student fights fires 3 times a week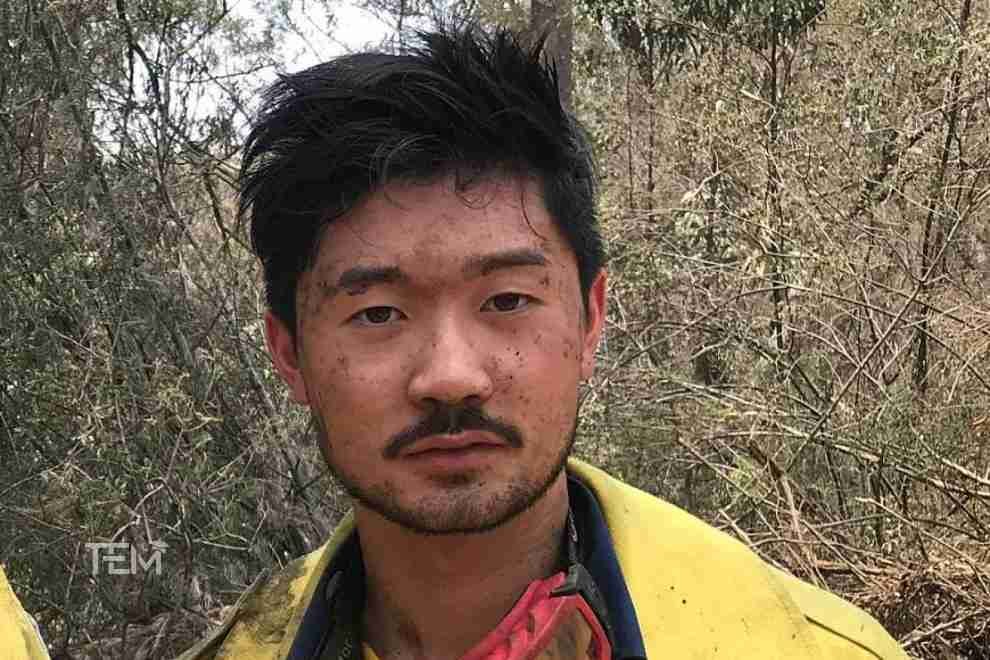 The scale of the threat is immense. While many living in New South Wales have opted to stay indoors, 22-year-old Mark Yeong dared to go into the firestorms around Sydney as a volunteer firefighter to fight the fire and save lives. People who say that migrants make no positive contribution to Australian society, Yeong will make them feel proud to have migrants like him.
This brave concept of duty as a human may teach others about the priorities. Mark Yeong is a Singaporean student at the University of Sydney who has been doing this fire job about three times a week since the end of September. He has been battling bush fires around Sydney with the Rural Fire Service.
How you can help
Australian fires are horrific and disastrous but it has brought people to think-help for the cause. The fires in a few years have heated many people across the world and have tested the humanity to learn to be helpful. Australian Red Cross is accepting donations to its Disaster Relief and Recovery Fund, which has saved many affected people and provided support to displaced people sheltering in more than 69 evacuation and recovery centers. Likewise, GIVIT, Salvation Army Australia, St. Vincent de Paul Society, and NSW Rural Fire Service are some known welfare providing organizations where you can easily show your love and generosity.