Dr. Micheal Stratton is an accomplished academic leader and the current Dean of the J. Whitney Bunting College of Business & Technology at Georgia College & State University. With a public administration and policy background, Dr. Stratton has dedicated his career to fostering faculty and staff development and promoting shared governance in academia.
Dr. Stratton's academic journey began at the Nelson A. Rockefeller College of Public Affairs at the University at Albany, SUNY, where he completed his graduate and Ph.D. studies. During this time, he recognized the importance of service and shared governance in academic leadership, emphasizing the need for well-resourced faculty and staff to support student success.
His commitment to academic leadership and faculty development led him to various roles, including Director of the MBA program at Hood College and leadership positions at UNC Asheville. At UNC Asheville, Dr. Stratton served as Chair and AACSB accreditation unit head and held multiple terms as a Senator and Senate Chair. Additionally, he was pivotal as the President of the Management and Organizational Behavior Teaching Society, guiding the organization through the challenges posed by the COVID-19 pandemic.
In 2020, Dr. Stratton joined GCSU, drawn to the institution's reputation for excellence in liberal arts education. As dean of the J. Whitney Bunting College of Business & Technology, he brings his extensive experience and expertise in academic leadership and faculty development to drive the college to new heights.
Qualities of an Ideal Educational Leader
According to Dr. Stratton, an ideal educational leader possesses several key qualities. First and foremost, they demonstrate an entrepreneurial mindset, regardless of the size or mission of the unit they lead. This mindset involves seeking strategic opportunities, asking difficult questions about what has held the team back, and empowering an innovative spirit within the organization. Dr. Stratton believes leaders should actively challenge the status quo and foster an environment encouraging creative problem-solving and forward-thinking approaches.
Humility is another important quality highlighted by Dr. Stratton. Effective educational leaders understand the importance of timing and discernment when asking difficult questions or implementing changes. They recognize that humility plays a role in knowing when and how to ask those questions and acknowledging when patience is necessary for the optimal moment to act. This humility allows leaders to listen to diverse perspectives, engage in collaborative decision-making, and build strong relationships with faculty, staff, and stakeholders.
Dr. Stratton strives to develop these qualities by fostering self-awareness. He constantly examines his leadership style and seeks feedback from others to identify areas for improvement. Dr. Stratton remains open to different perspectives, encourages constructive dissent, and values diverse ideas. He also fosters a culture of innovation by creating opportunities for faculty and staff to engage in professional development, enabling them to take risks, and supporting their creative initiatives.
Empowering Future Leaders through Liberal Arts Education
Georgia College & State University is a distinguished public institution in Georgia that holds the designation of the state's designated public liberal arts university. It is a place where students acquire the essential skills to thrive in a fast-paced and global society.
GCSU is one of three selective universities in the University System of Georgia. Its mission is to equip individuals with the skills to become leaders, problem solvers, and lifelong learners ready for successful careers. The university's educational approach strongly emphasizes critical thinking, ensuring that students develop the ability to analyze complex issues and make informed decisions.
GCSU offers various academic programs to cater to diverse interests and career goals. With undergraduate degrees available in 40 majors and a robust selection of 34 graduate programs, the university provides students with ample opportunities for specialization and advanced study. GCSU's master's programs in business administration, logistics, supply chain, and management information systems have garnered national recognition for their quality and relevance.
Throughout its history, GCSU has remained committed to delivering a high-quality education that prepares students for the challenges and opportunities of the future. The university's dedication to academic excellence, combined with its focus on liberal arts education, fosters well-rounded individuals who possess the skills, knowledge, and adaptability necessary to thrive in a rapidly evolving world.
Driving Strategic Planning and Implementation
As the Chief Academic Officer for the college, Dr. Stratton holds key responsibilities in driving strategic planning and implementation. He fosters a culture of interdisciplinary and multidisciplinary collaborations, resulting in the development of workforce-focused academic programs. Resource management and planning are crucial aspects of his role, as he works closely with the Provost and other Deans to identify curriculum innovation opportunities and redirect resources accordingly.
Dr. Stratton spearheads initiatives such as establishing new degrees, such as data science, in partnership with the College of Arts and Sciences. He also actively seeks external partnerships to create pathways for non-GCSU students to join graduate programs. With these responsibilities, Dr. Stratton is vital in advancing GCSU's mission, ensuring its educational programs remain relevant and aligned with the job market's needs.
Meeting the Changing Needs of Students
According to Dr. Stratton, students' requirements change with time, reflecting a desire for more experiential, flexible, and engaged learning. The new generation of learners, both at the undergraduate and graduate levels, seek greater choices in learning modalities and opportunities to engage with experts beyond the traditional classroom setting.
In response to these evolving needs, GCSU, under Dr. Stratton's leadership, has taken significant steps to meet students' expectations. They have launched a Center for Innovation and Entrepreneurship, allowing students to collaborate with faculty and industry experts in idea development and consultancies. This initiative fosters experiential learning and real-world problem-solving.
To provide high-impact practices, GCSU has implemented programs such as the Georgia Leadership Tour and the SAP NextGen Lab, leveraging emerging technologies to address real-world challenges. These initiatives allow students to gain practical experience and develop valuable skills in innovative settings.
Recognizing the value of seamless educational pathways, GCSU has instituted the "Double Bobcat" program, enabling highly successful seniors to enroll in graduate courses that count toward their undergraduate and graduate curricula. This initiative offers students time-saving opportunities, flexibility, and choice as they pursue careers in business and technology.
Strategies for Success in Educational Leadership
Dr. Stratton would advise budding leaders aspiring to make a mark in the educational field to learn the art of balancing patience with persistence. He acknowledges that bureaucratic obstacles are inherent in every organization, particularly in higher education, which tends to be naturally conservative. It is essential to approach these challenges with patience and persistence.
Dr. Stratton emphasizes the importance of showcasing the values of an entrepreneurial mindset and demonstrating how change can have a positive impact. By exemplifying the benefits of stepping out of comfort zones and embracing discomfort, leaders can inspire others to embrace innovative thinking and challenge the status quo.
Furthermore, Dr. Stratton believes that leaders should foster a shared culture that questions complacency and rewards innovation. Encouraging a mindset that challenges mediocrity and seeks continuous improvement is crucial for driving positive change within an educational institution.
Quote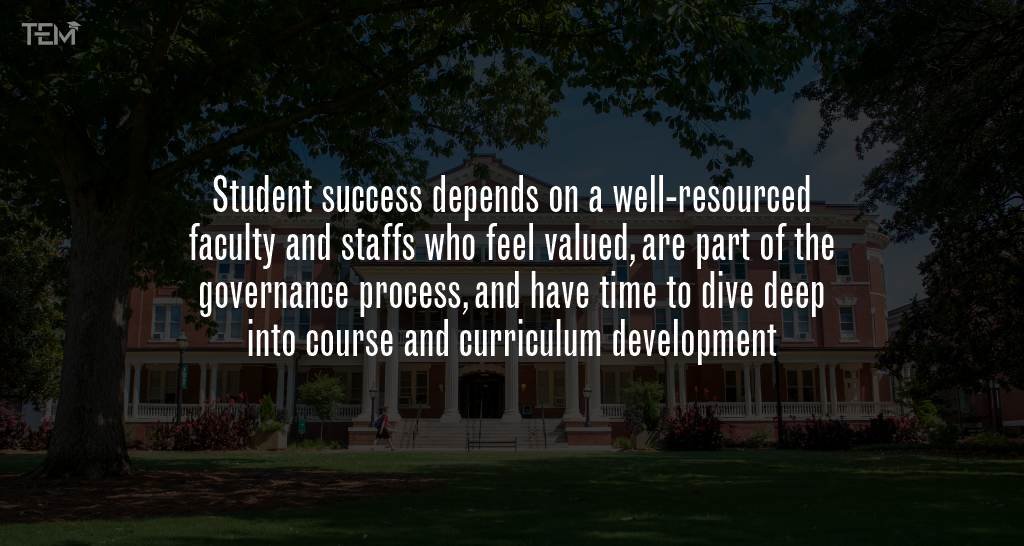 Also Read: The 10 Influential Education Leaders, 2023