Over the last 25 years, health professions education has shifted from an input to an output and outcome orientation. Medical aspirants look for universities that have given good output and results for their alumni. Institutions for health professionals' education are essential and distinctive to a country's healthcare system. They are the birthplaces of new discoveries, the training grounds for aspiring physicians, and the providers of the most intricate life-saving care. They are also a key component of public health response, as the COVID-19 pandemic demonstrated.
Over the last 24 years, Gulf Medical University (GMU) has worked tirelessly to provide new chances for its students to attain their goals and better serve the community in developing, running, and using the products of health professions education that are flexible and adaptive to the changing societal needs. GMU, which is owned and operated by the Thumbay Group and was founded by Dr. Thumbay Moideen, Founder of the President Board of Trustees, has achieved unparalleled heights by developing the skills of over 2,000 students from over 90 countries.
GMU's vision is to become a premier international academic healthcare institution by integrating high-quality health professions education, research, healthcare, and social accountability for long-term community development. The institute is also on a mission to achieve excellence by integrating health professions education, translational research, high-quality healthcare, innovation, and social accountability, all of which are bolstered by national and international relationships and community participation.
Widespread Campus
Established in 1998, The Gulf Medical University is located in the Al Jurf district of Ajman's northern emirate, on a large plot of land that stretches up to 100,000 square meters. It has laboratories, classrooms, and administration facilities, as well as a separate library and sophisticated multimedia centers. A canteen and a sports facility with lawn tennis, basketball, volleyball, cricket, and football fields are also available. Moreover, the vacant grounds at the campus have been designated for the future multispecialty hospital, student housing halls, and staff and faculty living quarters.
Courses and Offerings
The six constituent colleges of Gulf Medical University provide 29 accredited undergraduate and graduate programs in medicine, dentistry, pharmacy, nursing, biomedical sciences, healthcare management economics, anesthetic technology, medical laboratory sciences, physiotherapy, and medical imaging sciences. GMU also provides short-term certificate courses for health workforce development and career promotion. The fact that GMU has its own network of hospitals, clinics, and institutes sets it apart from its competitors. This allows students to combine academic study with practical experience..
GMU's internship program, which focuses on training and mentoring new talent, provides a unique chance for young professionals to get significant experience. The program aims to develop university/college students' business and leadership abilities while also providing them with the opportunity to work in a professional setting. As enterprises span 20+ industries, young interns from a range of backgrounds can join the program and experience the benefits of working for a diversified worldwide organization.
The GMU Mandate
GMU operates with a set mandate. The mandate is to,
Provide authentic educational opportunities for all categories of health professional students in the context of sustainable development, preparing them to successfully pursue postgraduate training and continuous professional development.
Develop leaders in health care services who can respond to the country, region, and global fast-growing healthcare needs.
Advance scientific knowledge through research and discoveries in the fields of biomedical sciences, population health, healthcare systems, and medical education.
Improve primary to tertiary health care in UAE and GCC region through its 'Academic Healthcare System, Hospitals, Clinics, and Centers of Excellence.
Emphasize GMU social responsiveness and community engagement by providing affordable and sustainable quality healthcare for different sectors of the community and promoting a healthy lifestyle.
Extra-curricular Activities
Alongside academics, the extra-curricular activities help students refresh and add something new to their daily routine. At GMU, the student affairs department's purpose is to create an inclusive, supportive, engaging, and stimulating environment that promotes academic success and personal growth for students. The Gulf Medical University strives to provide a welcoming, safe, and secure atmosphere for its students to help them achieve their educational goals. It also nurtures and keeps a diverse student body from over 90 countries, as well as provides exceptional student services to help students achieve academic success, personal wellbeing, and lifelong learning. The institution encourages students to take part in programs and activities that promote a lively campus community.
The innovative Summer Training Program prepares students to face professional challenges while also broadening knowledge spans. GMU students, indeed, have unrivaled employability. GMU includes a specialized start-up lab to promote entrepreneurship among students and alumni, as well as provides them with the resources they need to launch their businesses.
Mentorship and Individual Training
The Mentorship program of GMU is an opportunity to provide personal, academic, and/or career-related guidance to students seeking such help. The college assigns a mentor to each student after identifying the mentor they would most like to work with. Mentors are provided some guidelines and suggestions based on the growth model on how to make their interaction with the student more and more effective and add value to the entire process, aiming to achieve the goals set for each mentee. The effectiveness of such a program is measured through evaluations completed by both mentor and mentee.With the Faculty: Student 1:14 ratio, it is easier for faculty to pay attention individually.
Meeting Modern Employer Requirements
GMU's new and open strategy recognizes the role of innovation in the university's educational activities. In healthcare, advances in technology, information, and research are becoming increasingly vital. As a result, the university is transitioning from a culture of acquiring knowledge and skills in medical education to a culture of transformative learning. It has accelerated innovation by establishing the Thumbay Research Institute for Precision Medicine, Thumbay Institute for Population Health, and Thumbay Institute of Health Workforce Development, which serve as hubs for research, post-graduate training, and continuous professional development.
Career Opportunities
Gulf Medical University aspires for excellence in all activities by cultivating a competitive environment and offering the ‌resources for turning ideas into reality, making the university attractive for anybody interested in pursuing a career. Employees at Gulf Medical University have unrestricted opportunities to enhance their skills and knowledge in their fields of competence. Employees not only have a high degree of job satisfaction, but they also have several options for professional advancement and growth.
Gulf Medical University employees work with some of the greatest experts in the region— all of whom have extensive work experience both locally and worldwide—and their contributions to the company's success are highly valued. GMU is presently one of the region's most rapidly rising global conglomerates. A career at GMU will extend horizons and improve professionalism.
Quote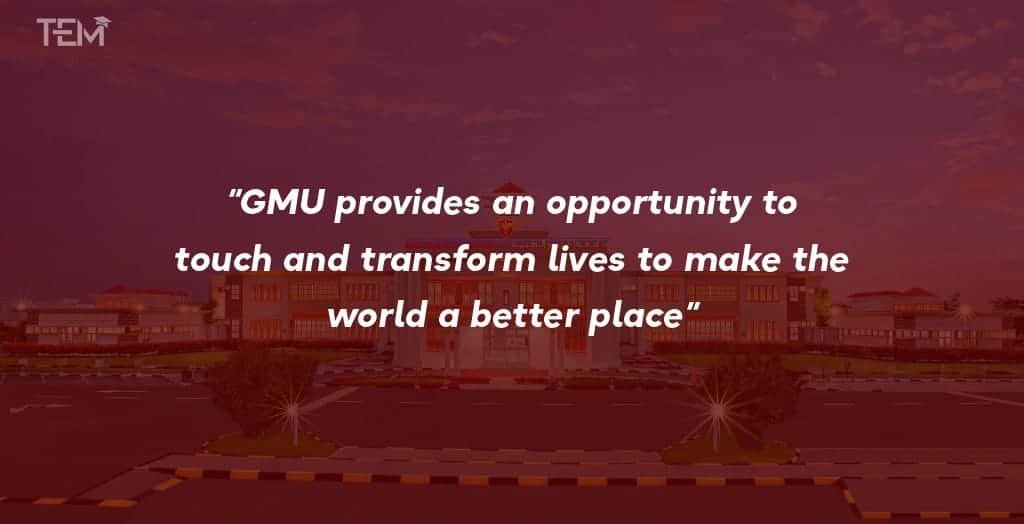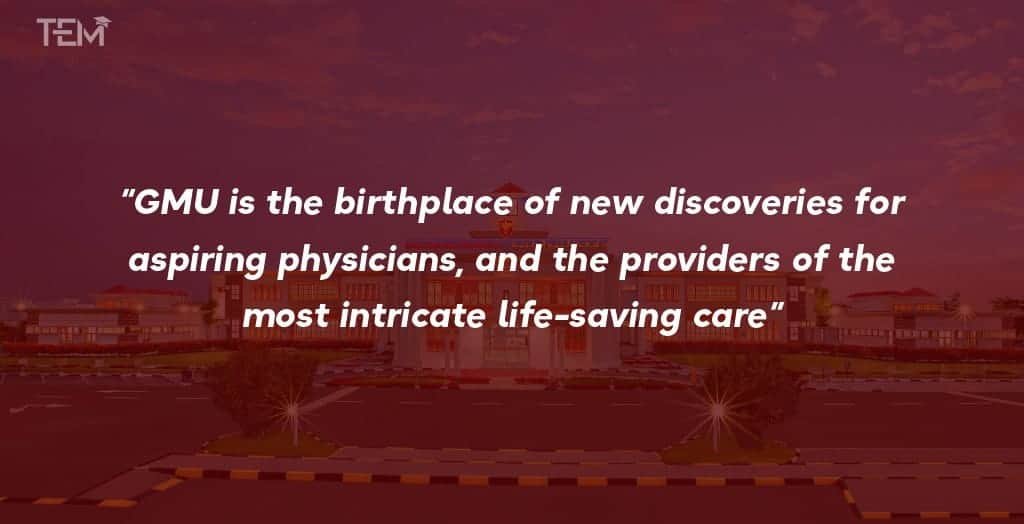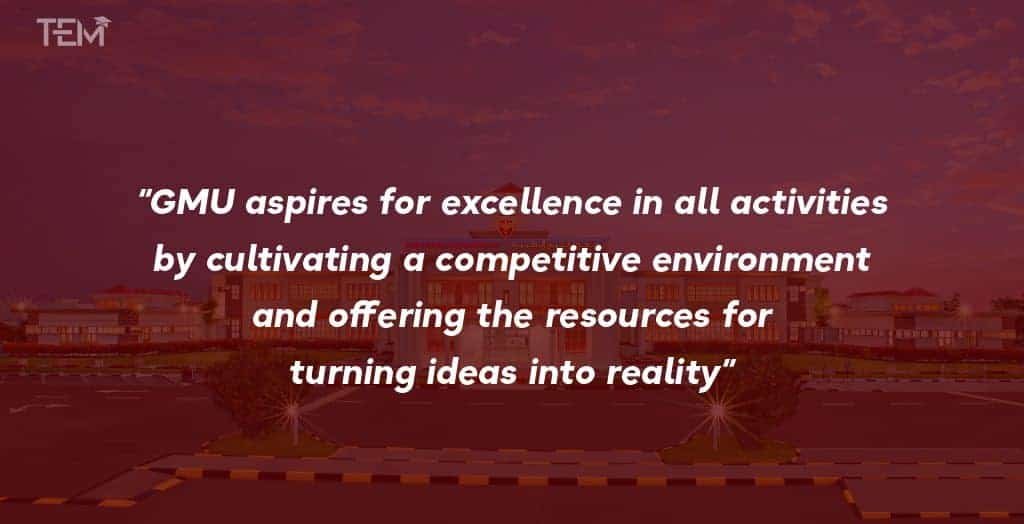 ALSO READ: 10 Most Prominent Healthcare Universities in 2022