Currently, there are more STEM job vacancies than qualified candidates. Men and women in STEM industries often have lower unemployment rates and higher compensation than professionals in other areas, since qualified STEM applicants are in high demand. People with curious minds are ideally suited for employment in STEM. These graduates work as advanced manufacturing executives, environmental scientists, forensic detectives, chemists, engineers, and software developers, to mention a few. Harrisburg University (HU) of Science and Technology is working hard to produce top-quality people to take on the future of the industries and meet the demand for more educational opportunities in applied science and technology-related fields in Pennsylvania's capital region.
Journey to Excellence
The Harrisburg University of Science and Technology was founded in 2001 and is the first nonprofit private university to be established in Pennsylvania in more than 100 years. The university provides STEM—Science, Technology, Engineering, and Math—degree programs for undergraduates and graduates. HU students are more likely to find family-sustaining professions in their disciplines or get admitted graduating school within six months of graduation because its educational programs are developed in response to market demands.
The University enrolls roughly 7,000 undergraduates and graduates between its campus in Harrisburg, its Philadelphia location, its recently opened facility in Panama, and, via online degree-seeking students. Furthermore, in 2018, 2019, 2020, and 2021, Corporate LiveWire ranked the University as the top STEM institution in the U.S.
Exclusive Courses and Programs
For a variety of learners, HU offers academic programs at the undergraduate and graduate levels and certificate programs using student-centered, technologically advanced, and experiential learning designs. This helps emphasize student success while placing a strong emphasis on particular interdisciplinary competencies and strong links to career development.
Advanced manufacturing, applied mathematics, biotechnology, computer and information sciences, cyber security operations and management, and many more are among the undergraduate courses provided by the university. In addition, the university offers graduate courses in analytics, biotechnology, computer information sciences, consumer behavior and decision sciences, healthcare informatics, and other fields. The expansion of its educational offerings, which are practical and address the constantly changing needs of industry, is a constant at HU.
HU offers undergraduate Bachelor of Science degrees in:
Advanced Manufacturing
Applied Mathematics
Biotechnology
Computer and Information Sciences
Cybersecurity Operations and Management (Online)Environmental Science and Sustainability
Esports Management, Production, and Performance
Forensic Science
Geospatial Technology
Information Systems and Information Technology (Online)
Integrative Sciences
Interactive Media
Management, Entrepreneurship, and Business Administration
Nursing RN to BSN (Online)
The university also offers Master of Science Degree Programs in:
Analytics
Biotechnology
Computer Information Sciences
Consumer Behavior and Decision Sciences
Cybersecurity Operations and Control Management
Healthcare Informatics
Human-Centered Interaction Design
Information Systems Engineering and Management
Learning Technologies and Media Systems
Nursing (Online)
Pharmaceutical Sciences
Population Health Management (Certificate)
Project Management
Technpreneurship
The university also offers Ph.D. programs in Computational Sciences, Data Sciences, and Information Systems Engineering & Management and also offers certificate and training programs.
Individual Attention
The 17:1 student-to-faculty ratio at HU guarantees each student receives the individualized attention they require. The University's distinctive STEM-based curriculum creates a learning environment unlike any other private university. Students enrolled at the University are mentored by a group of experienced academics who are acknowledged leaders in their professions.
Students can turn their academic training into jobs that change the world with the right supervision. Those who enroll at HU become members of a multicultural, energetic community where the city and schoolwork together to achieve greatness. The goal of STEM education at Harrisburg University is to extend students' knowledge, broaden their minds, explore the unknown, foster their ideas, and develop leaders. Students from all over the world enroll there to pursue this goal.
Making the Most of Advanced Technology
In downtown Harrisburg, HU has a 16-story academic building that is equipped with the most innovative tools available today and in the future. These tools include 3D printers, virtual reality systems, advanced manufacturing tools, supercomputers, and more.
Additionally, HU's campus offers innovative amenities and technology not typically found on college campuses, such as smart boards, a forensics lab, a geospatial technology center, an aquaponics lab, a plethora of research institutes, and more. In addition, a second $100 million educational center is being built nearby that is close to the leading employers in the area.
Students are also involved in advanced research at HU's research centers and institutes, which address a wide range of interests, problems, and industries while utilizing the most innovative technologies available today and in the future. These institutions act as a link to businesses and organizations, give students hands-on learning experiences, and promote economic growth.
Diversity and Benefits for International students
Presently, HU is home to students from over 110 different nations. The University's whole faculty and staff participate and work to advance inclusion and diversity on campus. Every faculty member supports and gives the greatest education and effort for a successful future to every international student that enrolls. The institution also guarantees all aspiring international students an affordable education, practical experience, knowledgeable staff, unparalleled campus facilities and technology, and a warm learning environment.
Besides all of this, foreign students have access to the best STEM education available in the United States. The institution offers students the chance to learn from the top researchers in the STEM fields with the support of a multicultural student population and staff in the classroom and on campus. To educate students for employment in science and technology, it also offers an educational exchange program. Under their language proficiency, educational background, schedule, and interests, HU advisors choose the courses that visiting, and online international students take. The staff further helps to visit foreign students by locating housing in adjacent off-campus venues.
Industry Ready Approach
Science and Technology Programs at HU are developed in response to actual market demands in the domains of science, technology, engineering, and math. This explains why students, within six months of graduating, find careers in their industries that can support a family or are accepted into graduate programs. The University excels because of its pertinent programs taught by the top authorities in their fields. Additionally, it has a low student-to-professor ratio, meaning the students receive the individualized attention they need to understand their subjects. Every student is required to complete at least one internship, providing them with the practical experience hiring managers' desire.
Extra-Curricular Activities
HU is a STEM school with a culture that encourages studying outside of the traditional classroom setting. It encourages students to take part in organizations, clubs, interest groups, and more to develop skills that will be useful in the future. Students may start a new club on campus according to their interests. And the HU Storm, the varsity Esports squad, is a leader in collegiate Esports.
President's Perspective
Dr. Eric Darr (President of HU) notes that STEM areas house today and tomorrow's most sought-after, high-paying employment when asked about the salient reasons a student should pursue a career in STEM. He believes the STEM fields present a broad, varied, and fascinating range of prospects. Any STEM major offers a wide range of specialty options. A Harrisburg University student who earns a solid undergraduate STEM degree will not only be well prepared for the job market, but will also have the knowledge and abilities to advance their field of study for a very long time. The initial pay for STEM occupations is among the highest for recent grads. Recent studies show that the average income of non-STEM graduates is 47 percent lower than that of these graduates.
Quote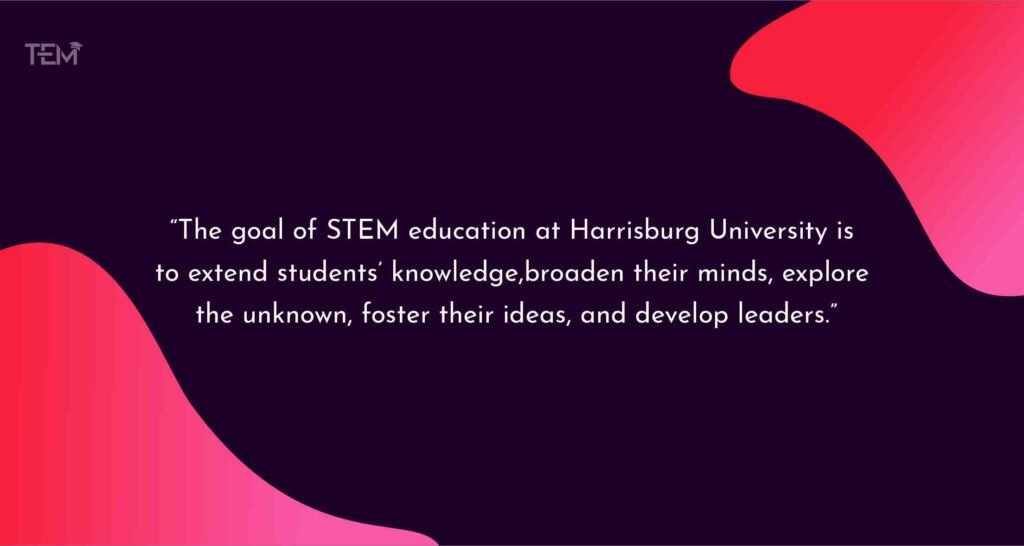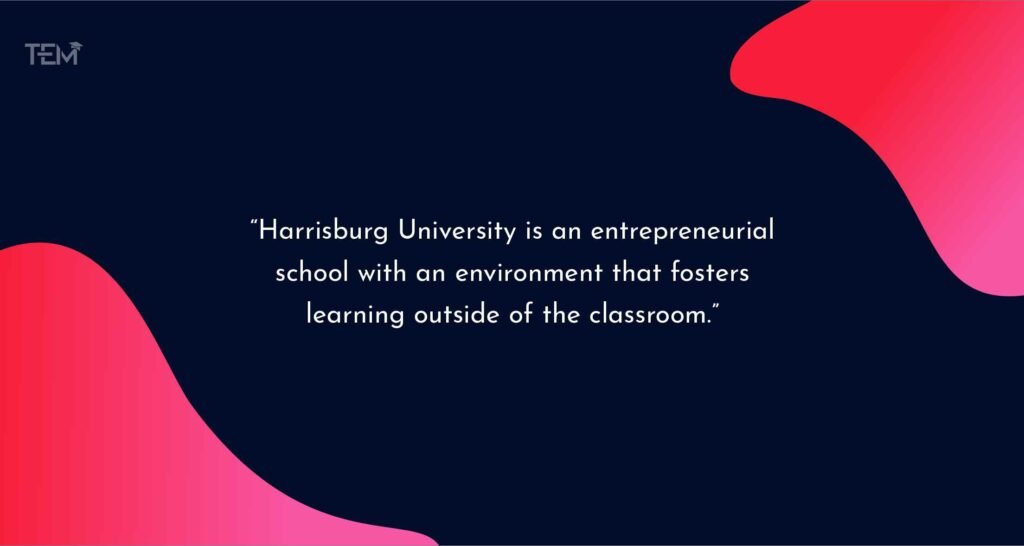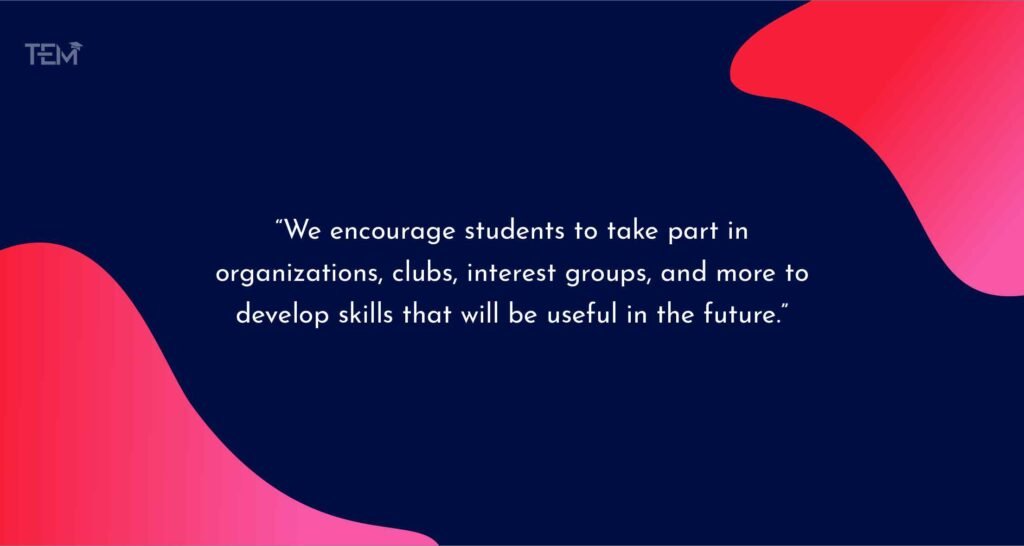 ALSO READ: The 10 Most Recognized STEM Universities to Watch in 2022