International School of Management: Providing Comprehensive International Education To Students
---
Over the last decade, internationalization and digitization are the two key factors that have shaped the education system. Because of this, higher education systems, as well as individual higher education institutions, are challenged to move from operating mainly within state systems to an international arena. In this arena, International School of Management (ISM) is emerging as one of Germany's top business schools to offer its students a comprehensive international education.
Established in 1990, ISM was one of the few private schools for higher education in Germany. Since the beginning, the leading private school has concentrated on internationality, small groups, and practice-oriented teaching. Its mission is to cultivate outstanding young professionals, enhance applied research, foster international reach and strengthen its regional integration and trans-regional reputation. To achieve its mission, ISM's professors who have international working experiences are offering their authentic insights into the international working environment. By taking advantage of these insights, its students gain extensive experience in solving practical problems in daily professional life.
Working Hard To Achieve Accreditation by AACSB
To stay up-to-date with the global education system, ISM has shifted its focus from German speaking programs to English programs. Over the last ten years, the German-based private school is continuously increasing the amount of international students and working extremely hard to reach the high-level standards, to intensify its research activities and to improve administration and teaching. Since 2016, it is a member of the AACSB and is aiming to achieve the international accreditation by AACSB in near future.
Benefits of Location
ISM is located in 7 different places: Dortmund, Frankfurt/Main, Munich, Hamburg, Cologne, Stuttgart, and Berlin. But with around 930 students, Dortmund ISM is the largest school of the aforesaid locations. It is located in the middle of the technology park only 15 minutes from the city center. In recent years, Dortmund has developed from the former coal and steel city to a modern technology location. As the largest city in Westphalia and the Rhine-Ruhr metropolitan region, Dortmund is one of the most dynamic new economic cities in Germany. This gives high exploration to the students in Dortmund and the opportunities to learn from residing corporates.
Wide Range of Courses
Because of digitalization, universities around the world confront various challenges to deliver high quality and easy-to-access courses. However, ISM believes that the German education system is very diverse and provides different ways to reach personal learning or career goals. Having its roots in Germany, the prominent private school prides itself in the fact that it offers a comprehensive range of business administration courses in the field of bachelor's, master's, and MBA programs. At ISM, Applied education inspires its students to assume management responsibility in a global business environment. As a result, students not only study full-time but also part-time or in the dual system. Also, these courses are driven by small learning groups, intensive personal support, and high- level education.
ISM has already restructured study programs in order to add digital components and to deliver courses online. These study programs include in the field of Bachelor and Master with a strong focus on digitization, e.g. B.A. Information Systems, M.Sc. Business Intelligence & Data Science, M.A. Digital Marketing or M.A. Human Resources Management & Digital Transformation. Additionally, all Master's programs also offer students the opportunity to complete an international double degree. To further enhance this, it is bringing digitization to administration, for example, providing information via student app.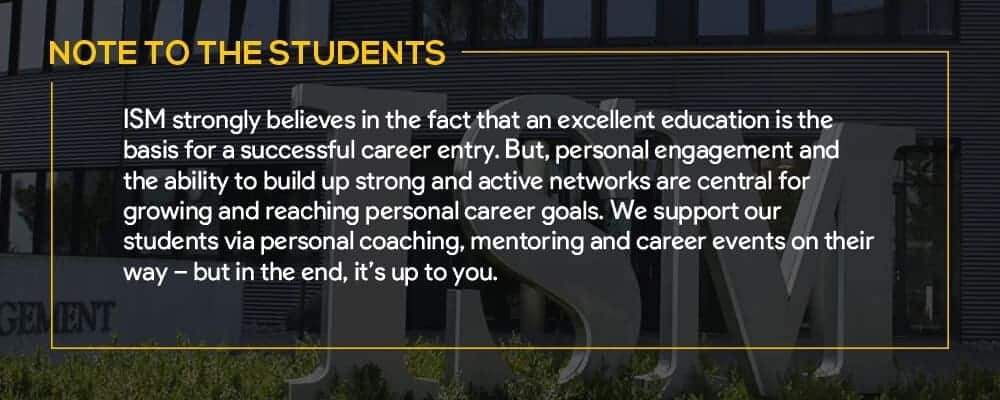 Student Centric Environment
In the global education landscape, there are numerous higher education institutes available for students to choose from. ISM offers its students skills accompanied with specialist training, consolidating social and cross-cultural skills. There is an ample scope for the students to showcase their confidence and desire to develop ideas, practice personal initiative, demonstrate communication skills, and improve the ability to work under pressure. ISM is focused to encourage its students and provide the best environment to the students.
Best Environment for Education Over the last 30 years, ISM is continuously among the best German private schools with excellent ranking. These rankings demonstrate that ISM's students are highly satisfied with study programs and study conditions. The private school believes that intensive personal support and its strong network to local and international companies are the key factors for making students pleased with it. Due to its personal atmosphere and individual care environment, professors get to know future students during the admission process already. Hence, they know about individual backgrounds and motivation very well. Besides this, the courses offered by ISM are very interactive and encourage conversations within classrooms and facilitate eye-to-eye meetings between professors and students.
Key Trends for Better Programs
In the upcoming years, internationalization and digitization are the key trends that will define ISM. Its aim is to develop and renew all its programs continually in order to stay at the pulse of time by delivering what is central to modern management. Therefore, digitalization is going to play a huge role in all of its programs. Qualities Required in Students Students seeking higher education can attend the ISM if they possess certain qualities within them. The private school doesn't simply admit the requisite number of students; instead, it builds a class when qualities such as high learning motivation, goal orientation, and cultural openness are reflected in the students' personalities. It claims that International, Individual, Inspiring are its fundamental blocks and therefore, it expects all these from students.