Quitting a successful job to pursue passion sounds amazing, courageous, and peaceful. People who are committed to their dreams don't have any doubt about quitting their "9 to 5" and breathing into the world of opportunities.
Luke Mickelson, a man from Idaho, United States quit his job to serve the best as possible for the children. The simple endeavor that he undertook to help one family moved him to take a brave decision. Way back in 2012, Luke took a heartening project with young men from his Church of Jesus Christ in Twin Falls to build top-notch bunk-beds to the community children who were unfortunate to sleep on the floor.
"We learned that there was a family in the community that had kids sleeping on the floor," Mickelson recalls. "I thought, 'What better way to teach these boys how to work hard than by making a bed?' and so that's what we ended up doing."
The day came when boys gathered in the Mickelson's garage one evening and built the bunk bed in a few hours. Unfortunately, it was dropped off, and the service project was finished, but Mickelson wasn't. He and his wife, Heidi, decided to build another bunk with their children for a needy family at Christmas time.
"We had some leftover wood, and we knew how to do it at that point. It took about three to four nights, but as a family, we built a second bunk bed," Mickelson says.
The first bed was for a little girl who used to sleep on a pile of clothes. She loved her so much that she clung onto the bed and wouldn't let go!
Beds for the proper physical and emotional support
Luke was happy to back then but also pained to discover that the beds were widely needed in his small and close-knit community. The enormous need for bed left Luke shocked and he started thinking something big to resolve-do something about it. He decided to craft his time and energy to build more such top-notch bunk-beds for children in need. Thus was born Sleep In Heavenly Peace (SHP). This non-profit organization builds beds and delivers them to kids in need.
SHP found up to 2.2M children in the U.S. sleep on the floor every night. "A national problem requires national solutions, and we have answered the call."
"Life can be tough sometimes. Things don't go your way or obstacles seem so large to overcome you feel like it's easier to just give up or walk away. But then you see a picture like this and think that these girls are no longer sleeping on the floor. They have now snuggled away in cozy beds for many years. Somehow these life problems just melt away. This is what I needed this morning."
Luke's effort becomes an inspiration
Mickelson, 41, was born in Idaho. Along with having a quite thriving and successful career he had enough time to coach the sports team of his children and fish in the river nearby. But the reality is often not that much straight as much he was thinking before. The realization that children were forced to sleep on the floor made him sleepless enough to change his successful life.
There are families for whom having a bed is a kind of luxury they can enjoy as they struggle to even feed and provide clothes for their children. Luke prepared many bunk-beds himself using his daughter's bed as a reference and by following safety manuals. He managed to buy wood and other supplies from his pocket. Eventually, the effort for good inspired his friends and other family members to join the cause.
Words reached fast and other people from even far places joined them. Mickelson's output grew by leaps and bounds. The nation just exploded about the project where Sleep in Heavenly Peace started receiving awards very often. Chapters began popping up across the country where group members solicit sponsorships, donations, and volunteers. Building days are then held when the beds are assembled and delivered in their communities.
"We have corporations that are looking for ways for their employees to come together as well as show their appreciation for the communities they live in to give back to," Mickelson says.,
The journey of making SHP Bunk-Beds
After getting success in building one bunk-bed Luke continued with Sleep In Heavenly Peace and built 11 beds in the first year and 25 in the second. In the year 2017 alone, his non-profit managed to build over 600 bunk beds!
Soon people inspired by the good and were dropping off mattresses, sheets, and pillows to give away with bunks, and friends in Boise started building beds for kids in their community. Mickelson started a proper charity where he offered training and gave out construction manuals. He set up local branches of Sleep In Heavenly Peace that allowed spreading the movement from coast to coast.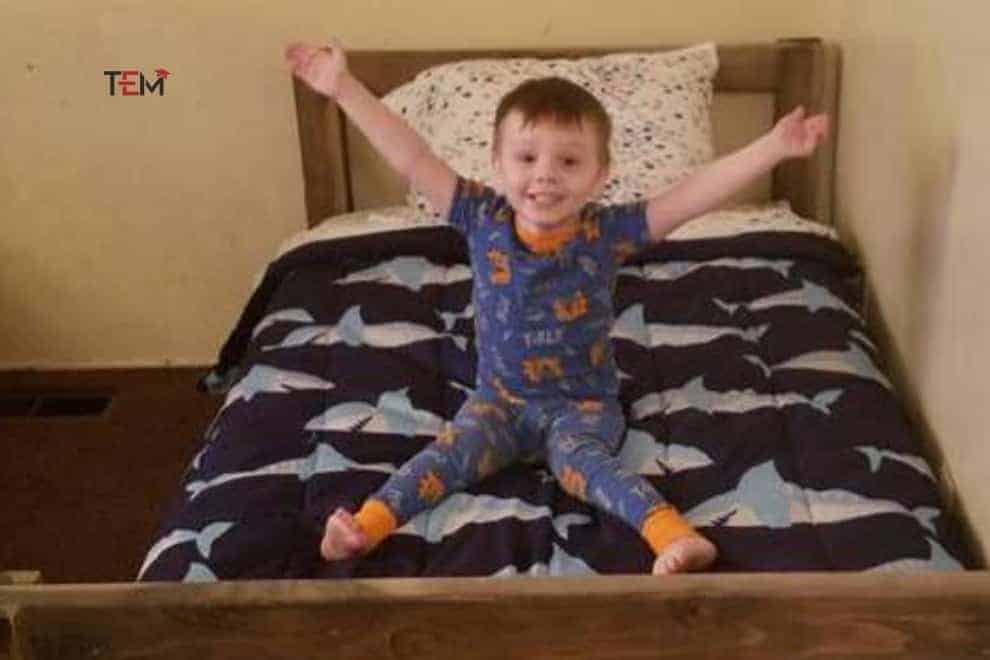 The saying of the non-profit is "No kid sleep on the floor in our town." Within these years it has grown to 65 chapters and they have contributed 1,500 beds across America.
Mickelson might have taken a tough choice to give up his career and devote himself full time to the cause but he has not regretted his decision. He realized that his needs were not merely financial. Instead, it was seeing the happiness on the faces of the children as they received their gift.
"How can their smiling faces not just melt your heart? No kid is going to sleep on the floor in the SHP town" – Mickelson in his Facebook post.
His non-profit, systematic Sleep In Heavenly Peace is now in a place where the applicant applies through the website which then gets vetted. They receive over 25 applications each day. The whole process is run by volunteers and Mickelson himself takes no salary. The joy of seeing the children's faces when they receive the bunk bed is what keeps him going.