The University of Maine at Machias (UMM) represents an esteemed institution deeply rooted in a legacy of education. It originated from the establishment of the Washington State Teachers' College in 1952, a direct descendant of the esteemed Washington State Normal School founded in 1911. Throughout its existence, UMM has consistently demonstrated an unwavering commitment to the pursuit of knowledge. In 1968, it became an integral part of the prestigious University of Maine System (UMS), and subsequently, in 1970, it assumed the name the University of Maine at Machias. Recognizing the inherent value of its geographical location amidst the diverse and prosperous natural communities of Downeast Maine, UMM further solidified its standing by embracing a strong emphasis on science and biology in 1973.
Presently, as the designated regional campus of the esteemed University of Maine, UMM diligently collaborates with its partner campuses to meticulously define and reinforce the nature of their affiliation. This concerted effort aims to foster mutual growth and advancement for all involved parties. Firmly grounded in a proud history, UMM remains steadfast in its unwavering dedication to education. Its intellectual pursuits are bolstered by the remarkable natural environment surrounding it, further enhancing the educational experience for its students. As the University of Maine at Machias continues to shape and mold the minds and futures of its students, it stands as an emblem of academic excellence. It serves as an exemplar of higher education's profound impact on individuals and communities alike.
Embracing the World of Integrative Biology
The University of Maine at Machias takes pride in its Integrative Biology program, a testament to its hands-on approach to the field. From the outset, students are immersed in a rich tapestry of laboratory experiments and field experiences, starting as first-year students and continuing throughout their academic journey. The program offers a comprehensive Bachelor of Arts degree in Integrative Biology, meticulously designed around core disciplines, including zoology, botany, ecology, genetics, chemistry, mathematics, and evolutionary biology.
The program allows students to specialize in diverse areas, such as fisheries or wildlife biology, and pursue a pre-professional biology track. This flexibility allows students to tailor their education to align with their interests and career aspirations. To further enrich their academic experience, students have the option to explore an array of captivating courses. These include systematics, Geographic Information Systems (GIS), conservation biology, anatomy and physiology, entomology, ornithology, ichthyology, and environmental chemistry.
While the Integrative Biology program provides a strong foundation for students, UMM recognizes the significance of a well-rounded education. Therefore, the university offers a comprehensive general education core meticulously designed to ensure that students have the opportunity to develop an appreciation for the arts, social sciences, ethics, and recreation. This holistic approach to education at UMM fosters the growth of individuals with a breadth of knowledge and a deep understanding of the world around them.
UMM's Core Values and Educational Philosophy
The University of Maine at Machias upholds a set of core values that serve as the guiding principles for its educational mission. These values encompass exploration, leadership, collaboration, and interdisciplinary problem-solving, collectively contributing to the institution's commitment to a liberal arts education. The value of exploration lies at the heart of UMM's academic philosophy. It encourages students to delve into new realms of knowledge, challenge assumptions, and engage in critical thinking. By fostering a spirit of exploration, UMM empowers students to expand their intellectual horizons and develop a lifelong passion for learning.
Leadership is another essential value cherished by UMM. The institution recognizes that leadership encompasses more than just holding formal positions of authority. It promotes leadership as an intrinsic quality that can be cultivated in all individuals, enabling them to take the initiative, inspire others, and effect positive change. UMM nurtures leadership skills by providing opportunities for students to assume responsibility, take ownership of their education, and make meaningful contributions to their communities.
Collaboration is deeply ingrained in UMM's ethos. The institution acknowledges the transformative power of teamwork and collective efforts. By fostering a collaborative environment, UMM prepares students to work effectively in diverse groups, respect differing perspectives, and harness collective intelligence to solve complex problems. Collaboration enhances students' ability to communicate, negotiate, and work towards shared goals, preparing them for success in their future endeavors.
Interdisciplinary problem-solving is a core value that reflects UMM's commitment to addressing complex challenges through diverse perspectives. The institution recognizes that real-world problems often transcend disciplinary boundaries, requiring multifaceted approaches for practical solutions. By encouraging interdisciplinary collaboration, UMM equips students with the tools to think critically, synthesize knowledge from various fields, and develop innovative solutions considering the broader context.
These core values significantly shape the culture of UMM. The emphasis on a liberal arts education underscores the institution's commitment to providing students with a well-rounded educational experience beyond specialized knowledge. The cultivation of exploration, leadership, collaboration, and interdisciplinary problem-solving fosters an inclusive and supportive community at UMM.
Fostering a Diverse and Inclusive Campus Community
The University of Maine at Machias (UMM) is committed to fostering diversity and inclusion on campus, recognizing it as a valuable resource that enriches the learning process and strengthens the campus community. UMM understands that diversity can also present challenges. Still, it firmly believes that embracing diversity can create an environment that promotes understanding, collaboration, and the exploration of different perspectives.
UMM views diversity as a unifying factor that bridges various aspects of campus life, connecting the curricular and extracurricular realms, individuals with collective goals, and different groups within the community. Recognizing the importance of shared values, UMM understands that a strong foundation of academic excellence, civic responsibility, self-respect, and goodwill towards all campus community members is essential for successful diversity initiatives.
To ensure diversity and inclusion, UMM is committed to examining, reaffirming, and cultivating these values at both the individual and institutional levels. This includes fostering an atmosphere of respect, empathy, and open-mindedness among students, faculty, and staff. UMM encourages dialogue, promotes intercultural understanding, and supports initiatives that celebrate diversity, such as cultural events, guest speakers, and diversity-focused workshops and training.
UMM values the contributions of international students and welcomes them into its campus community. Recognizing the unique perspectives and experiences they bring, UMM appreciates the positive impact of international students on the campus culture. In addition, UMM provides a range of benefits and resources to support the success and well-being of international students.
One notable benefit is that international students at UMM pay the same tuition rates as domestic out-of-state students, except for Canadian students who are eligible for in-state tuition rates. It demonstrates UMM's commitment to ensuring equitable access to education and supporting international students in pursuing academic goals.
UMM also offers support services for international students, including guidance on immigration regulations, cultural adjustment, and academic assistance. The campus community at UMM is welcoming and inclusive, providing opportunities for international students to engage with domestic students and participate in various student organizations and activities. It enables international students to form connections, build friendships, and fully immerse themselves in campus life.
Commitment to Personalized Education and Student-Faculty Engagement
The University of Maine at Machias (UMM) maintains a commendable student-teacher ratio of 14 to 1, underscoring the institution's commitment to fostering an environment of personalized attention and meaningful student-faculty interactions. This ratio indicates approximately 14 students for every faculty member, ensuring that each student has ample opportunities to engage with and receive individualized support from their professors.
As a teaching-focused institution, UMM takes immense pride in its dedication to connecting with students personally. UMM faculty members prioritize establishing strong relationships with their students, allowing them to understand their unique needs, strengths, and aspirations. By fostering these connections, faculty members are better equipped to deliver instruction tailored to individual students, promoting effective learning and academic growth.
Its commitment to smaller class sizes facilitates UMM's emphasis on personalized attention. With fewer students in each class, faculty members can devote more time and attention to individual students, encouraging active participation, engagement, and the development of critical thinking skills. This intimate learning environment allows for in-depth discussions, one-on-one mentoring, and personalized feedback on assignments, ensuring that students receive comprehensive support and guidance throughout their academic journey.
Furthermore, UMM values and embraces diversity within its student population. Recognizing the importance of diverse perspectives and experiences, faculty members at UMM appreciate the rich cultural and intellectual contributions made by students from various backgrounds. This appreciation for diversity enriches the educational experience for all students and fosters a sense of inclusivity, respect, and understanding within the campus community.
Thriving Campus Life and Robust Resources
At UMM, students, faculty, and staff engage with each other personally and professionally, creating a vibrant campus atmosphere. The institution fosters community and encourages collaboration and interaction among its members.
Students pursuing biological sciences at UMM can access a wide range of resources supporting their academic and research pursuits. These resources include facilities for molecular biological work, such as wildlife forensics and environmental DNA monitoring. Additionally, there are opportunities for cell culturing and microscopy, fieldwork in terrestrial and marine environments, environmental chemical analyses, and a dedicated Geographic Information Systems (GIS) lab. UMM provides a greenhouse and herbarium, a growth chamber, and various natural history collections, all of which contribute to a comprehensive learning experience for students.
UMM's faculty members have established working relationships with the region's natural resource agencies and land conservancies. This connection provides students with unique opportunities to engage with these agencies through coursework. Such collaborations enhance students' understanding of real-world applications of their studies and allow them to gain practical experience in their field of interest.
UMM offers a range of facilities and resources to support students' holistic development. The campus houses an art gallery, providing students with exposure to visual arts and opportunities for artistic expression. A paper-making studio and printing press enable students to explore creative outlets and gain hands-on experience in traditional printing techniques. For recreational activities, UMM offers canoes for outdoor exploration, a gymnasium equipped with a workout room for physical fitness, and 200 acres of adjacent woods for nature enthusiasts to appreciate and explore.
Additionally, UMM features a campus radio station that provides a platform for students to showcase their talents and interests in broadcasting and media. Various student clubs and organizations cater to diverse interests, fostering a sense of community, camaraderie, and personal growth among students. These extracurricular activities allow students to develop leadership skills, cultivate new interests, and form lasting connections with their peers.
Empowering Success through Research, Partnerships, and Skills Development
Graduates from the University of Maine at Machias (UMM) are well-equipped to pursue diverse career opportunities in the fields of integrative biology and marine biology. UMM designs academic programs to provide students with a strong foundation and practical experience, preparing them for successful professional careers.
A key aspect of UMM's programs is students' early and frequent research engagement. By involving students in research projects from an early stage, UMM ensures that they gain hands-on experience and develop essential skills required in their respective fields. This emphasis on research allows students to apply theoretical knowledge to practical scenarios and fosters critical thinking, problem-solving, and analytical skills.
UMM's partnership with the IDeA Networks of Biomedical Research Excellence (INBRE) further enhances students' opportunities for learning. Through INBRE grants, the Mount Desert Island Biological Lab offers an annual short course in state-of-the-art molecular biology techniques, providing students with valuable exposure to cutting-edge research methodologies. This experience equips them with the technical expertise sought after in biomedical research sectors.
Additionally, UMM's field courses allow students to engage in projects supporting natural resource agencies such as the Downeast Salmon Federation, the Downeast Coastal Conservancy, and the Maine Department of Inland Fisheries and Wildlife. Through these collaborations, students gain practical field experience and establish connections with professionals in the industry. This exposure often leads to internship opportunities, where students can further apply their skills and knowledge in real-world settings.
The academic program at UMM not only focuses on technical skills but also strongly emphasizes developing soft skills. Students learn effective communication, teamwork, leadership, and problem-solving skills in their chosen fields, becoming consummate professionals. These soft skills are crucial for success in any career, as they enable students to collaborate effectively, adapt to changing environments, and contribute meaningfully to their organizations.
The combination of rigorous academic coursework, hands-on research experiences, industry partnerships, and the development of soft skills prepares UMM students to excel in their chosen career paths. Whether pursuing natural resource management or biomedical research, UMM graduates are well-rounded professionals with the technical expertise, practical experience, and professional skills necessary for success in their respective fields.
Quotes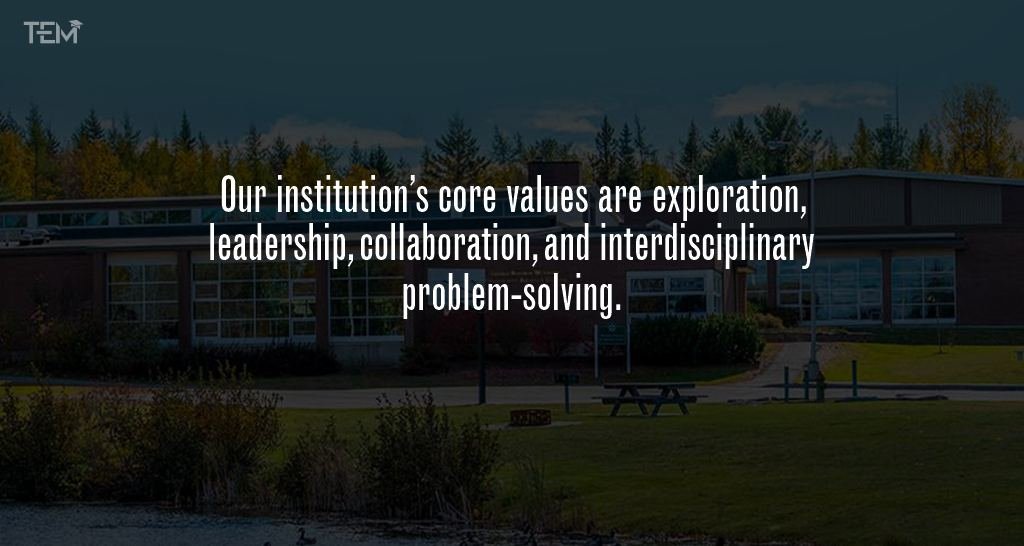 ALSO READ: The 10 Best Colleges for Biological Sciences, 2023