The arts challenge people's tastes, assumptions, and points of view. They make people more empathetic and reflect on the human condition. Education in arts inculcates the same skills and values in students to become great artists, curators, or teachers. In order to create a generation of critical thinkers who are informed and involved in the world around them, many institutions have started providing inventive education in the arts. With a belief that "art is essential to the human experience", the University of Alaska Southeast is uplifting art and culture education with ingenuity.
UAS – A Majestic Inception
An interesting story of the establishment of UAS dates back seven decades ago in 1954. Before Alaska was a state, the very first community college was formed in Ketchikan. Colleges in Juneau and Sitka quickly joined this institution in 1955 and 1962 respectively. UAS was formed when three academic entities—the University of Alaska Juneau, Ketchikan Community College, and Islands Community College in Sitka came together in 1987.
The campuses reside on the unceded territories of the Áak'w Ḵwáan, Taant'á Ḵwáan, and Sheetk'á Ḵwáan on Lingít Aaní, also known as Juneau, Ketchikan, and Sitka, Alaska. These institutes work as a single university and address regional and statewide needs. They also leverage essential resources and meet critical postsecondary education and training needs in the region.
Culture-incorporated Academics
The University of Alaska Southeast offers various arts and culture programs. An Indigenous Studies Bachelor's Degree program has three arms:
Art: This branch is centered around Northwest Coast Indigenous Arts. Students can study formline design, carving, weaving, and textiles.
Language: This branch revolves around Alaska Native Languages and Cultures. Students can learn various languages like Tlingít, Haida, or Tsimshian. They can also take classes in culture, history, and linguistics.
Tribal Governance: This branch includes studies in tribal governance, social justice, and social change. Students can take classes on Alaska Social Change and ANSCA and Tribal Governance.
UAS also has Associates in Northwest Coast Arts and an Occupational Endorsement in Northwest Coast Arts. The university has unique programs in Outdoor and Adventure Studies. Its curriculum consists of culture-incorporated studies. Moreover, it offers a program on the Environment that centers around Alaska and its unique landscape/geography. The university also provides a prestigious program in Marine Biology. This program is taught by an excellent staff that is tied to this coastline and the land they inhabit.
Arena of Online Education
Alaska's unique geography poses challenges for rural students living in remote communities. Catering to their requirements, UAS has been providing online courses and entire degree programs since 1980. During the pandemic, many institutes have had to quickly pivot. UAS has been a big leader in this arena for decades. Business programs and science programs provided by the university are excellent models to follow for equity and access for rural and native students. Moreover, its online and hybrid arts, language, and culture courses help Alaska residents to benefit from higher education while continuing to live and contribute to their home communities.
Person of Influence
Karen T. Carey, the chancellor of UAS, began her professional journey as a school psychologist and later pursued Ph.D. in school psychology. Before moving to CSU Channel Islands, she achieved milestones of becoming a professor, program chair, and Graduate Dean at Fresno State. At CSU, she served as Dean of Arts and Sciences. Further, Karen applied and was appointed Provost at the University of Alaska Southeast. In July 2020, she was offered to serve as a chancellor. Being a chairperson, she works closely with the System Office President and the campus Executive Cabinet. Additionally, she is responsible for the budget, facilities, oversight of academic programs, and student affairs.
Unity in Diversity
At UAS, 20% of students come from Alaska Native. Across the UAS system, the university has initiated an Alaska Native Success Initiative that provides support to students to be successful. It also arranges various events at campus including Community Feast (Includes Alaska's native foods). Moreover, it started offering non-credit Alaska Native Language courses at no cost. The purpose behind this initiative was to fully participate in the language revitalization efforts that are ongoing in Southeast Alaska.
UAS has also started investing in and growing its Northwest Coast Indigenous Arts curriculum which is housed inside Indigenous Studies Bachelor's Degree. The university ensures diversity and inclusion and offers campus-wide SafeZone training. This ensures LGBTQIA+ faculty, staff, and students feel safe and included. It has also started offering workshops on pronoun usage, and bystander/ally training.
Practical Education
UAS offers Northwest Coast Arts education which includes courses in formline design, carving, weaving, and textiles. In these courses, students examine modern and historical materials from diverse perspectives. Students can understand living in Alaska and connect with the lands, languages, and people of Southeast Alaska. The university has a robust Ceramics program with a renowned professor, Jeremy Kane. Moreover, students contribute to funded undergraduate research, present at conferences as well as attend MFA programs.
UAS has an engaged and enthusiastic set of community partners in Art and Culture.
Sealaska Heritage Institute (SHI) and Institute of American Indian Art (IAIA) Agreement: The university has a renewed agreement with SHI and IAIA in Santa Fe, New Mexico. It has been working with these two institutions since 2016 and they strive to achieve the vision to become world-renowned centers for Northwest Coast Arts and indigenous artistic development. They are set to provide enhanced Northwest Coast art programs including instructional opportunities and collaborative academic offerings to enrich the experience for Alaska students.
Perseverance Theatre Company Agreement: This agreement allows students, staff, and faculty to participate in "UAS Nights" at the theatre company. It includes watching productions together and then participating in long talk-back conversations with the artists post-performance.
Theatre Alaska Agreement: This new agreement will allow the theater to perform in various spaces on campus and engage with the students where they live, work, study, etc.
Artistic Activities
To boost students' engagement, UAS offers a number of cultural events, workshops, and activities.
Weekend Workshops: Held in October 2022, these workshops were arranged with the goal to offer an Introduction to Northwest Coast Indigenous Painting and Design with Guná Megan Jensen. At this event, she talked about NWC Formline rooted in history and ethics.
Career Development Workshops: These workshops were also arranged in October 2022 to encourage career development in artists. They focused on creating an artist statement.
Gallery Walks: Students Activity committee at UAS takes students downtown during Juneau First Fridays. Here, they can experience "Gallery Walks" and engage with art, culture, and music. Also, artists put pieces on display and engage with the community on the first Friday of every month.
Thanksgiving to Fall break: This event is arranged to celebrate Alaska Native culture, Native foods, and reminder that Alaska Native people have been stewards of this land since time immemorial.
Earth Day Celebration: UAS's Ceramics program and Outdoor and Adventure Students program jointly celebrate this day in the ceramics studios. Students and faculty bake homemade pizzas together in the outdoor ovens to celebrate the environment and the beautiful land.
Expansion in Future
A strong, stable institution like UAS has room to grow as it is smaller than its sister campuses. The university proposes upcoming programs and courses that will include an expansion of the Indigenous Studies programming as well as programs in Mariculture and Maritime training.
Note to the Students: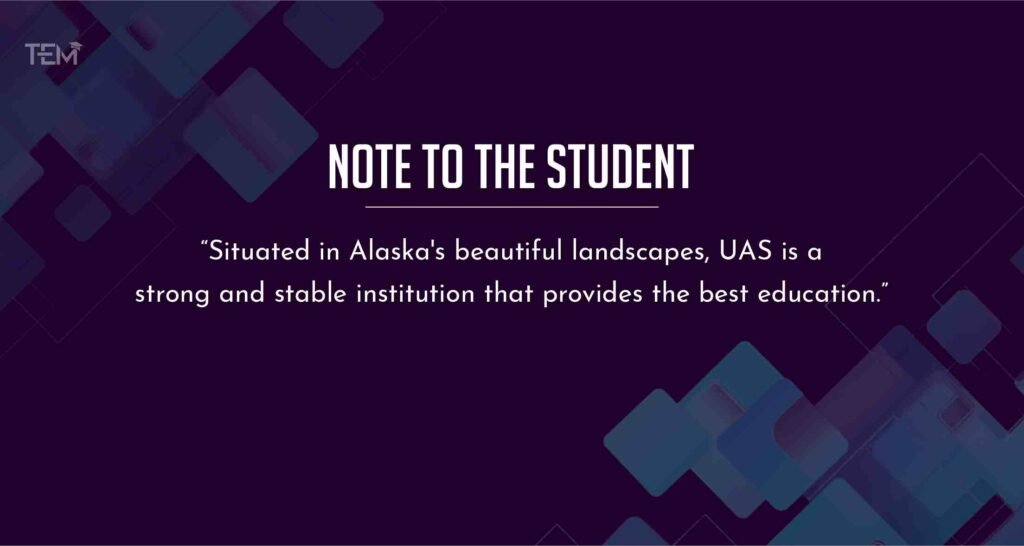 Read the full magazine: The 10 Most Prominent Art Colleges to look for in 2023