While the world is adopting a technology-driven lifestyle, it is inevitably advancing to cutting-edge technology-based manufacturing, construction, end education. This is leading to a rise in demand for people well versed with such technologies. With STEM (Science, Technology, Engineering, and Mathematics) education, newer techniques and practices are being adopted and the opportunities for future generations are also being increased.
Mainstream technical education institutions like Architecture, Civil Engineering, and Geodesy have undergone several changes to incorporate STEM education into the curriculum. The university has enhanced its offerings with technologization, modernization with electronification of education, especially in computational and pictorial pedagogical methods and requirements. Alongside, it has also increased the participation of students in the research work of teachers, emphasizing practical training of the students.
Presently, Prof. Dr. Eng. Ivan Markov – Rector of the UACEG is at the helm of the university. He graduated with a specialty in Structural Engineering in 1982. He spent his entire career at the University, starting from 2008 as the Head of the department 'Structural Mechanics.' Later, he severed as the Dean of the faculty of Structural Engineering until becoming the Rector of the UACEG. Prof. Markov is a well-known expert in the field of structural mechanics, dynamics, and stability of building structures. Alongside, he also developed software systems like CESAN-FRAME and CESAN-PLANE.
"Construction is an eternal profession—creative, creatively responsible, and builds a complex material environment in which the entire life cycle of society and individuals takes place," states Prof. Markov.
The Bequest of Knowledge
The University of Architecture, Civil Engineering, and Geodesy (UACEG) was founded in 1942 as Higher Technical School—marking the beginning of higher engineering education in Bulgaria. The school was later transformed into a State Polytechnic which was further divided into several institutes, one of them being the Institute of Civil Engineering. Finally, by the resolution of the National Assembly of the Republic of Bulgaria on July 21st, 1995, the institution was transformed into the University of Architecture, Civil Engineering, and Geodesy.
Today, UACEG has over 6 decades of experience and tradition, qualified academic staff, and well-equipped laboratories to enhance education for the students. It has paved a platform for the students to effectively and creatively acquire architectural and engineering knowledge. The alumni of the institution have worked on a variety of remarkable projects and facilities—designed and executed by architects, civil engineers, and surveyors of the Bulgarian institution.
A Comprehensive Educational Institute
UACEG is an education and research-oriented institution with ample architectural and civil engineering knowledge to offer. Students acquire practical skills while experiencing the architectural beauty of Bulgaria, its traditions, and its culture. UACEG's mission is materialized in the form of its degree programs on various aspects of construction and architecture education. Its public mission is secular, and is education- and research-oriented. The university accepts applicants of all countries, irrespective of privileges or restrictions such as sex, religion, race, age, social status, or views.
The university offers specialized courses on Architecture, Structural Engineering, Water Supply and Sewerage, Geodesy, Transportation Engineering—based on the study of road and railway construction, and Hydraulic Engineering which is a study of hydraulic structures, irrigation, and drainage engineering. UACEG's curriculum is curated such that all its degree programs offer a master's level education. The institution also has unique bachelor's-only courses on Urban Planning, Land and Real Estate Management, and Planning and Construction Management. UACEG is also constantly developing projects on significant and current issues including seismic engineering, urban planning in crisis conditions, etc. The institute admits students into the following degree programs:
MA in Architecture
MA in Landscape Engineering
MEng Geodesy
BEng in Land and Real Estate Management and Planning
MA/BA in Environmental Engineering
MEng in Hydraulic Engineering
MEng in Water Supply and Sewerage
MEng in Structural Engineering
BEng in Construction Management
MEng in Transportation Engineering
MA/BA in Urban Planning
The architecture programs span for a duration of 11 semesters i.e. 5.5 years, which includes work and presentation of a diploma thesis. For the engineering programs, the duration is 10 semesters i.e. 5 years, and the bachelor curricula are scheduled for 8 semesters.
Diverse Student Body Inclusion
It has been a constant policy of the UACEG's management body to attract as many international students as possible. Currently, the university's student body has the highest number of international students among the engineering educational institutions in the country. These students mainly hail from the Balkans, Middle East, and Northern Africa. Moreover, the international student inclusion also serves as a sign of international recognition of the university's level of education. Additionally, it also paves the way to future better international co-operation in the field.
Practical Approach to Learning
At UACEG, practical training is a priority educational activity and is carried out throughout the span of all courses. The institute constantly focuses on the provision of practical and field knowledge. The students at the UACEG are exposed to the real design and construction market through practices, internships, lectures, and real-world tasks assigned by the partners in the construction business. The institute encourages the participation of representatives from construction and design businesses for the evaluation of diploma projects.
Additionally, even during the COVID-19 pandemic, the institute projected the values of persistence, responsibility, professionalism, and intelligence. It conducted lectures online, by developing a system for electronic communication in-house. Alongside, it also continued to conduct practical classes on an individual basis with the students in compliance with the safety measures and social distancing. Over the years, more than 6300 architects and 27000 civil engineers have taken the advantage of UACEG's unique approach to education.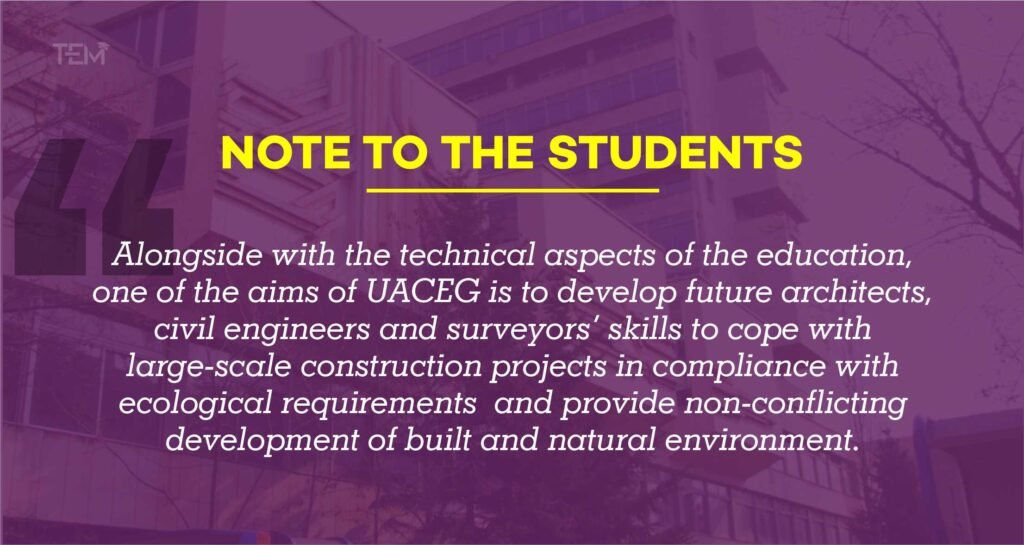 The Ideal Student
The UACEG is unique when it comes to its students. The institute is highly selective as it looks for highly responsible, hardworking, ethical, and ambitious dreamers who can tame the leaders of tomorrow. Prof. Ivan mentions that specialists in the architecture and engineering professions need to possess diverse qualities. A student must be ambitious to create function, aesthetics, and sustainability for their material environment. They should understand their responsibility towards society, their communities, and individuals along with influential contributions for the past, present, and future. Above all, a student must develop an ability to work hard with honesty and intransigence in the face of difficulties, professional and life obstacles.
"When a profession is practiced with love – it is passion—when practiced without love it is stress," adds Prof. Markov.
Providing with Exceptional Opportunities
UACEG is a state university so it offers scholarships granted by the state. The University Center for Career Development offers a variety of opportunities for companies in the construction industry to connect with students. They are also presented with opportunities to take on paid internships abroad. Additionally, graduate students can also choose to work with one of the over eighty partner companies of UACEG for a period of either half or one year.
ALOS READ: The 10 Elite Engineering Colleges of 2023