The year 2022 has been important for students heeding the brand-new, significant difficulties in the rapidly changing globe. These new challenges include a multidisciplinary approach, faster decision-making, and climate issues influencing the changing business landscape. There has been a significant change in how businesses approach values and employ ESG tactics that promote growth and profitability. The COVID-19 pandemic has propelled the business education sector toward online learning.
With its own unique online learning systems, the "Hyper Method" and "exam1.urfu" platforms, Ural Federal University (UrFU) has adapted impressively to the new conditions and transformed into a genuinely digital university. Through a variety of customized offline and online programs, the university has reimagined programs, pioneered pedagogies, invested in enabling technology, formed value-creating collaborations, and developed new markets.
Reputed History
UrFU is one of the leading universities in Russia and one of the oldest universities in the Ural region. It was established in Ekaterinburg in 1920 as part of a government initiative to address the lack of skilled labor in the fields of engineering, metallurgy, chemistry, and mining to advance the industrialization of the nation.
UrFU significantly aided the Soviet Union's industrialization in the 1930s and then it was split into two separate institutions: Ural State University, which concentrated on classical education and the fundamental sciences (natural sciences and mathematics, social sciences and humanities), and Ural Polytechnic Institute, which educated engineers in metallurgy, heavy machinery, civil engineering, radio engineering, and energy.
Several universities were combined, given federal status, and granted more state funding in the 2000s as part of the Russian higher education system's modernization reform. As a result, UrFU was formed in 2010 by the merger of the two Universities, and it quickly rose to prominence in Russia. Currently, UrFU is Russia's official federal innovation platform. It serves as the region's and the nation's education and scientific center.
Educational Mission, Vision, and Principles
The mission of UrFU is to advance human ingenuity, technological advancement, and scientific knowledge throughout Russia and the Ural area. Furthermore, it aims to make Russian higher education increasingly competitive globally.
The university's mission is to create a sustainable society at all levels—local, national, and international–through its high-quality education and cutting-edge research in actual areas of study. Additionally, it aspires to advance and gain a reputation as a Russian leader in natural and materials sciences, engineering, social sciences, and humanities on a global scale. The university is based on the tenets of accessible education, high standards for individuals, and ongoing science promotion.
A Remarkable Leader
For an institution to grow and develop, influential and motivating leadership is very important. Mr. Victor Koksharov, Rector of Ural Federal University, is one such astute leader who is building strong careers for students under his guidance. Born in 1964, Mr. Koksharov
graduated from the Faculty of History of Gorki Ural State University in 1986 and became a senior lecturer at the Department of Contemporary History and Theory of International Relations.
In 1992, he received a Ph.D. degree in History, and later in 1995, he started working as chief specialist at the Department of External Affairs of the Presidium of the Ural Branch of the Russian Academy of Sciences. Till May 2004 he occupied the position of the Head of Department in the Ministry of International and Foreign Economic Relations of the Sverdlovsk Region. In the same month, he was appointed the Minister of International and Foreign Economic Relations of the Sverdlovsk Region.
Mr. Koksharov served as Chairman of the Sverdlovsk Region Government during the period from 2007-2009. He was appointed the Rector of Ural Federal University by the Decree of the Chairman of the Government of the Russian Federation, Vladimir Putin. Mr. Koksharov has achieved numerous degrees and has been rewarded with positive responses.
Important Degrees:
A graduate of the Management Program (Germany)
Professional retraining courses of the Friedrich Naumann Foundation (Germany)
Professional retraining courses within the frames of the TACIS program
Participated in the study program of the US Information Agency for the State Support for Small and Medium Business
Underwent internship within the program "Direct foreign investments" at the Joint Vienna Institute.
Achievements and Recognition:
Member of the Russian Government Expert Council
Member of the Russian Council for International Affairs and co-chairman of the Association of Leading Universities of Russia
Chairman of the Council of Rectors of the Sverdlovsk Region
Chairman of the Audit Commission of the Association of Socio-Economic Universities of Russia
Member of the Association of Technical Universities of Russia and China
Co-chairman of the Consortium of Supporting Universities of the State Corporation Rosatom
Member of the Forum of Rectors of the University of the Arctic
Member of the organizing committee of the forum Dialogue Russia–Republic of Korea 2013.
Prominent Study Programs
UrFU provides 14 world-class international-oriented Master's degree programs in English taught by top tier national and international teachers and researchers.
The prominent programs for international students that fully meet the contemporary requirements of the global market are:
Food Biotechnology
Practical Artificial Intelligence
Artificial Intelligence for Power Industry Applications
Energy for Smart Cities
IT Innovations in Business
Global Energy Business
Mechanical Engineering and Equipment Design
Chemistry and Physics of New Functional Materials
The University also provides programs like International Management, International Trade and Entrepreneurship, Human Resource Management, PR & Advertising in International Communications, Foreign Languages, and Cultures in The Global World for the overall grasp of various industries.
Diverse Environment
Regardless of nationality and state of health, UrFU is welcoming and supportive of everyone, providing the required services and facilities. The university's Center for Inclusive Education ensures that those with disabilities have a pleasant place to live and receive an education. Additionally, there is a dorm with accommodations and unique rooms for students with disabilities. There are audio and video recording devices in over 150 classrooms, including an audio-visual complex for inclusive education.
UrFU community is highly welcoming to international students. The university campus is equipped with everything needed for daily needs, a good education, and a pleasant stay, and staff members and students assist foreign students in adjusting to the new society. To ensure seamless integration and a comfortable stay in the new country, UrFU has an Adaptation Center for International Students to provide them with full support in all aspects of their daily lives.
In addition, it provides a buddy system to help international students adjust to life in Ekaterinburg upon arrival and a Students' Union to promote international understanding by hosting culturally diverse events.
Maximizing Student Engagement & Extra-Curricular Activities
UrFU gives its students all possibilities to live an active student life full of social, cultural, and sporting events, as well as a variety of extracurricular activities. It has a fantastic international creative atmosphere. It hosts over 200 athletic, social, and cultural events each year, including Orientation Week, the "Friendship of Nations" Festival, UrFU Student of the Year Awards, cultural excursions, musical evenings, gourmet nights, simulation games, and sports competitions. Additionally, free classes in ballroom dance and student theater are available.
Each student has access to 15 creative teams where they can hone their skills outside of the classroom (dancing, singing, music, theatrical art). A Students' Union, 15 international student groups, the Student Group of the United Nations, BEST (Board of European Students of Technology), ESN, AIESEC, the Erasmus Student Network, and other student associations are all present at UrFU.
Career Development Strategies
UrFU places a foremost priority on providing students with employment opportunities in a selected sector and supporting their continued professional growth. All foreign students are eligible to work or intern at the institution or partner business. In Russia, the University has the greatest employment rate. Within six months of graduation, 85% of UrFU graduates land a job in Russia or abroad.
Over 200 international students are currently employed at UrFU, which places a high priority on hiring outside experts. With the opportunity to earn a dual degree and get foreign experience, the university has also partnered with other academic and research institutes throughout the world.
Encouraging Entrepreneurship
In the Ural Region, UrFU is a hub for innovative entrepreneurship. The university encourages and assists student entrepreneurship through different projects:
1. UrFU Talent School:
The educational center "Sirius" in the city of Sochi hosts the Ural Project Days, where students create and carry out group projects based on scientific, technological, and research advancements made in collaboration with businesses.
The UrFU Talent School is aimed at supporting technical innovation, project activities, and technological entrepreneurship of students to contribute to the development of the Sverdlovsk Region.
2. Startup as Diploma
The idea of the project is a preparation and defense of a Master's thesis in the form of a completed startup project for real businesses. That enables students to develop and commercialize the results of their research and development activities and gives an opportunity to prove themselves in front of potential employers.
Academic Programs in Future
UrFU has planned to launch new academic programs in both English and Russian for the 2023–2024 school year.
Programs in English include:
Bachelor's degree program "Technological machinery and equipment"
Bachelor's degree program "Applied ethics for business and industry"
Retraining 1-year MBA program
Programs in Russian include:
Master's degree program "Digital history"
Master's degree program "Digital Pedagogy and cognitive technologies"
Master's degree program "Mathematical physics and mathematical modeling"
Quote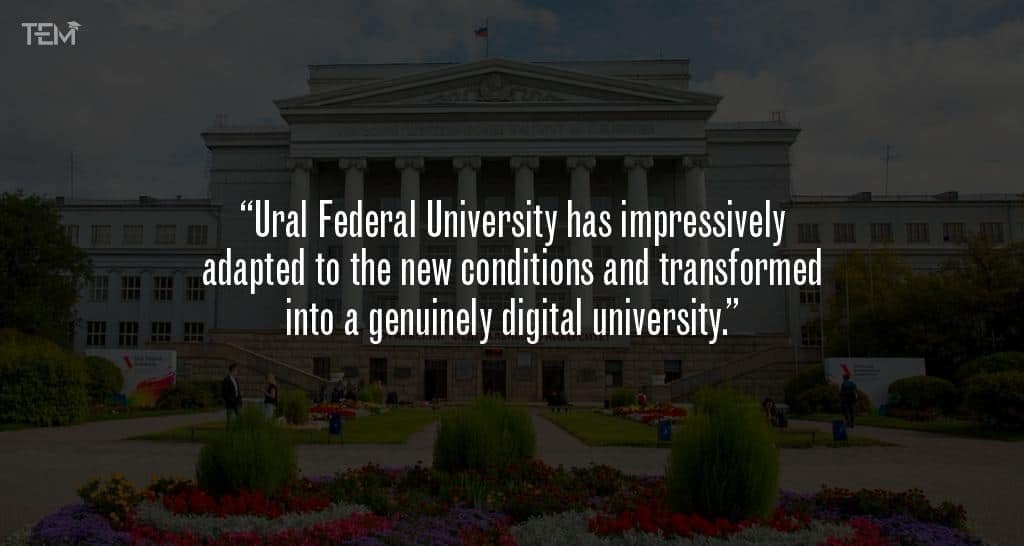 ALSO READ: The 10 Prominent MBA Colleges to Watch Out In 2022