In a world brimming with chaos and uncertainty, it's easy to lose sight of our inner compass, our guiding light that steers us through life's uncharted territories. For centuries, the Bible has served as a beacon of hope, a source of profound wisdom, and solace for countless individuals seeking direction and meaning in their lives. Today, we invite you to embark on a daily journey of spiritual enlightenment through the power of Bible verses and quotes. Let these timeless bible verses and quotes seep into your consciousness and allow their profound messages to resonate with your soul, offering solace, inspiration, and guidance as you navigate the ebb and flow of life's unpredictable currents.
Bible Verses
"May the God of hope fill you with all joy and peace as you trust in him, so that you may overflow with hope by the power of the Holy Spirit."
In essence, this verse is a declaration of the transformative power of God's love and the guiding presence of the Holy Spirit. It is a reminder that true joy, peace, and hope are found in faith and reliance on God.
"What, then, shall we say in response to these things? If God is for us, who can be against us?"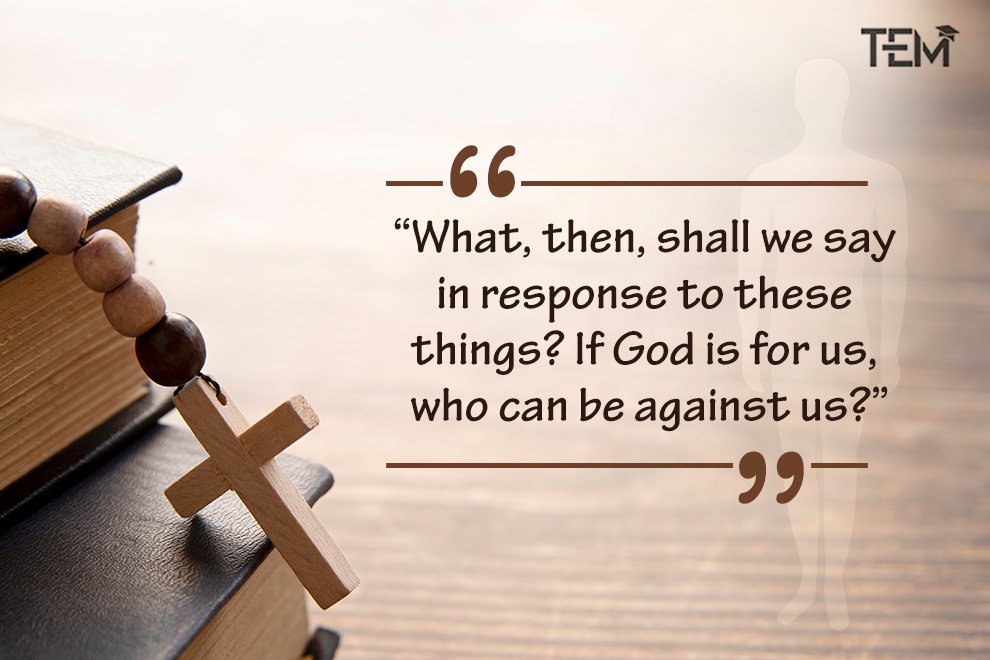 This verse is an affirmation of God's love and support for his followers. It essentially conveys the message that no matter the challenges or adversities we face in life, we can rest assured that God is always on our side. If God, the ultimate power and authority in the universe, is for us, then no earthly force or opposition can ultimately stand in our way.
"There is no fear in love. But perfect love drives out fear, because fear has to do with punishment. The one who fears is not made perfect in love."
This verse highlights the transformative power of love in overcoming fear. It asserts that true love and fear cannot coexist, for love casts out fear. Fear stems from the anticipation of punishment, implying a lack of trust and completeness in love. The one who experiences fear has not fully grasped the depth and security of perfect love.
"Jesus looked at them and said, 'With man it is impossible, but not with God. For all things are possible with God."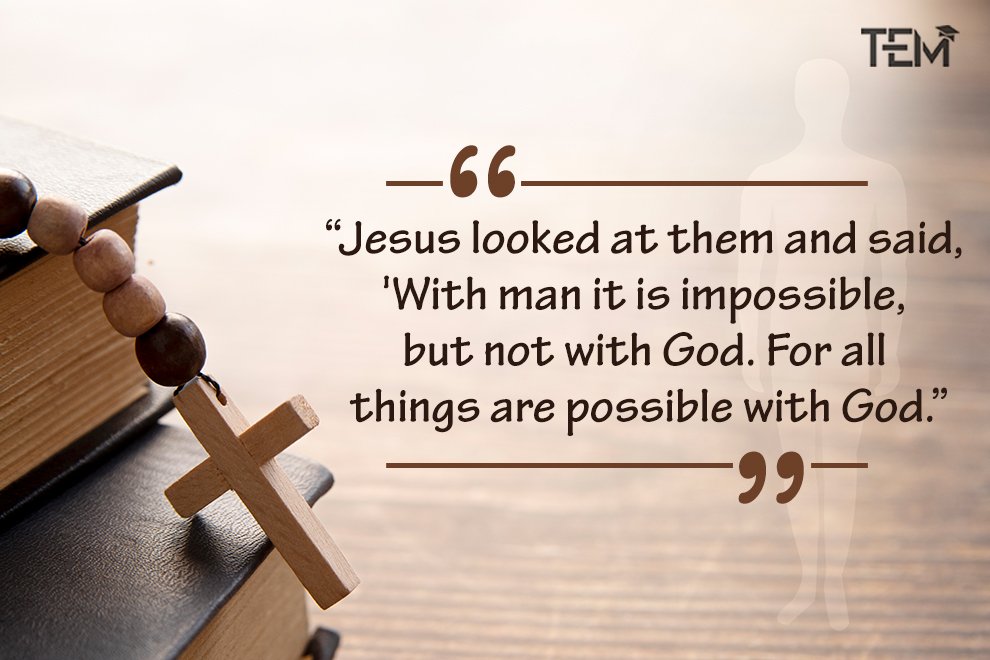 This verse tells us about the boundless power of God compared to the limitations of humanity. Even in seemingly insurmountable situations, God's intervention can make the impossible possible.
"Trust in the Lord with all your heart, and do not lean on your own understanding. In all your ways acknowledge him, and he will make straight your paths."
This verse promotes a life of trust in God, acknowledging his sovereignty, and seeking his direction in all endeavors. It promises that such a life will be led down a path of righteousness, purpose, and true fulfillment.
"For I know the plans I have for you," declares the Lord, "plans to prosper you and not to harm you, plans to give you hope and a future."
God has good intentions for us, seeking our prosperity and well-being, not our harm. He promises us a future filled with hope and fulfillment. This message is a reminder that despite the challenges and uncertainties of life, God has a greater plan for us, one that leads to a brighter future.
" Fear of man will prove to be a snare, but whoever trusts in the Lord is kept safe."
This verse tells us the importance of placing our trust in a higher power rather than succumbing to the fear of human judgment. It encourages us to seek God's wisdom and guidance, knowing that true security and safety come from trusting in the Lord.
"Come to Me, all you who are weary and burdened, and I will give you rest."
The verse is a reminder that we cannot carry our burdens alone. We need someone to help us bear them. Jesus is the one who can help us. He is strong, and he is able to carry any burden. He is also compassionate, and he understands our pain.
"But you, Lord, are a shield around me, my glory, the One who lifts my head high."
God is the ultimate source of security, identity, and empowerment. The verse is a powerful affirmation of faith, trust, and gratitude in the face of adversity.
"The Lord is my light and my salvation; whom shall I fear? The Lord is the stronghold of my life; of whom shall I be afraid?"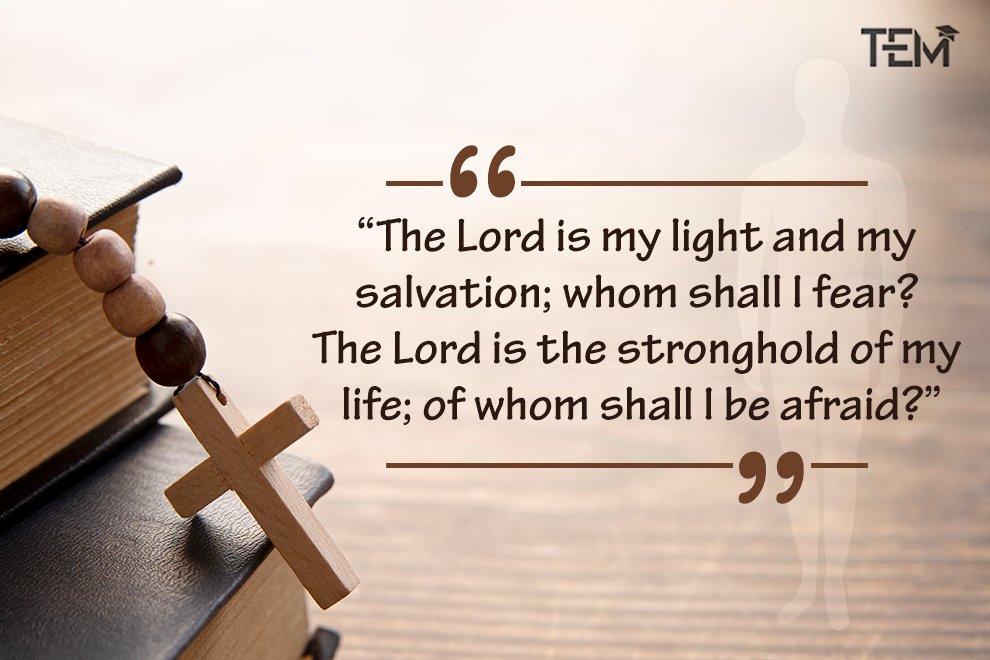 This verse is a reminder that when we place our faith and trust in God, we can face any challenge or adversity with courage and peace. God is our ultimate source of light, salvation, and strength, and he will never abandon us.
Bible Quotes
"Don't you know that you yourselves are God's temple and that God's Spirit dwells in your midst?" – 1 Corinthians 3:16.
The quote tells us that the church isn't the only place where God resides. God resides in his believers as well.
"For as woman came from man, so also man is born of woman. But everything comes from God." – 1 Corinthians 11:12.
This quote highlights the interdependence of men and women while emphasizing their shared dependence on God as the creator and sustainer of all.
"So whether you eat or drink or whatever you do, do it all for the glory of God."- 1 Corinthians 10:31.
All aspects of our lives, from the mundane to the momentous, should be lived in a way that brings honor and praise to God.
"Love is patient, love is kind. It does not envy, it does not boast, it is not proud." -1 Corinthians 13:4.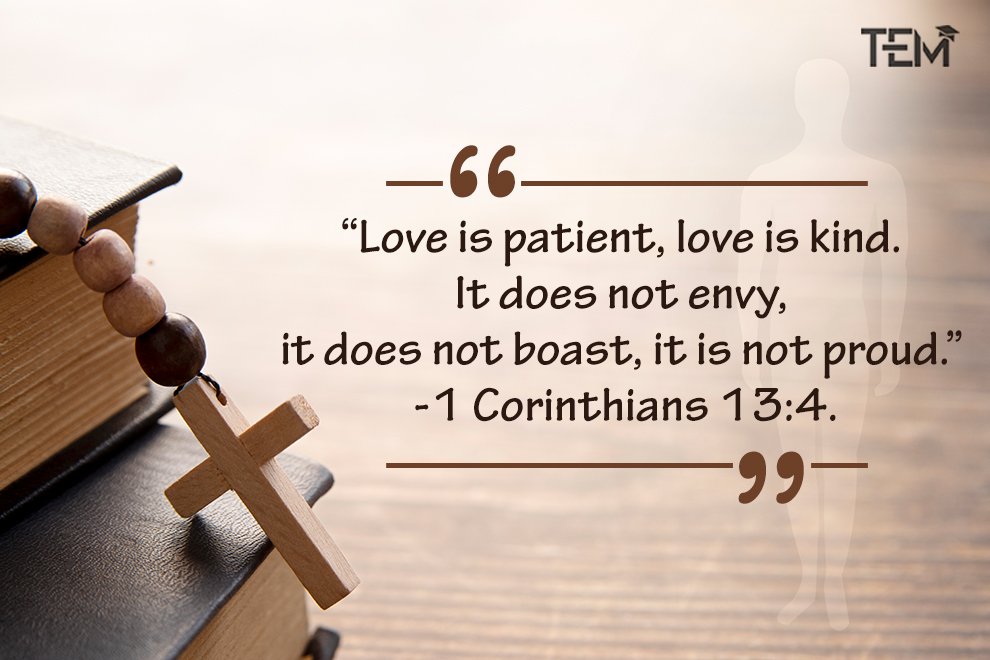 True love is not about fleeting emotions or personal gain. It is a deep, abiding commitment that demonstrates patience, kindness, and humility.
"Get rid of all bitterness, rage and anger, brawling and slander, along with every form of malice." – Ephesians 4:31.
The quote tells believers to let go of negative emotions and behaviors that can damage relationships and hinder spiritual growth.
"Have nothing to do with the fruitless deeds of darkness, but rather expose them." – Ephesians 5:11.
The quote is a call to Christians to shun sinful behavior and bring it to light. It is a reminder that sin is ultimately unproductive and harmful and that we should instead strive to live in accordance with God's will.
"Do not forget to show hospitality to strangers, for by so doing some people have shown hospitality to angels without knowing it." – Hebrews 13:2.
This quote emphasizes the importance of extending kindness and hospitality to strangers. It suggests that by doing so, we may unknowingly be welcoming divine messengers into our lives.
"The heart is deceitful above all things and beyond cure. Who can understand it?" Jeremiah 17:9.
The quote highlights the complexities and hidden depths of the human heart. It speaks to the inherent capacity for deception and wickedness that resides within us, suggesting that even we ourselves may not fully comprehend the true nature of our own hearts.
"What good is it for you to gain the whole world, yet forfeit your soul?" – Mark 8:36.
The quote serves as a reminder that true fulfillment lies in cultivating inner peace, integrity, and a connection to something greater than oneself. It encourages individuals to prioritize their spiritual growth and not be swayed by the allure of worldly success.
"A cheerful heart is good medicine, but a crushed spirit dries up the bones." – Proverbs 17:22.
This quote highlights the profound connection between our emotional well-being and our physical health. It suggests that a positive and optimistic outlook can act as a powerful medicine, promoting overall health and vitality. Conversely, a spirit weighed down by despair and hopelessness can have a detrimental impact on our physical condition, draining our energy and depleting our strength.
In life's journey, Bible verses and quotes serve as timeless guideposts, offering wisdom and solace. Their simplicity holds profound truths that resonate in moments of joy and challenge alike. These bible verses and quotes weave through our experiences, providing direction and hope. Within the sacred words, a quiet strength emerges, offering courage and peace. Embrace the comfort and inspiration found in the treasury of Bible verses and quotes; they are a constant light, illuminating our paths with enduring wisdom.
ALSO READ: 15 Noble Buddha Quotes about Life to Cherish Enlightenment