In cities across the United States, protests were the spark and now the fire is spreading. The police killing of George Floyd has acted as a flashpoint for the unrest, and the situation is especially volatile considering the economic difficulties that the country is facing. Minneapolis, where the spark of these protests began, is experiencing some good news in this uneven mess left behind from weeks. Let's have a look.
$150 million cuts from the police budget
Cities across the United States are starting to rethink how their communities are policed. Sparked by the death of 46 years old George Floyd in Minneapolis, the protests against police brutality have raised many fortunes towards the oppressed communities. One particularly, the LA Mayor Eric Garcetti has promised to cut $150 million from the city's police budget that will redirect towards community health and education in communities of color. The mayor also promised to establish an LA department of Civil and Human Rights and an Office of Racial Equality running by next month.
A full scholarship, car, and insurance for cleaning protested streets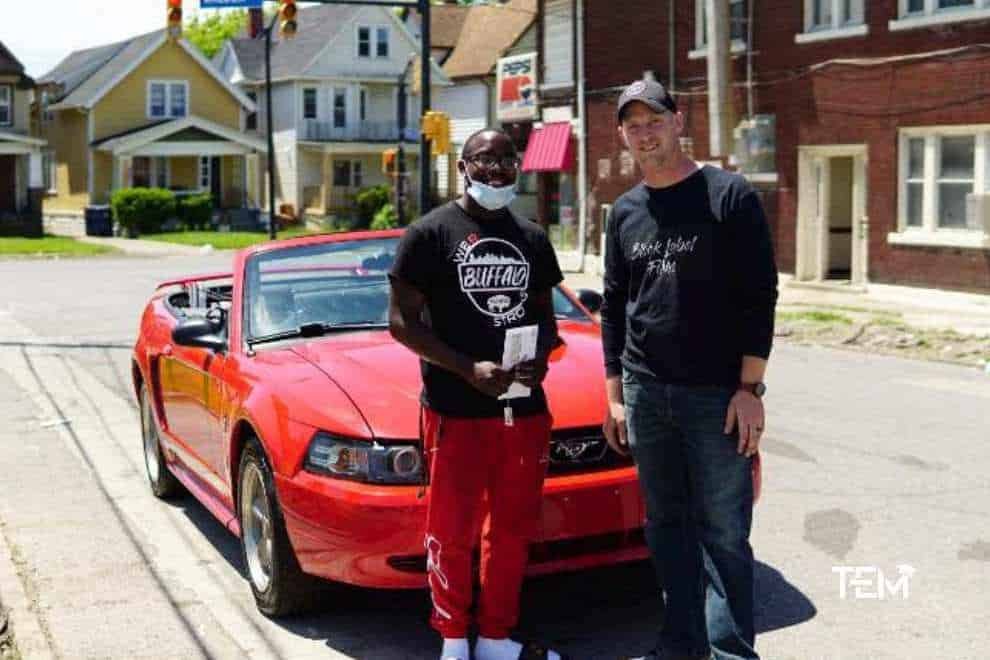 Antonio Gwynn Jr., a teen noticed all the litter left behind after a protest that took place at Bailey Avenue, New York. He saw the broken glass and rubbish on the roads and knew his neighbors will need to use those roads the next day. Antonio took a brush, some rubbish bags, and went out of the door at 2 am. He invested 10 hours of the night cleaning and in the morning when a few people came to clean, they were pleasantly surprised! Neighbors feeling thankful for this gesture, 27 years old Matt Block decided to gift him his 2005 red Mustang convertible. The rarely used car got a deserving owner now.
Hacktivists unveil Minneapolis police department's "many crimes"
Anonymous group "hacktivist" has used a variety of different social media pages to connect with followers, share news, and discuss operations. Last month, an Anonymous News Facebook page with 11 million followers published a video with a message to the Minneapolis Police department. The video featured a figure in the iconic Guy Fawkes mask with an electronically concealed voice, reading a statement about the Minneapolis Police Department and their "many crimes." Within days, the Minneapolis police department website was temporarily taken offline in a suspected Distributed Denial of Service (DDoS) attack. Next, a database of email addresses and passwords claiming to be hacked from the police department's system leaked online. During the 2014 protests in Ferguson, Missouri, Anonymous threatened to target the city if protesters were harmed, and then temporarily disabled the city's website.
'Daddy Changed The World': George Floyd's Daughter
George Floyd's six-year-old daughter, Gianna, saying that her "Daddy changed the world." A video has emerged where Gianna is seen sitting upon the shoulders of former NBA star Stephen Jackson, who was a good friend of George Floyd. The video has been widely shared on social media after it was posted on Twitter by Bernice A. King (daughter of Dr. Martin Luther King, Jr.). As King's assassination did, Floyd's death has galvanized African American communities to protest against centuries of oppression.
"Nobody knows her burden and pride as you," Bernice tweeted.
"He will never see her grow up, walk down the aisle." Gianna's mother Roxie Washington, revealed that she had not fully explained to her daughter how her father died. "I told her dad died because he couldn't breathe."
Kanye West will pay Floyd's daughter college fee
Many celebrities are coming forward to protest against this police brutality and systemic racism. Among them, Kanye West has recently donated 2 million dollars as a support for the family of George Floyd. A representative of Kanye West has mentioned that around a 529 education plan has been implemented in favor of Gianna's college fees. This money has been also allocated to support the daily of Breonna Taylor and Ahmaud Arbery, the two other victims of systemic racism. The donation will include the legal fees for Taylor and Arbery's families and also a portion of it will help the businesses owned by black people in Chicago and other countries.
Black lives matter even when we don't have protests going on around us. Such systemic violence against a race is depressing to see in this modern world. But thankfully, some are defining it as it should be by coming out to show their support and protest for the good cause.