Pride is not always harmful if practiced in a balanced manner. Every person should have some amount of pride to save their dignity and self-respect. However, too much pride can destroy everything. These pride quotes will help you maintain and achieve an optimum balance.
"I always take pride in the fact that nobody can mess with me, and I never let anybody mess with me my entire life." – Dean Ambrose
"The greatest pride, or the greatest despondency, is the greatest ignorance of one's self." – Baruch Spinoza
"Proud people breed sad sorrows for themselves. But if you be afraid of your touchiness, you must ask pardon, mind, when she comes in." – Emily Bronte
"Some people would rather die in their pride, than live in their humility." – Anthony Liccione
"Pride builds walls between people, humility builds bridges." – Rick Warren
"Pride must die in you, or nothing of heaven can live in you." – Andrew Murray
"Through pride we are ever deceiving ourselves." – Carl Jung
"I think pride is more important sometimes than making money." – Kapil Dev
"The fastest way to get me to go out and do something is to tell me no way I can do it." – Evelyn Ashford
"When dealing with people, remember you are not dealing with creatures of logic, but with creatures bristling with prejudice and motivated by pride and vanity." – Dale Carnegie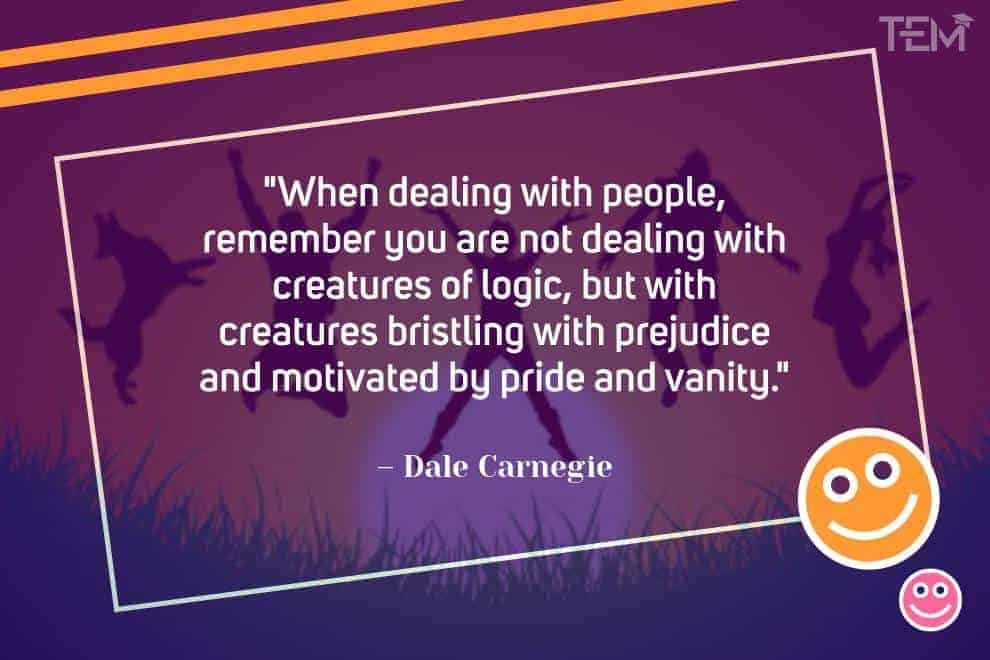 "Pride helps us; and pride is not a bad thing when it only urges us to hide our own hurts—not to hurt others." – George Eliot
"Love hath no pride." – Karen Marie Moning
"Take pride away from a man and you might as well run a knife through his heart." – Julie Garwood
"If you believe in yourself and have dedication and pride and never quit, you'll be a winner. The price of victory is high but so are the rewards." – Bear Bryant
"It's a fine thing to rise above pride, but you must have pride in order to do so." – Georges Bernanos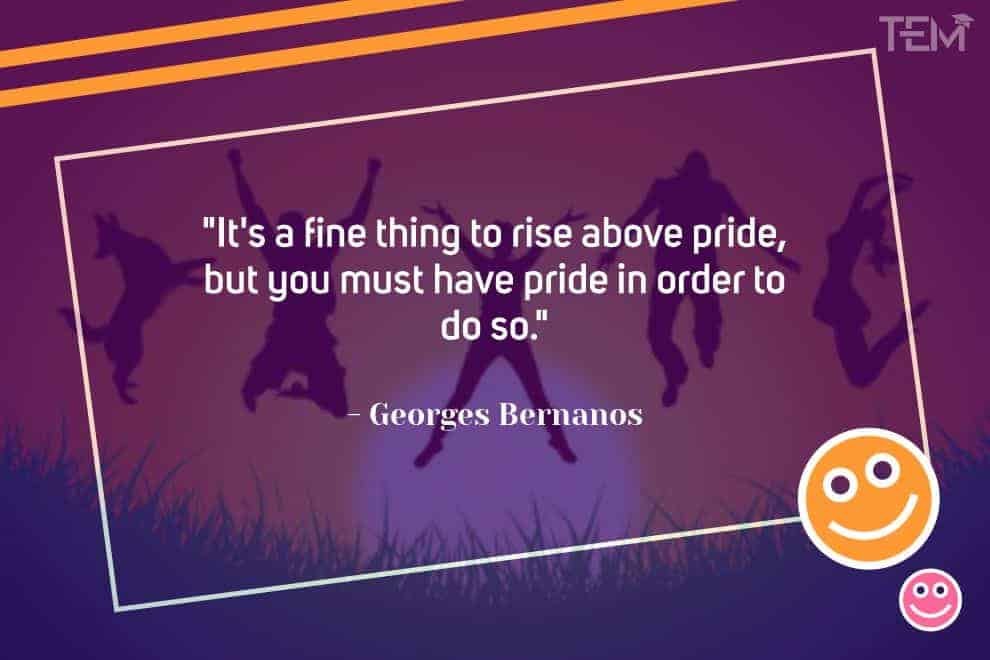 "Pride is pleasure arising from a man's thinking too highly of himself." – Baruch Spinoza
"Nothing is more scandalous than a man that is proud of his humility." – Marcus Aurelius
"I just believe that young people need to be able to learn how to write in their own voice. Just like a musician, you pride yourself on having your own distinct sound." – Terry McMillan
"A proud man is always looking down on things and people; and, of course, as long as you are looking down, you cannot see something that is above you." – C.S. Lewis
"Most of the trouble in the world is caused by people wanting to be important." – T. S. Eliot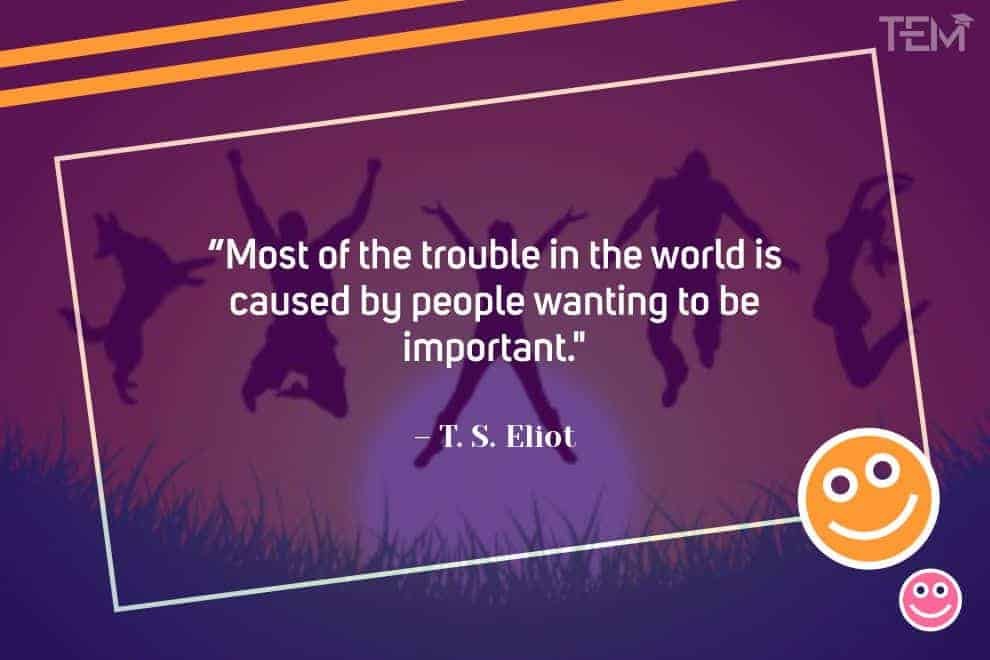 "Humility is nothing but truth, and pride is nothing but lying." – St. Vincent de Paul
"Our pride will lead us to perish, but our politeness keeps us alive." – Sipho P. Nkosi
"Pride is not the opposite of shame, but its source. True humility is the only antidote to shame." – General Iroh
"Sometimes I think that you have to swallow your pride a little bit and know when you are done." – Jason White
"Pride is an admission of weakness; it secretly fears all competition and dreads all rivals." – Fulton J. Sheen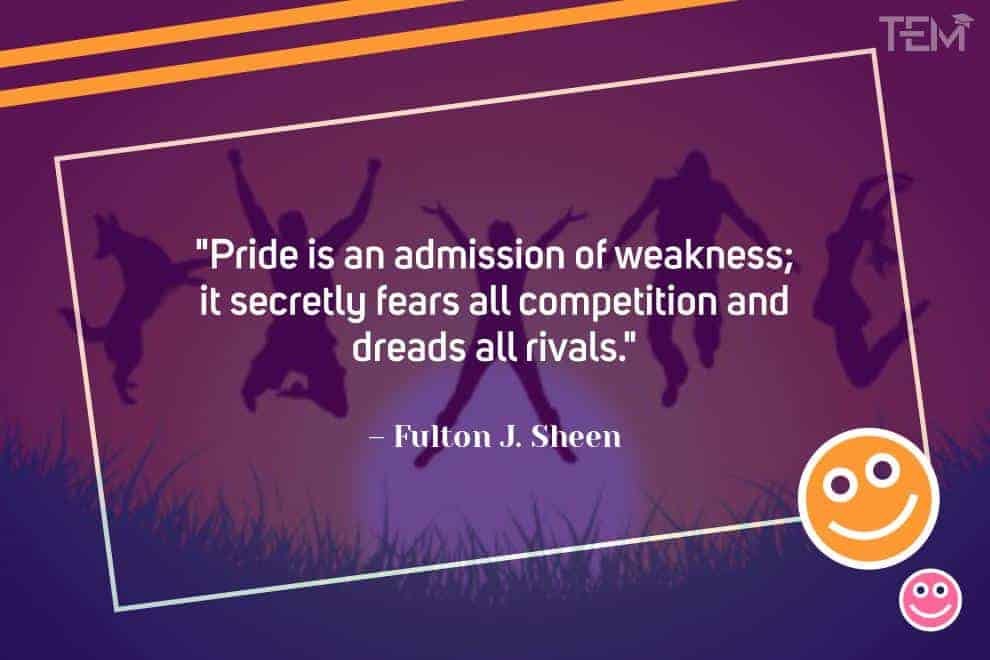 "All men make mistakes, but a good man yields when he knows his course is wrong, and repairs the evil. The only crime is pride." – Sophocles
"I do not care so much what I am to others as I care what I am to myself." – Michel de Montaigne
"I would always rather be happy than dignified." – Charlotte Bronte
"Through pride we are ever deceiving ourselves. But deep down below the surface of the average conscience a still, small voice says to us, something is out of tune." – C.G. Jung
"All your life, other people will try to take your accomplishments away from you. Don't you take it away from yourself." – Michael Crichton
"We are rarely proud when we are alone." – Voltaire
"Leave your pride, ego, and narcissism somewhere else. Reactions from those parts of you will reinforce your children's most primitive fears." – Henry Cloud
"He that is proud eats up himself: pride is his own glass, his own trumpet, his own chronicle." – William Shakespeare
"Ignorance and power and pride are a deadly mixture, you know." – Robert Fulghum
"Pride is the mother of arrogance." – Toba Beta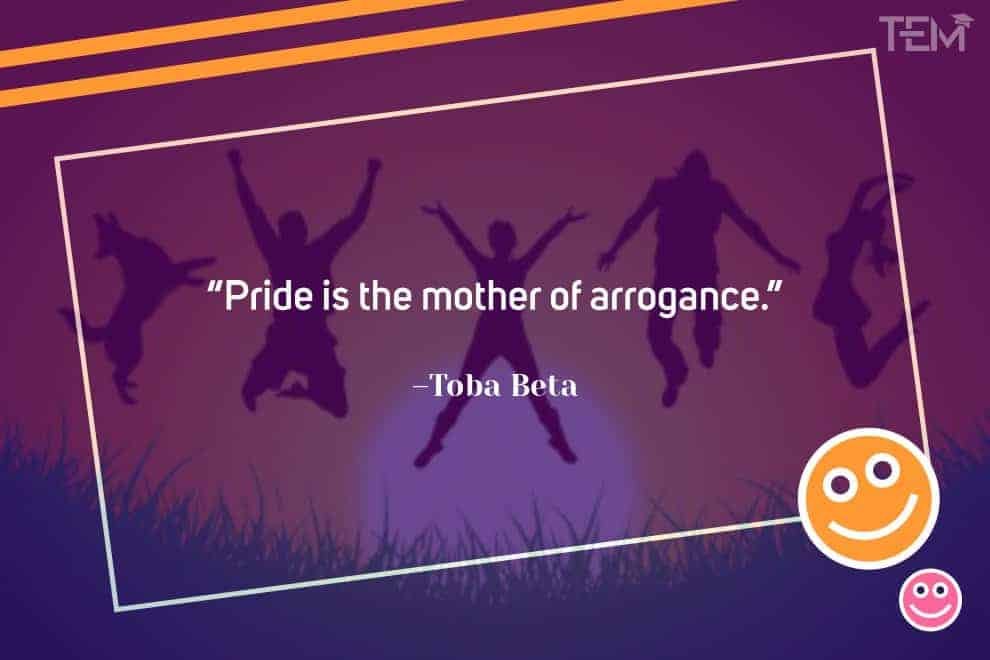 "Pride costs us more than hunger, thirst, and cold." – Thomas Jefferson
"Pride is holding your head up when everyone around you has theirs bowed. Courage is what makes you do it." – Bryce Courtenay
"He understood well enough how a man with a choice between pride and responsibility will almost always choose pride–if responsibility robs him of his manhood." – Stephen King
"The best lightning rod for your protection is your own spine." – Ralph Waldo Emerson
"Because he could not afford to fail, he could not afford to trust." – Joseph J. Ellis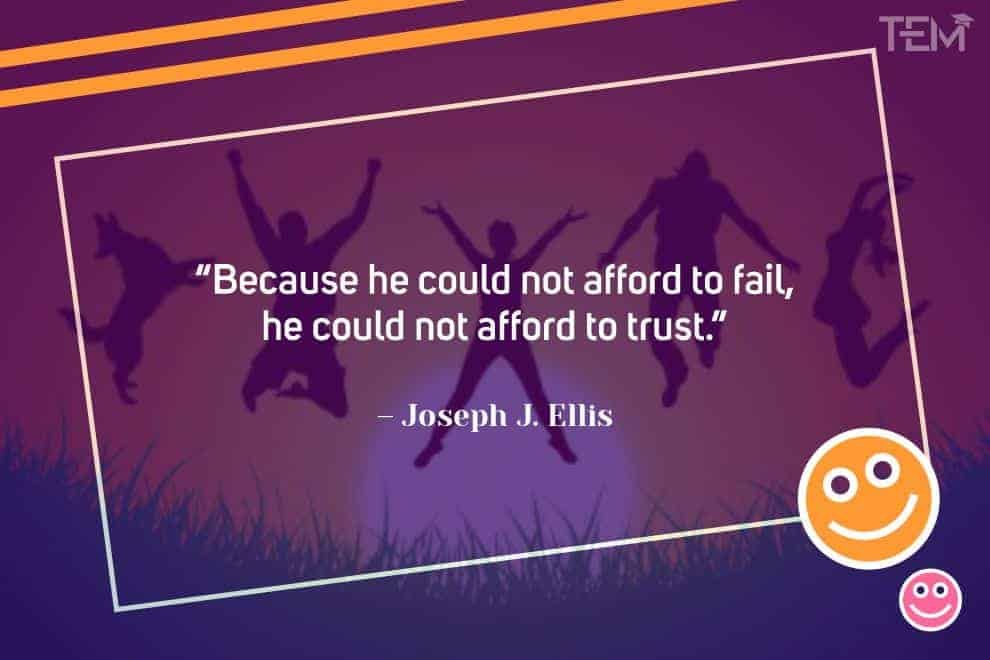 "Wealth is a gift from God, and pride is bequeathed to us from the devil." – Douglas Wilson
"Humility and pride will forever battle whenever or wherever love is concerned." – Jeremy Aldana
"You're not born with a walk like that. You have to earn it." – Donna Ball
"Pride is a wound, and vanity is the scab on it. One's life picks at the scab to open the wound again and again. In men, it seldom heals and often grows septic." – Michael Ayrton
"Learning to live on less pride has been a great investment in my future." – Katerina Stoykova Klemer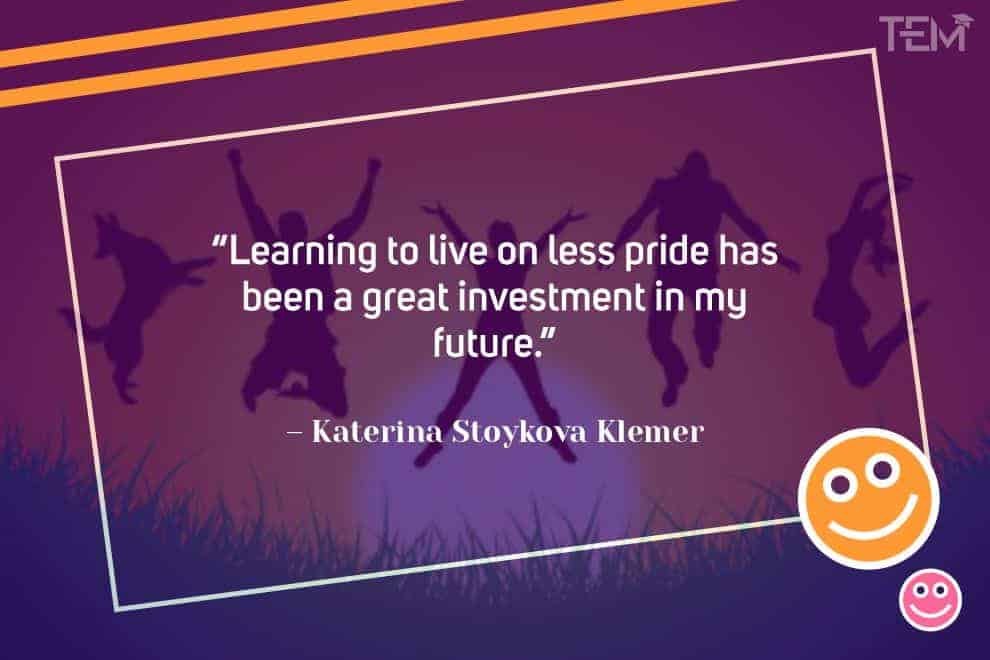 "Pride and excess bring disaster for man." – Xun Kuang
"Vanity and pride are different things, though the words are often used synonymously. A person may be proud without being vain. Pride relates more to our opinion of ourselves, vanity to what we would have others think of us." – Jane Austen
"The hated man is the result of his hater's pride rather than his hater's conscience." – Criss Jami
"For thirty minutes I sat back and felt the glimmer of pride that historically precedes the most catastrophic falls." – Antony John
"Pride will spit in pride's face." – Thomas Fuller
Proper understanding of these pride quotes will not just boost your self-esteem and confidence but also guide you to the path of humility. It is very essential to understand the difference between pride and prideful.
Also read: Pride Month: Support beyond pride marketing and rainbow washing