Today, several students in the APAC region aspire topursue American-style education as it promises a competitive edge in the workforce to graduates. However, only a handful of international students can afford the high cost of living in the US.
With the mission to develop young talent by providing a US standard education in Vietnam, The American University in Vietnam (AUV) has been continuously striving to enhance the educational quality. "We have an obligation to help students to create a better future, leading a more fulfilling and productive life, regardless of economic limitations," quotes Dr. Binh Thy Nguyen Tran (Founder & Chair of AUV Board of Trustees).
At the helm of the university, Dr. Binh is dedicated to the cause of education in Vietnam. With a rich background in business and education, she is mindful of the advantages of American education and she understands its high cost. Following the success of two K-12 American international schools in Vietnam, she was driven to create a private university that was cost-effective and affordable for students of all backgrounds, paving the way for the inception of AUV.
Transnational Institution Access
Established in 2016, AUV is located in one of the fastest growing cities in Central Vietnam. The university has developed its program in partnership with top-tier universities including Virginia Commonwealth University, Wentworth Institute of Technology, University of Missouri Kansas City, and others in order to offer Vietnamese and international students the opportunity to access high-quality American education at an affordable cost.
AUV operates on a large campus of natural space that provides a comfortable and academically challenging environment. Along with cost-effective education, the university's transnational institutional access makes it distinctive in the educational sphere. Students can choose to study one or two years in Vietnam and continue their coursework in any of the 300 majors that AUV partner universities offer in the US. The university's credits are transferable to American universities, providing students the opportunity to complete their studies here or abroad in their preferred field of study.
Comprehensive Study Programs
AUV offers several ways for you to start and finish your degree program that fit your individual goals or plans. At AUV, you can experience academic programs at one of our American partner universities. Some popular programs at AUV are:
1. Communication & Media (Focus on Journalism, Public Relations, Advertising, and Video production). This program is offered as collaboration between AUV and Virginia Commonwealth University (VCU), offering a Bachelor of Science in Communication & Media with concentrations in one of four areas: advertising, journalism, video production or public relations. Study period possibilities include 2+2+1 or 1+3+1 or 4+1.
2. Health & Sciences. (Including as Pharmacy, Allied Health, pre-Med and pre-Dentistry & Nursing). Programs are dedicated to maintaining and updating the competency of health professionals in addition to preparing graduates to enter health professions. This program is a collaboration between AUV and VCU, which allows students to gain direct experience in the US, applying advanced health education standards. Students can choose to earn a BS degree at AUV or at VCU and continue for the master's degree at VCU. They will have multiple options for their education, such as Pharmacy, Allied Health, pre-Med, pre-Dentistry & Nursing.
3. Computer Science. Computer Science has been a highly popular major, and careers for graduates have been in high demand in recent years. Students majoring in this field have enjoyed excellent opportunities upon graduation. Students can earn a BS degree in Computer Science or a BS in Software Engineering and continue education for a master's degree at UMKC. Students have options to complete their degrees in various ways, such as 4+1 or 2+2+1 or 1+3+1.
4. Aviation Maintenance Technology & Aviation Maintenance Management. Since 2005, APU has collaborated with select universities in the United States for training more than 100 employees of Vietnam Airlines Corporation in areas of Aviation Maintenance Engineering and Aviation Maintenance Administration. The Aviation Maintenance program is available in collaboration with ASU and FIT.
5. Business Administration. Business Administration is designed to provide in-depth knowledge and skill in various fields of business, such as entrepreneurship, leadership, finance, and much more. Students can pursue careers in industry, international trade and finance, multinational companies, private business, investment, and social enterprise.
6. Global Business Management. Our Global Business Management major is suitable for those with career plans in international commerce fields, such as careers in import/export companies, multinational enterprises, global supply chain operation, international banks and investment funds…etc. Upon graduation students may pursue their education for a master's degree in the U.S., such as Thunderbird school of global management.
7. Multidisciplinary Engineering (Including Aeronautical Engineering, Industrial Engineering, Mechanical Engineering, Software Engineering)
The program offers considerable flexibility including numerous electives which allow a plan of study to meet student's educational goals. This affords bringing together multiple engineering and non-engineering disciplines at an advanced level to solve societal challenges. Established plans of study in the program include Aeronautical Engineering, Mechanical Engineering, and Software Engineering, to name a few.
A 'Student-Centered' University
AUV is home to a vibrant student community that nurtures interaction and involvement. Moreover, its generous financial assistance program is coupled with special scholarships available to only international students through the AUV Presidential Merit Scholarship. This enables students from various nationalities the opportunity to earn a globally recognized degree with affordable fees and to commence their studies amidst the tropical landscapes of AUV campus and new facilities. Students are able to spend their educational tenure in a favorable atmosphere and experience the rich cultural and historical heritage of a vibrant emerging economy.
As a student-centered university, AUV ensures that the students are positively engaged both in curricular and cocurricular activities. It has developed the teaching and learning process to meet rigorous criteria. The first two years of AUV's curricula emphasize the foundation of liberal education based on critical and creative thinking and rational and methodical thinking.
Equipped with Latest Educational Facilities
Distance Learning has proven highly beneficial for the continuation of education during challenging times, especially in the ongoing global pandemic. The AUV Distance Learning Program offers several considerable advantages. These include Classroom Soundproofing, fully equipped smart high-tech online classrooms, multidimensional learning interactions, and ensuring effective learning pathways.
Every classroom at AUV is equipped with up-to-date technology that allows for the most innovative teaching practices in Vietnam. Its Technology Lab in Room 310 contains 25 tech stations for students, each consisting of a high-performance computer with a lightning-quick Ethernet connection and direct access to AUV printers. The students can use the resources offered by the lab at no additional cost all day long.
Plethora of Benefitting Additionalities
AUV understands that the functions of a university do not end at the door to classrooms. Its Centers collectively serve as centers of collegiate life for students, faculty, staff, alumni and guests. They also foster and encourage an environment that honors a rich tradition of liberal education, builds community, supports student growth, and facilitates civic engagement.
The Center for Career Development provides students opportunities to complete internships, externships, and volunteer experiences in their chosen fields of study. These include both paid and unpaid positions and give students the chance to get a head start on their professional careers. Every year, through its partnership with the University of Missouri at Kansas City (UMKC), AUV provides opportunities for dozens of top students at APU American International School to earn transferable university credits in courses taught by the core faculty. These include fields like history, English composition, creative writing, psychology, and mathematics.
AUV's Center for Student Success supports the academic and social needs of students throughout their university experience. Academic advisors, peers, and university faculty work hand-in-hand to ensure the well-being of every student at AUV. Through agreements with its partner universities in the US, AUV provides opportunities for its students to study abroad, and for students at partner universities to study at AUV. These cultural exchanges allow all students to expand their knowledge of the world's cultures, societies, and business practices.
Anticipating Future Expansions
During the ongoing travel restrictions and visa processing delays that persist for the international student community, AUV continues to be the wise choice for supporting students by creating in-person learning and studying online when needed. With the continuous effort to improve the quality of teaching, training, and scientific research activities, the university focuses on constructing an American Education Village in the South of Vietnam. The project is planned to be a world-class campus with top quality design and facilities that create an ideal learning and working environment for students, lecturers, and staff. It also promises to provide ample space to implement new educational models, programs, and facilities to students, strengthening its role in education and research in Vietnam, U.S, and worldwide.
Note for the Students: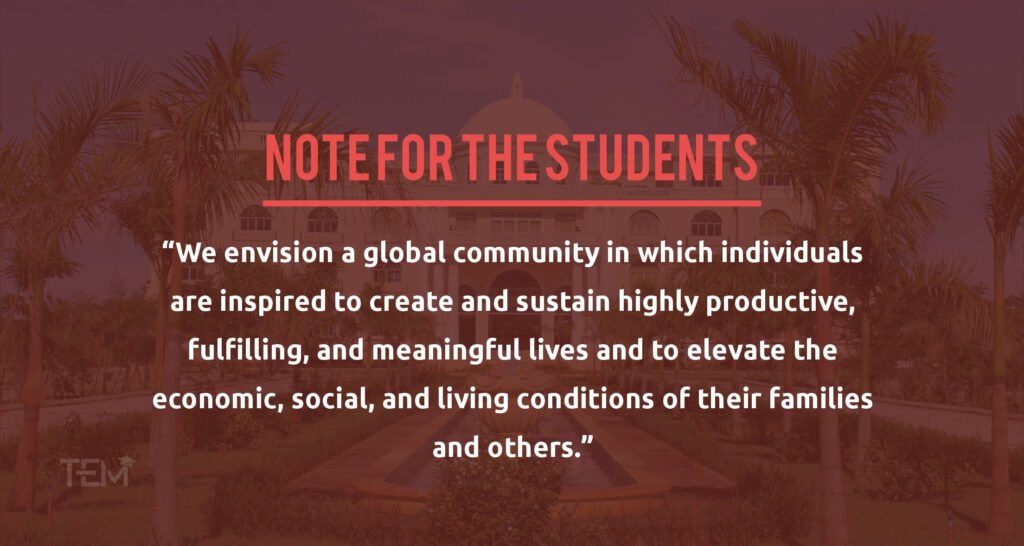 Read the full Magazine: "The 10 Best Business Schools for 2023"