Art as a field of study is chosen by numerous ambitious students around the world. Arts education equips the student with the ability to translate their imagination, creativity, and ingenuity. Fine arts programs typically are a balanced combination of theoretical and practical elements that nurture artistic thinking within the students. Burren College of Art provides an alternative model as an art college. The small, independent art school was founded on the belief that Time, Space, Inspiration, and individual attention are essential elements for the development of the student artist.
The college caters to an international community comprising an undergraduate study abroad program and postgraduate students working under the direction of renowned faculty and alongside established resident artists. Mary Hawkes-Greene is the President and Founder of Burren College of Art. Her career in education has ranged from teaching in Italy, France, and Israel, to designing programs for inner-city Dublin communities, to working with government agencies on education policy for itinerant Irish traveler children.
Central to all of these has been her commitment to the arts in education and firsthand experience of the educational value of living in diverse cultures. Mary actualized her beliefs by setting up the Burren College as an alternative model of art education for an international audience in an inspirational setting.
Transformative Culture
Burren College of Art was established in 1994 with an aim to enable international art students to derive benefits from the inspirational environment of the area while gaining professional degrees. The college was purposefully built with an emphasis on providing spacious individual studios and facilities and maintaining a human scale that enables authentic engagement between the students and the local community.
The restored 16th century Newtown castle at the heart of the campus connects the contemporary ethos of the college with the rich cultural history of the ancient landscape. Witnessing the transformative power of place, process, and community – ReSource, a socially engaged outreach program – has expanded to convene leaders and systems for 'audacious conversations' on issues of systemic import.
Polishing Future Artists
Ever since Burren College of Art was founded it has been an international partner of a consortium of independent art colleges in the US and primarily offers a variety of undergraduate study abroad programs. Later in 2003, it started postgraduate degree programs and has been growing ever since. Presently, it hosts students from diverse backgrounds and cultures. Over the years, students from different regions of the world including China, India, England, Australia, Jordan, and the EU have chosen the college, in addition to Irish and North American cohorts.
Burren College of Art offers a wide range of postgraduate degrees in both Studio Art and Art & Ecology. In addition to its MFA and MA programs, its Post Baccalaureate degree is designed specifically for students who have an art practice but majored in a non-art field as an undergraduate and wish to pursue art as a higher-level education.
The Ph.D. programs at the college are practice-based, combining studio and theoretical-based research to create new knowledge. The undergraduate programs are short-term semester and summer study abroad courses, allowing international art students to experience life at the Burren as part of their studies.
"Since setting up the college in 1994 my greatest satisfaction continues to come from witnessing students positively transform in this environment. This growth results not always from adding new layers of skills but rather from stripping away the excess and discovering their true selves and who they are as artists," said Mary.
In the Cradle of Nature
Burren College of Art is situated on the Wild Atlantic Way in the northwest of County Clare in Ireland. The Burren – an area of spectacular karst landscape on Ireland's West Coast – has been a magnet and powerful creative source to artists of all genres through the ages. The region is famous for its natural beauty and unique ecosystem. Located in a rural area at an intentionally small-scale campus the college creates a unique learning environment for Art education.
The college is surrounded by limestone hills and the nearby shoreline of Galway Bay which gives the students direct access to nature. Students from all programs often find inspiration while engaging directly with the changing natural systems. Burren College of Art recognizes the growing importance of art integrating with the sciences at a global level, and the increased enrolment in its Art & Ecology degrees reflects this need.
Ever-Evolving Institution
The environment of the Burren has allowed the Burren College of Art to reconnect students to places and considerations of life on the planet. Consequently, the college has gradually expanded its range of undergraduate and post-graduate programs in Art and Ecology and developed dedicated summer schools.
Ever evolving, Burren College of Art became the first college in Ireland to offer the MFA in Studio Art along with the research-based Ph.D. in Fine Art. The College has also designed creative modules which are delivered to faculties of Medicine, Arts, and Business at NUI Galway, and annual creative leadership retreats that attract an international audience.
Devising New Practices
Given the rural location, small scale, and large individual studios Burren College of Art has been quite fortunate during the pandemic. The students were able to remain active on campus in their studios while following health and safety protocols for the duration. The college was able to offer in-person teaching for the majority of the academic year of 2020 before switching to online modes of learning in the Spring.
Tools like Zoom have enabled the institute to increase connectivity with onboarding students. It has also allowed them to partake in live virtual tours and conversations with continuing students as well as alumni. "We find it is particularly important for students to be able to connect with us and each other ahead of time", says Mary.
Providing the Tools to Succeed
Burren College of Art offers a variety of partial tuition and housing scholarships for its international postgraduate students. This scholarship is awarded by alumni and internationally recognized artists, Sean Scully and David Whyte. "Our scholarships are based on a combination of demonstrated merit and financial need," mentioned Mary.
While the college doesn't guarantee job placement, it has a required Professional Practices module for our MFA and MA students, which focuses on self-development in addition to teaching them relevant skills. These include portfolio preparation, interview techniques, approaching curators and galleries, exhibition installation, and others to equip the students with the tools to create a career as professional artists.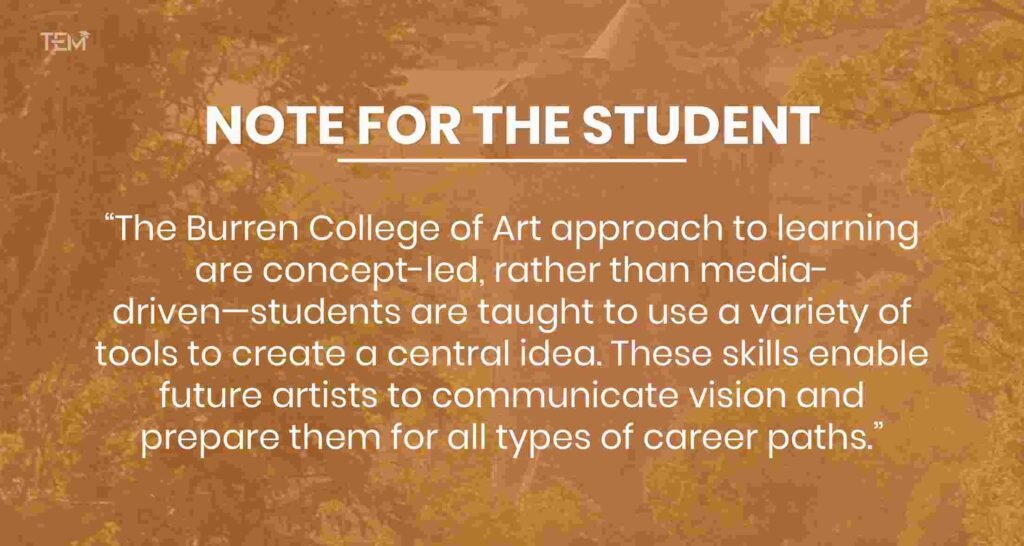 Read the full magazine: The 10 Most Prominent Art Colleges to look for in 2023