The fast-changing legal environment of current times requires – more intensely than ever before in history – innovation and flexibility, the capability to adjust to global challenges and meet local expectations as well as hesitations. This demands the ability look beyond national borders for adequate solutions, to be inspired by ideas on the international level, and to learn from the past experiences of other countries both in a positive and negative sense. This is what the programs devised by the Department of Legal Studies at CEU quintessentially provide.
Cultivating Academic Liberty while Pursuing Objective Truth
Central European University is an undergraduate and graduate-level "crossroads" university where faculty and students from more than 100 countries congregate to engage in interdisciplinary education, pursue advanced scholarships, and address some of society's most vexing problems. CEU is known for excellence in teaching and research with a purpose. At the core of its mission lies a set of principles: the pursuit of truth wherever it leads, respect for the diversity of cultures and peoples, and commitment to resolving differences through debate, not denial.
Founded in 1991 at a time when revolutionary changes were throwing off the rigid orthodoxies imposed on Central and Eastern Europe, CEU is based on the premise that human fallibility can be counterbalanced by the critical discussion of ideas and that this critical spirit can be sustained best in societies where citizens have the freedom to scrutinize competing theories and openly evaluate and change government policies.
Making the Students 'Future-Ready'
There are multiple methods of preparing students for the future in law and making them "Future-Ready". CEU's Legal Department achieves this firstly by closely following market developments and reacting in time to any foreseeable changes in the legal system. The Department also continuously updates course contents by consulting lecturers who practice law on a daily basis in order to keep up with topical legal trends. For example, due to the increased impact of technological development on law and regulation, a new Law and Technology course has been launched successfully. Furthermore, university regulations require strategic reviews of all programs every five years.
Secondly, the comparative teaching method is also helpful in this respect because students have the freedom to target jurisdictions in which new problems may have arisen. This is typically not a possibility in national law schools where they work predominantly with local materials. This approach also exposes students to the dynamic nature of law and the changing legal environment.
Thirdly, the University has a Career Office which was established principally to orient and help students shape their careers. The Office organizes various webinars, and presentations and publishes pertaining materials on top of offering individual consultations for students. Additionally, the Office regularly organizes meetings with practitioners, or successful CEU alumni to allow students to raise any pressing questions. They also maintain a webpage with selected alumni profiles to demonstrate to students what new career avenues exist. Put simply, instead of the faculty talking about possibilities, realities are given the limelight to speak for themselves.
Unprecedented Learning Experiences
CEU is known for promoting access to education. Degrees remain largely accessible to students of all backgrounds despite the University's private status and accreditation both in Austria and the U.S. The size of CEU's LLM and MA programs' student cohorts allows for interactive teaching, which is a teaching method employed from the very first day of the university's establishment. This requires students to read the assigned materials before class and to actively participate in class discussions, from case analyses to critical assessment of solutions offered by the compared systems.
Path-breaking Programs
These days, lawyers are increasingly required to navigate through the international legal landscape. The LLM program in Comparative Constitutional Law at Central European University is the only degree worldwide that specifically focuses on thematic, regional, and transnational perspectives. This path-breaking program is uniquely designed to equip students with a comparative, critical, and robust understanding, contextualizing constitutional law in domestic and international settings. The success of the program is best demonstrated by where past graduates ended up working.
The overwhelming majority of graduates are currently employed in the public sphere (constitutional court judges, ministers, attorney generals), in academia (professors in reputable universities), in international or intergovernmental organizations or their programs (the UN, Council of Europe, International IDEA, European Bank for Reconstruction and Development), in organizations operating globally to enhance the Rule of Law (GIZ [Gesellschaft für Internationale Zusammenarbeit]), in civil society organizations promoting Rule of Law (e.g.: Katiba Institute, Kenya) and in consultancy agencies (Accenture, Deloitte, Ernst & Young).
A further distinguishing feature of CEU's programs is the increased emphasis on developing and emerging legal systems rather than western programs, in particular, China, Central and Eastern Europe (post-socialist/communist states), and selected jurisdictions from Africa, Asia, and Latin America.
A Unique blend of Law and Technology
In our current advanced world, companies and institutions are leveraging technology to ensure their continuous growth. In order to meet these demands, CEU is one of the few educational institutions to offer a unique blend of law and technology-incorporated programs like the Global Business Law and Regulation program. As a professional program, it offers invaluable career prospects for young legal professionals and caters to their needs for a practice-oriented legal education. It also provides participants with an opportunity to specialize in one of four areas: international dispute resolution, international economic and commercial law, corporate law, and regulation and corporate social responsibility.
As far as the Global Business Law and Regulation Program is concerned, besides internationally oriented law firms and government agencies focused on various law reforms, there are new noticeable career prospects for these students in the corporate- (corporate counsels), the non-profit sector, and increasingly in the financial sectors as well.
Innovative Teaching Methods
The University's teaching methods are distinct in many ways. For example, the comparative and interactive teaching methods employed are both challenging and inspiring considering that being exposed to solutions offered by more than one legal system requires mind shifts but also a degree of self-criticism in the sense of realizing and admitting that the solutions provided by one's home legal system are not always optimal. This also forces students to delve into the material more than usual because, without this, it is impossible to understand any foreign model. In this, CEU is unique and stands in stark contrast to the teaching methods employed by other (European) law schools. Furthermore, students are taught to critically assess the materials covered. This, however, must be based on properly researched, well-reasoned, and ethically acceptable lines of argumentation.
Commitment to Diversity and Inclusion
CEU endorses an inclusive culture that values diversity in line with its multicultural profile. It is committed to supporting all under-represented groups in achieving their full potential. This is reflected by its extraordinarily diverse student body which is made up of students from more than 100 countries with no dominant nationality. This cultural complexity is a huge asset of CEU which considerably contributes to the learning experience. CEU's faculty and staff are also quite varied, coming from more than 80 countries. At CEU gender identity can be freely defined and practiced. Furthermore, special attention is paid to the needs of students with disabilities to genuinely include them in everyday academic and social activities. The campus is barrier-free, and the University is devoted to making all study materials accessible to everyone.
Multi-jurisdictional Focus
Unlike national law schools, CEU has a huge advantage since faculty have the opportunity to pick and work with the most tested and advanced legal systems in the world, allowing for a multi-jurisdictional system of teaching. Such a comparative approach allows for a better understanding of one's own legal system as well as a method to educate professionals who can think and work in an international environment and deal with cross-border legal problems that dominate our world today.
Shape Your Future, Apply Now
Legal programs at CEU are tailored to the unique ambitions of students who can select among the thesis track and the Capstone track, both designed to advance students' careers in this increasingly globalized legal world. CEU Department of Legal studies primarily serves law graduates and legal practitioners seeking specialized legal knowledge and training, as well as students with a public policy focus who are looking for solutions and experiences at the transnational level. This year, CEU invites candidates who seek financial aid to apply by February 1, 2023. Other candidates are welcome to submit their applications the latest by March 15, 2023.
Quote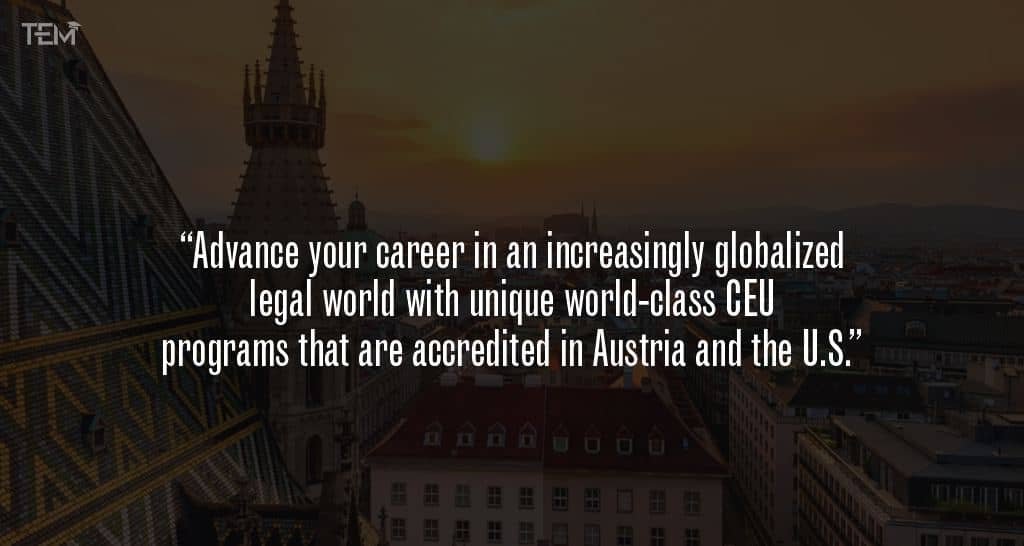 ALSO READ: The 10 Best Universities in Europe for International Students, 2023