Today, educational leaders play a pivotal role in affecting the climate, attitude, and reputation of their respective institutes. They are the cornerstones on which learning communities function and grow. With successful leadership, educational institutions become effective incubators of learning—places where students are not only educated but challenged, nurtured and encouraged.
Successful education leaders understand the importance of building community, empower teachers to cultivate leadership skills, and create collaborative, inclusive learning environments. Dr. Andrew Hugine, Jr. (President of Alabama Agricultural and Mechanical University) is a dynamic leader who is at the forefront of modern leadership trends. Leveraging his vast experience in higher education, Dr. Hugine is contributing immensely towards the growth of the university.
Long Affiliation with Higher Education
Dr. Hugine graduated from South Carolina State University (SCSU), where he pursued a B.S. degree in mathematics, followed by a M.Ed. in mathematics education. He completed his doctorate in higher education/institutional research from the Michigan State University.
A feature of Dr. Hugine's long affiliation with higher education was his tenure as president of his alma mater, South Carolina State University—where he attracted the first debate of the 2008 Democratic Party Presidential Candidate Debate Series, the first such event on a black college campus. Besides higher education, Dr. Hugine is also affiliated with numerous religious, civic, and professional organizations.
Dr. Hugine was appointed as the president of the historic 145-year-old Alabama A &M University on July 16, 2009. He secured a $96 million funding package at AAMU, a portion of which funded a 580-bed residence facility that opened in 2018. The last funding from HBCU Capital Access entailed $70 million to construct the University Event Center and to continue upgrades. As the president, he is at the forefront of the university's operations.
Expanding the Educational Influence
Alabama A&M University is a historic, student-friendly, and community-focused institution of higher learning. It was founded by a former slave, Dr. William Hooper Councill, in 1875 to provide education to Americans who were allowed to be enslaved by the government and other institutions through the close of the Civil War. Reflecting on its heritage as a Historically Black College and University (HBCU) and as a traditional 1890 land-grant institution, AAMU functions as a teaching, research, and public service institution.
As an HBCU, AAMU has expanded its educational influence as the nation has slowly opened up to a more inclusive society overall. During the long decades of racial segregation, the professions in which African Americans could join and sustain themselves were limited, and school curricula at all levels reflected this in various degrees. Reflecting on his first 100 days as AAMU president, Dr. Hugine noted that it is precisely because of their effectiveness in educating African American men and women in particular that Hugine believes HBCUs are here to stay. "There is a tremendous job for higher education institutions in this nation that is only achieved when individuals have options," he explained. "All institutions will have to provide for greater access. HBCUs have to make sure that they have good programs and that all individuals have the ability to strive for success. We are not here just to serve African Americans, but we exist for any person wanting to achieve and meet his or her goals."
Strong Academic Curriculum
AAMU is committed to serving a diverse, 6,000-student population of students from around the world. As a collegiate university, it balances the personal attention of a small, traditional land-grant college with the academic vitalities and broad opportunities of a research university. The university provides scores of undergraduate, graduate, certificate programs, and concentrations through four colleges including,
College of Agricultural, Life, and Natural Sciences (CALNS)
College of Engineering, technology, and Physical Sciences (CETPS)
College of Education, Humanities, and Behavioral Sciences (CEHBS)
College of Business and Public Affairs (CBPA)
The most successful graduates at AAMU are proud to cite the university as a major factor in preparing them for their achievements in life and in the workplace. Alongside academic programs, the university also remains the site of a Confucius Institute, which provides resources for students with an interest in the Chinese language and culture.
Additional Resources and Activities
Dr. Hugine states that at AAMU, students are provided additional resources through the Tutorial Assistance Network (TAN)—which coordinates and maintains free campus-wide tutorials, supplemental instruction, and structured learning assistance for undergraduates. The university also provides Career Development Services that offer a wide range of virtual programs including placement services, interviewing techniques, virtual career fairs, and numerous other activities.
Additionally, the university also embodies a Student Activities Office—through which students are exposed to a range of events and guest speakers for intellectual and cultural enrichment. Some of the renowned guest speakers invited by AAMU include Bakari Sellers, the daughters of Martin Luther King, Jr. and Malcolm X, David Banner, writer Terry McMillan, Roland Martin, Michael Vick, and several other personalities. "The university also arranges several traditional activities such as coronations, Homecoming activities, student-sponsored religious events, talent shows, fashion shows, etc.," adds Dr. Hugine.
Developing High-demand Skills
Dr. Hugine further mentions that AAMU has significantly invested in developing its online presence and instructional modalities, aggressively providing training to faculty and staff so that education can continue in various forms. Moreover, the university has engaged in partnerships aimed at providing faculty and students with exposure to cutting-edge technology.
For instance, through AAMU's collaboration with IBM, its faculty and students now have opportunities to earn badge certificates in key areas such as Artificial Intelligence (AI), Cybersecurity, Internet of Things, Quantum Computing, Data Science, Cloud Computing, Design Thinking, and Blockchain. Dr. Hugine believes that the program delivers diverse and high-demand skillsets that align with industry needs and trends, so both students and faculty can develop the skills they need today for the jobs of tomorrow.
A Diverse Learning Experience Having successfully led AAMU for almost a decade, Dr. Hugine believes that students should seek a school that will encourage and support them academically, socially, and via a commitment to civic engagement. Talking about AAMU's future plans, he adds that the university will approach 2021 and beyond even more prepared for the unknown than ever before. According toHugine, the plunge into online learning has made way for an institution that can offer educational attainment within a plethora of instructional modalities. "While these technological innovations will undoubtedly remain in place and become entrenched, a desire on part of students and perhaps some faculty to return to a traditional approach also will give rise to a diverse learning experience," concludes Dr. Hugine.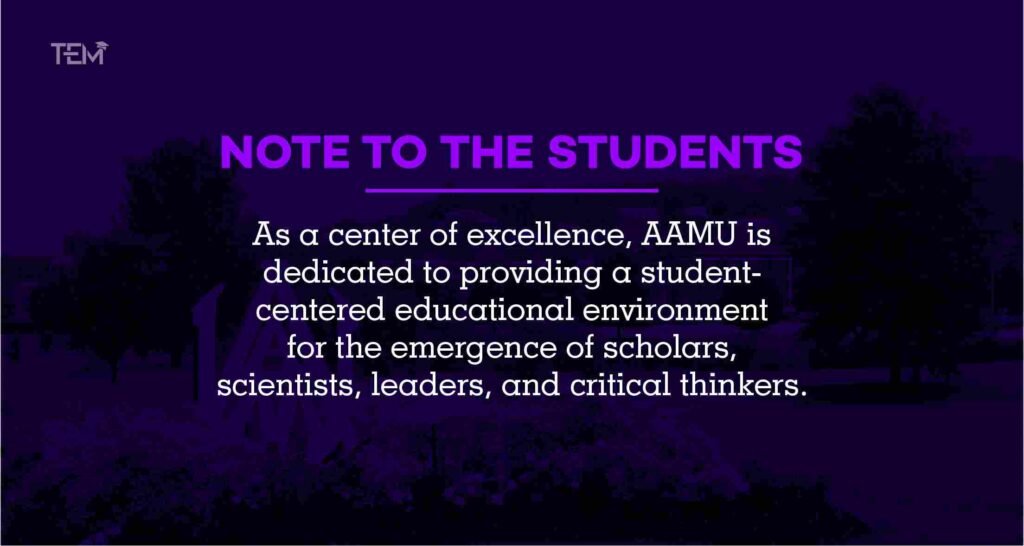 Read Full Post The 10 Most Visionary Education Leaders Of 2021