With the increase in market demand and modern business landscape challenges and opportunities, there has been a significant increase in the importance of business education. Business education does not just provide knowledge regarding the functioning of the business and the market but also helps develop an entrepreneurial mindset, professional, communication, and intercultural skills. Modern business education prepares students to become next-generation entrepreneurs and assists in developing business-related skills such as leadership and management, communication, brainstorming, time management, research and analysis, business ethics, business writing, and more. Through business management programs, universities provide real-working experience to students to make them industry and business-ready.
Due to an increase in demand and significance, several universities globally are focusing on providing the best possible business education to students. Offering exclusive business programs, Minnesota State University Moorhead's Paseka School of Business caters to the career requirements of students by relentlessly focusing on student achievement and return on their investment. Established in 1887, the university is among the top 5% of business schools in the world that provide programs accredited by AACSB (Association to Advance Collegiate Schools of Business). Additionally, the skills and aptitudes cultivated by the university's Paseka School of Business hone students for a marketplace and society where an understanding of data, technology, project management, and the human experience intertwines with the realities they will encounter.
Itineraries of Business Programs/Courses
For many years, MSU Moorhead has offered a traditional business education, including Finance, Business Administration with emphases in International Business, Management or Marketing, and Accounting. Recent market advancements and technological changes prompted the university to add a Business Analytics Degree to its curriculum. It was introduced in response to market demand from employers and industry partners as well as the competitive landscape among higher education institutions.
Additionally, Minnesota State University Moorhead is providing increased online graduate offerings. Along with the online Accounting & Finance and MBA programs, MSUM partners with other campus departments to offer programs like the MBA with Healthcare Management. The university also plans to provide additional emphasis areas that align with its undergraduate programs and respond to market demand.
Business-related majors in other departments include Project Management, Operations Management, Global Supply Chain Management, and Construction Management. These programs attract transfer students from its two-year partners. Additionally, they can be taken on campus or online, attracting diverse, traditional, and non-traditional students from beyond its established service region.
A Multitude of Impactful Exclusivities
Affordability, faculty-student mentorship, and welcoming campus and community are prominent reasons students choose Minnesota State University Moorhead over other schools. Additionally, MSUM provides exclusive opportunities for its students, making it one of the best universities for business and related programs. MSUM's Paseka School of Business also offers practical real-life training and experiences that include faculty-mentored research, service-learning with community providers, and experiential learning that helps students apply newly learned academic knowledge and skills. Students must complete at least one experiential learning component to graduate, but they often participate in more because of the valuable learning and experience gained. Some of the most popular activities include Dragon Consulting, Dragon Investment Club, Executive Mentorship, DECA, Financial Management Association, the annual Student Academic Conference, and many more.
Encouraging Maximum Student Engagement
MSU Moorhead ensures robust student engagement among its students and faculty with a 17:1 student-teacher ratio. Moreover, its business program's student-teacher ratio is 19:1 while its accounting ratio is 15:1. Besides, world-class business faculty help students actively engage and participate to meet their future career goals. The university's Paseka School of Business also ensures that faculty provide feedback opportunities to students and incorporates the evaluation and meta-reflection of that feedback to meet changing student needs on an annual basis. The faculty encourage students to provide formal feedback throughout the semester and additionally engage in student co-curricular activities, student research projects, and meet with the students at least twice every academic year to guide them regarding their future career goals.
MSUM also promotes and encourages diversity and inclusion among students through four cultural and identity centers open to all students, faculty, staff, and community members. Through a variety of programming and specialized resources, the centers help build a campus community that is diverse, inclusive, globally aware, and just.
Empowering Students for High Market Exposure
Minnesota State University Moorhead delivers professional market-based business education to students, provides them with market exposure, and assists them in achieving their career goals. The university's Career Development Center supports and guides students through online resources, workshops, programs, and seasoned counselors. Additionally, it provides students with the opportunity to meet with local and business leaders regularly. It also enables students to participate in executive mentoring, internships, and other co-curricular activities, enabling them to build close connections with area businesses on site and virtually.
Moreover, the College of Business, Analytics, & Communication (the college that houses the Paseka School of Business) plans on launching additional initiatives over the next five years. These include expanding mentoring opportunities, providing experiential and project-based learning opportunities in the classroom through national and regional partnerships, and creating educational opportunities where students and faculty can collaborate and seek solutions leveraging emerging technologies and applying an entrepreneurial mindset.
Encouraging Entrepreneurial Mindset
Beyond its comprehensive business education programs that encourage the entrepreneurial spirit among students, the academic business programs and courses offered by MSUM specifically focus on entrepreneurship. Student teams compete in startup and other entrepreneurial competitions regularly. Additionally, every business program offered by the university has the Business 101 course in its curriculum in the first year, providing training on entrepreneurship and developing an entrepreneurial mindset. Under that course, students collaborate on the primary task of starting a small business over a semester. The small businesses are funded through generous donors and the money raised goes toward student scholarships.  
Developing an entrepreneurial mindset apart from classroom and co-curricular activities is the key to MSU Moorhead's Paskea School of Business strategies. Although pursuing entrepreneurship is one of the vital aspirational factors for many students in the business programs, the university believes it is immensely important that graduates from across the college enter the marketplace with an entrepreneurial mindset.
Quotes: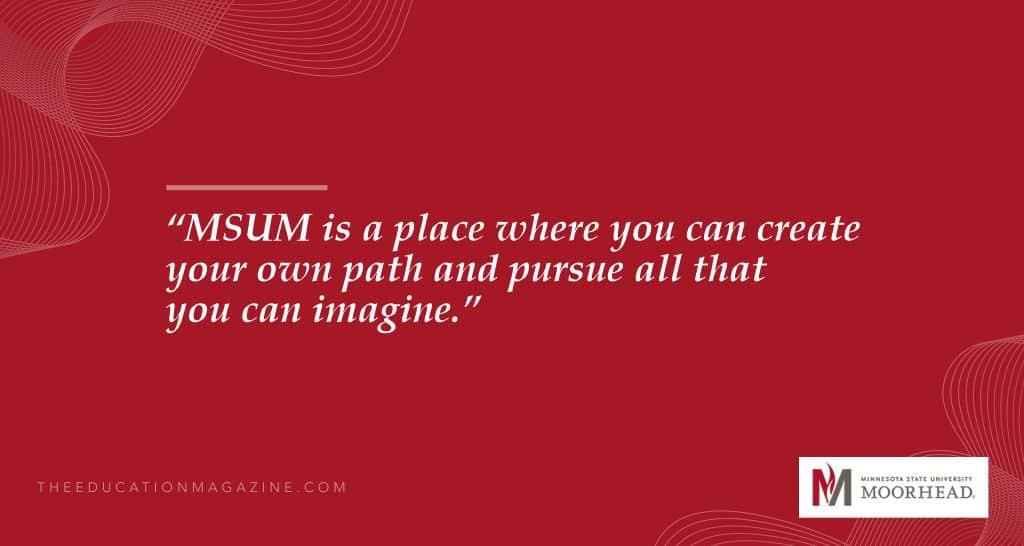 Read the full Magazine: "The 10 Best Business Schools for 2023"