The educational landscape across Europe has gone through immense transformations since the onset of the industrial revolution. Amid these transformations, the demand for skilled technical workers increased drastically. Catering to the need of the hour, several universities and colleges introduced technical-based courses to meet the requirements. Riga Technical University is one of the universities that played a major role in the evolution of technical studies.
The establishment of Riga Technical University (RTU) dates back to the middle of the 19th century. Founded in 1862, RTU is the oldest technical university in the Baltics and was initially known as 'Riga Polytechnical Institute' or 'Riga Polytechnicum'. At the time of its inception, there were numerous economic and political changes due to the industrial revolution that further accelerated the growth and development of the university. 14th October 1862 is the day when students for the first time enrolled for their studies and is celebrated as RTU's birthday every year.
The institute played a major role in the revolution of Riga city at the initial stage of the 20th century as its professors and graduates contributed their efforts in developing and implementing gas and electricity supply systems, tramcar transport systems, and building brick houses. Apart from this, many RTU professionals have worked in several prestigious projects including construction of the Panama Canal, Trans-Siberian Railway, and co-inventing three-phase electrical systems.
Declared as one of the largest higher education institutions in Latvia, the polytechnic institute was renamed Riga Technical University by March 1990. Gradually, RTU implemented a three-level system for higher education consisting of Bachelor, Master, and Doctoral levels. Many prominent scientists have worked at the institute including August Toepler, Etienne Laspeyres, George Armitstead, Wilhelm Ritter, Mikhail Dolivo-Dobrovolsky, Engelbert Arnold, Paul Walden, and Wilhelm Ostwald (the only Nobel Prize Laureate from the Baltic States and one of the pioneers in Physical Chemistry).
Itineraries of Courses
The RTU offers various academic programs/courses at each degree level including undergraduate, master, and doctoral.
Undergraduate students have a variety of courses to choose from. Some of them are listed below:
Aviation Transport: This program aims at providing professional education to students related to the maintenance of aircraft mechanisms and avionics systems along with analyzing and designing the operation of systems.
Chemistry and Chemical Technology: The course provides theoretical knowledge, research skills, and proficiency in chemistry and chemical engineering.
Telecommunication Technologies and Data Transmission Engineering: The course aims at preparing students to venture into the fields of telecommunication, information communication technology, mobile computing, and computer networking and security.
Computer Systems: The aim of the course is to enable students to become computer professionals by providing knowledge in software engineering, computer systems development, systems analysis, database technologies, and artificial intelligence.
Some other undergraduate courses offered to students include Clothing and Textile Technology, Economics, Electrical Engineering (Adaptronics), Engineering Technology, Mechanics, Mechanical Engineering, Entrepreneurship and Management, Environmental Engineering, Materials Engineering, Management of International Economic Relations, etc.
Master degree options available for students are:
Cybersecurity Engineering: This program enables students to acquire knowledge and skills in the field of cybersecurity engineering including design, implementation, improvement, and management of IT security systems, and understand professional ethics and socially responsible management.
Business Finance: The program has been designed for students interested in quantitative analysis of economic, financial, and business processes, and has strong analytical abilities.
Business Informatics: There are three types of courses involved in the program including ICT courses (Advanced Data Technologies), Business courses (Business Ethics), and Integrated courses (Business Process Management and Engineering).
Telecommunication Technologies and Network Management: The program delivers both theoretical and practical knowledge from electrical engineering and computer science.
Other exclusive master degree courses offered by the RTU are Entrepreneurship and Management, Environmental Engineering, Industrial Engineering and Management, Innovation and Entrepreneurship, Management of International Economic Relations, Logistics and Supply Chain Management, etc.
The RTU also provides both part-time (5-year program) and full-time (4-year program) courses for Doctoral studies with 21 accredited Doctoral study programs in engineering, natural sciences, architecture, social, and service sciences.
In addition to these three professional courses, RTU also organizes short-term summer/winter courses providing additional educational opportunities to students. These courses enable students to acquire new knowledge, practical skills, and experience and develop self-confidence and independent learning skills.
Promoting Diversity
With the intent to promote diversity and provide opportunities to students from all over the world, RTU offers various scholarship programs to International students including the Latvian Government and the RTU Global Outreach scholarship program. In addition to these scholarship programs, the university also initiates the 'Erasmus Exchange Program' for international students to participate.
This program enables its participants to pursue higher studies in Europe in at least two different EU higher education institutions. Furthermore, to enhance technical and development skills and incorporate the overall personality development of its students, RTU has also introduced numerous vertical integrated projects. These projects will enable the students to learn new skills apart from their specialization and be involved in the development of a new product.
Supplementary Initiatives
RTU not only focuses on the academic development of the students but also encourages them to pursue other leisure activities by offering additional benefits and programs. There are professional teams for different sports categories that students can pursue for leisure. In addition to this, students also have the option to join various interest groups including music, band, acting, and other creative fields. RTU offers Latvian History and Culture courses to all its students along with the opportunity to learn the Latvian language for one semester.
The RTU Design Factory is another initiative by the university that brings together research, education, and the industry, and creates a new hands-on learning culture and opportunities. The platform offers a wide range of technologies including laser cutting and engraving, 3D printing and scanning, high-speed CNC machining, and post-processing allowing students and researchers to create new and complex solutions.
The researchers of the design factory team possess a variety of skills in mechanical engineering, robotics, creative thinking & methodologies, electronics, product development, design, and business. Some of its most recent prestigious projects include a hockey puck shooter that uses AI, a type of water treatment system, a training device for brass instruments, and customized equipment for researchers testing composite materials.
Career Prospects
RTU has its own career center through which they organize activities and services for the career development of its students. The activities are organized based on 3 objectives that include:
Integrating universities, students, employers, and RTU graduates
Developing professional careers of students
Providing career and psychological support
RTU prepares students for various work and internship programs through a practice vacancy portal, suggestions for building a professional CV, motivational letter, as well as placement of jobs and internships. RTU provides psychological support to students by providing free consultations of a psychologist assisting them in resolving issues related to their personality, relations, study motivation, stress management, and emotional well-being.
For students with disabilities or other special needs, the university provides a full-fledged study process. In addition to all these programs, RTU also organizes numerous projects and seminars for its students to encourage and promote career and self-development. Moreover, it organizes the 'RTU Career Day' every year. It is one of the largest events devoted to student career and practice-related issues in Latvia that has helped students over the years to start and develop their professional careers.
Digital Transition
The COVID-19 pandemic and lockdown restrictions caused a massive transition from classroom teaching to digital teaching. The university adopted the digital transition and purchased a range of licenses for students to enable them to access online teaching/learning resources. These licenses include Coursera, online webinars, and meeting platforms such as Zoom, Teams, and WebEx. To maintain stability and uncompromised learning, classrooms of RTU were equipped with video conferencing options. In the near future, RTU will continue to promote diversity and give every student the opportunity to learn along with hosting USA study for abroad students.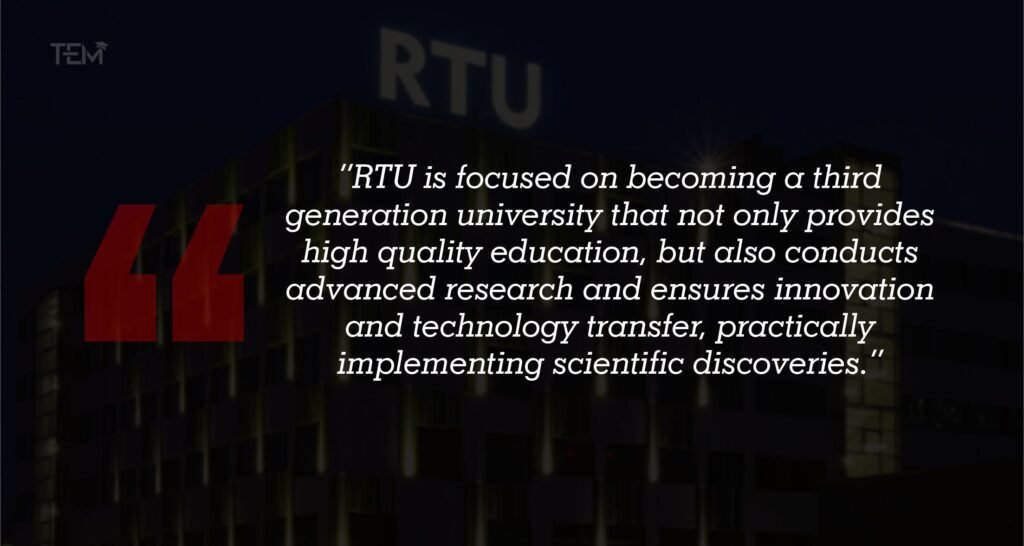 ALSO READ: Top 10 Software Training Institutes to look for 2023