Career-oriented education plays a significant role in providing students with the skills, knowledge, and encouragement to benefit from their preferred career path. It also helps them display higher levels of engagement and motivation by offering them a clear understanding of their academic and educational requirements. Moreover, career-oriented education also makes ample room for students to garner their skills and knowledge following their career requirements.
Committed to personal excellence, RIT Croatia provides a comprehensive and career-oriented curriculum for the students. Harboring a future-oriented approach, RIT Croatia is committed to integrity, academic excellence and focuses on personal as well as professional growth. Established in 1997, RIT Croatia is a global campus of a prominent American private university Rochester Institute of Technology (RIT), from Rochester, NY. Since 25 years of its establishment, RIT Croatia has been providing top American higher education programs in Croatia, Europe with campuses on two beautiful locations: Dubrovnik, the Pearl of the Adriatic and the country's capital – Zagreb.
Plethora of Comprehensive Academic Plans
RIT Croatia remains the only institution for higher education in Croatia that grants 2 diplomas—the American diploma awarded by RIT and a Croatian diploma awarded by RIT Croatia. The college harbors student strength of around 850 on both campuses. The classes are delivered in English (the official language of the college) with a vibrant international environment. Moreover, students are also provided the opportunity to spend a semester or two at RIT's campuses in Rochester (NY, USA), Dubai (UAE), or Kosovo (Europe). On its campus in Dubrovnik and Zagreb, RIT Croatia offers the following American undergraduate (BSc) programs from RIT:
Web and Mobile Computing / Information Technology (Dubrovnik, Zagreb)
International Business (Zagreb)
Hospitality and Tourism Management (Dubrovnik)
As a part of RIT Croatia's life-long learning initiatives, the college facilitates the opportunity for students to pursue the following Master of Science degrees from Rochester Institute of Technology, at RIT Croatia's Zagreb campus:
Master of Science degree in Service Leadership and Innovation;
Master of Science degree in Information Sciences and Technologies.
The academic programs offered by RIT Croatia are regularly evaluated, developed, and updated in consideration of two aspects. These include the job market and type of knowledge students require to succeed in the business world.
A Center of Excellence
RIT's reputation as one of the world's top universities has been acknowledged by several leading college guides, industry, and internationally respected publications. As its global campus, RIT Croatia cooperates with the main campus and other campuses daily and implements the academic excellence and high-quality standards that RIT stands for.
The academic programs and curriculum are entirely aligned with those offered at the main campus in Rochester. Moreover, the quality of programs offered by RIT Croatia has also been confirmed by various international accreditations. These include The Middle States Commission on Higher Education; AACSB International; The Association to Advance Collegiate Schools of Business. Additionally, RIT Croatia has been accredited by Agency for Science and Higher Education (Croatian Ministry of Science, Education, and Sports).
Holistic Career-Oriented Approach
As the global campus of an American university, RIT Croatia enables students to pursue high-quality American higher education in Croatia. Moreover, the college stands out with its focus on career development, developing practical knowledge, and cooperative education. RIT is internationally recognized for its career-oriented education.
The college offers a motivating and challenging environment to its students through various projects and interactive study. Its faculty encourages students to develop critical and analytical thinking and to know how to deal with challenges and obstacles. Through support and cooperative education programs, RIT Croatia's Career Services office helps students in preparing them for the job market. Its advisers help students choose and build their careers, make contacts with potential employers, and assist in finding co-op placement.
Integral Focus on Practical Knowledge
RIT Croatia integrally focuses on the aspect of practical knowledge. The students undergo minimally 800 hours of co-ops (or internships), during their 4 years of study. Being a student-centric institution, the college promotes an individual approach to all of its students—from enrollment and admission to academic affairs to career advising throughout their studies. The college assists the students with making decisions concerning their academic lives and career paths. Moreover, RIT Croatia grooms students to be the best version of themselves and easily compete in a global job market with high-quality career-oriented education and committed faculty and administration.
Promoting Diversity on Campus
RIT Croatia promotes diversity, curiosity, innovativeness, and integrity. Being the global campus of RIT in Europe, it attracts students from all over the world. Its International Student Office provides full support to all incoming international students, helping them with their legal status in Croatia, housing, and the overall integration into their new home during their 4 years of study. Via Erasmus+ program, RIT Croatia has created quality partnerships with universities all over the world and has developed partnerships with 22 universities from Austria, Belgium, the Czech Republic, Finland, France, Germany, Hungary, Ireland, Italy, Poland, Slovakia, Spain, Slovenia, and Turkey.
Evaluating Strengths during Crisis
The COVID-19 pandemic has initiated disruptive changes and impacted every industry, company, and household throughout the world. In terms of education, the pandemic has accelerated the need for digital transformation. Being a part of a global university, all campuses of RIT began preparing for an online transition during the early period of 2020. RIT upholds almost 40 years of experience in distance learning. The infrastructure and tools used by RIT Croatia for teaching classes are laid out for both in-class and online teaching. In virtual classrooms, faculty combines synchronous activities (lectures through Zoom and Blue Jean's tools) and asynchronous activities through an online learning platform.
During the pandemic, RIT Croatia ensured the safety of its students, staff, and faculty along with all its community. The college has developed and distributed the Safety Plan for Academic Year 2021/2022 defining its behaviors and operation standards during the pandemic. It also has a COVID-19 alert level system that helps the college monitor the safety level on both of its campuses. A team of RIT Croatia officials evaluates and monitors internal and external factors in determining the current level of safety daily. In addition, the college has developed a dashboard on its website that provides daily updates regarding the number of possible positive and isolation cases of the RIT Croatia campuses community.
Emphasizing Overall Growth
Along with striving for academic excellence and career proficiency, RIT Croatia also emphasizes extracurricular activities, socializing, and having fun as an essential part of studying. The students volunteer, participate in student clubs, and are engaged in the Student Government. Students have the opportunity to participate in research projects with the college's faculty, indulge in rich student life, form lasting friendships and create memorable moments.
With an overall focus on the growth and development of its students, RIT Croatia also prioritizes the financial aspects of the students. The college offers scholarships and financial aids to its incoming students. It allows students to earn scholarships during their studies, while also providing them an opportunity to work at the college and get paid for it.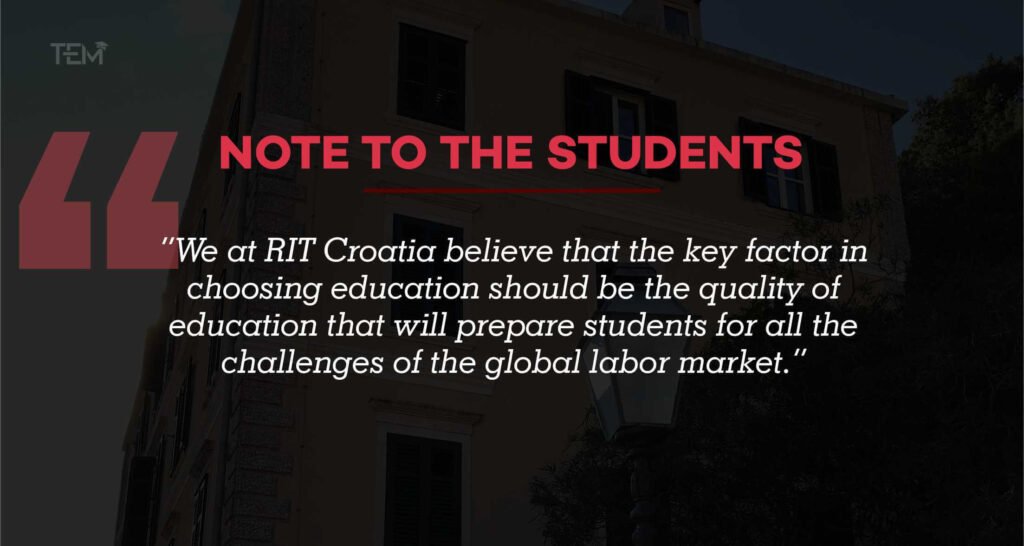 Read Full Magazine: The 10 Most Prominent European Universities of 2021