The media and communication industry has witnessed significant growth in recent years, driven by robust demand, high competition and strong government support. Southern Oregon University in Ashland, Oregon, is differentiating itself from institutions offering media and communication courses by providing a career-focused, comprehensive educational experience for students. SOU is one of the leading public universities in the region with membership in the American Association of State Colleges and Universities.
A Brief History
Southern Oregon University was founded in 1872 as Ashland Academy. In 1878, the school was first renamed Ashland Academy and Commercial College. It was renamed Southern Oregon State College in 1975 and received university status in 1997.
While Oregon lawmakers designated the institution in 1882 as an official state normal school – a teacher's college – the state provided no funding. Today, the campus includes 175 acres with modern facilities, enrollment of more than 6,000 students, and more than 1,100 degrees conferred annually.
Comprehensive Academic Programs
SOU offers 109 majors, minors, certificates and micro-credentials for degree-seeking and non-degree-seeking students. Some of the prominent academic programs offered by the university include:
Majors: Art, Economics, Computer Science, Psychology, Mathematics, Management, Theatre, Music, Digital Cinema, Emerging Media and Digital Arts, etc.

Minors: Applied Statistics, Communication Studies, Digital Journalism, Esports Management, Military Science, Philosophy, Latin American Studies, etc.

Certificates: Applied Finance & Economics, Cultural Resource Management, Holistic Education, Sustainability Leadership, Transgender Studies, etc.

Graduate Degrees: Master of Business Administration, Master of Business Administration (Arts Management Concentration-Evening Program), MBA, Master of Science in Environmental Education, Master in Management, Master in Interdisciplinary Studies, etc.

Micro-credentials: Network Technology, Digital Security, Social Media Strategy, Foundations in Professional Writing, etc.

Online Degrees: Business Administration, Criminal Justice, Innovation and Leadership, etc.

Undergraduate Studies: Learning Foundations, Learning Explorations, Honors Seminar, etc.

Pre-professional Programs: Medical Technology, Occupational Therapy, Pharmacy, etc.
Navigating the Modern-day Challenges
The biggest current trend in media is the ambiguity audiences are feeling regarding large social media platforms. While audiences are concerned with serious problems that are aggravated at a national scale including disinformation, political discord, and harassment and privacy concerns, many are still dependent on platforms to stay connected with friends and family and for news and entertainment.
SOU offers several courses including COMM195, Digital Life; COMM203, Media Literacy; COMM323, Strategic Social Media; and COMM482, Media Ethics & Law to help students navigate the social and ethical challenges of social media.
Career Preparation and Academic Success
SOU emphasizes career preparation and academic success for its students in conjunction with its comprehensive academic programs. The Office of Career Connections provides resources to assist students from all academic programs and class years identify and achieve their individual career goals to lead lives of purpose.
SOU welcomes all students and embraces opportunities to collaborate with employers, graduate and professional schools, faculty and staff, student organizations, parents and alumni to provide the highest quality service to students. The university also provides a Tutoring Center which offers a Writing Center and a Math and Science Lab.
Customizing the Educational Experience
SOU strives to provide learners with the ability to customize their educational experience. There is something for everyone at the university. Students with a love for the outdoors are often inclined toward SOU because of its unique location in one of the most diverse bioregions in the world and its easy access to renowned natural attractions such as Crater Lake, Mt. Ashland and the Rogue River.
The new Esports program at SOU—the first university on the West Coast to combine both an academic program and competitive Esports team—has proved enticing, particularly in the wake of the pandemic. State-of-the-art technologies and facilities, and an evolving, innovative curriculum at SOU give students access to hands-on experience and a broad array of classes that speak to industry needs. "SOU students are at the forefront of an industry that is poised for continued and lasting growth," says Dr. Neil Woolf, VP of Enrollment Management and Student Affairs at SOU.
Expanding Access to College Education
Dr. Woolf earned his bachelor's degree in government and business administration from Eastern Washington University, master's degree in public administration from the University of Utah, and a doctorate in higher education administration from the University of Nevada, Las Vegas. Prior to joining SOU, he led enrollment management and student affairs efforts in Wisconsin, Washington, and Nevada. His chief interest is expanding access to college education and expanding student success and graduation while enrolled.
Combating the Challenges
The COVID-19 pandemic prompted SOU to pivot the delivery of coursework to fully remote in spring 2020 with little more than two weeks notice, in the interest of safety. Heeding the crisis, SOU's staff mobilized immediately and formed the Incident Response Team. The team is responsible for communicating safety measures to campus and creating and executing action plans as the situation has evolved.
The university faced another monumental crisis in September 2020 as a result of the Almeda Drive Fire—which burned through neighboring towns Talent and Phoenix. Many SOU staff, faculty and students lost their homes in the fire. SOU provided emergency housing for affected community members and opened facilities to the public to provide a badly needed respite from the hazardous air quality conditions.
Toward Hybrid Learning Experiences
The university is looking forward to returning to a sense of normalcy as soon as it has been determined to be safe for the campus to resume in-person classes, however, safety is its foremost concern. "If 2020 taught us anything, it is to expect nothing and appreciate everything," Dr. Woolf says.
"We plan to offer more hybrid learning experiences—a mix of in-person and remote course delivery—beginning spring 2021, depending on Jackson County's public health status," Dr. Woolf says. SOU's Ashland campus offers several beautiful outdoor locations where classes can consider meeting, provided the students can safely social distance and everyone is masked in accordance with an order from the Oregon governor's office.
SOU promises to continue making every possible effort in the coming years to deliver the high quality education students expect and deserve.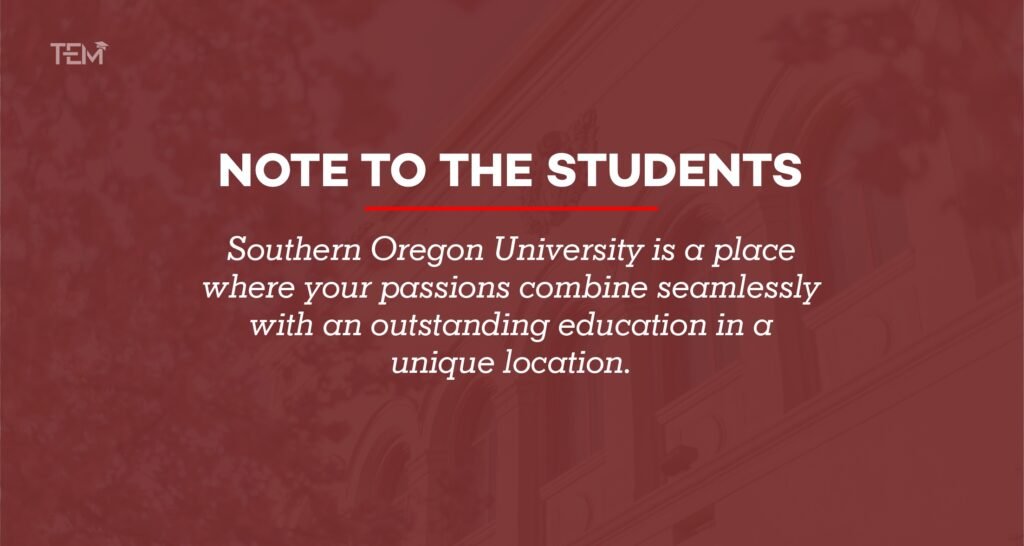 Read Full Magazine:- The 10 Best Media and Mass Communication Institutes of 2021