Which is the best mobile games ? – a common question that raises conflict amongst gamers. Well, to settle this dispute, we have shortlisted some of the most addictive and exciting games according to their respective genres. You can pick out your favourite game amongst the following that matches your choice.
Advancements in technology have taken the gaming genre to a next level and these innovations are taking the android gaming apps to a new level each year. These gaming apps not only provide a platform for gamers but also offer convenience because of their availability and easy accessibility on mobile phones.
Without any further delay, let's discuss the 20 Best Mobile Games which are suitable for android as well as iOS mobile phones. The genres for gaming apps are as follows:
Let us take a brief look at these genres along with the Best Mobile Games that are most popular in the respective genres:
20 Android Games categories
Shooters:

Shooter game is a sub-genre for the action video game and is generally played in single-player or multi-player arrangements. Usually, it uses the firearm weapon or some long-range weapon, and can also be used in combination with other tools such as grenades for indirect offense, telescopic sights to modify the behaviour of the weapons, and armour for additional defence. The points of commonality amongst many shooter games are ammunition, armour or normally referred to as health, accessories, and upgrades which augment the player character's weapons.

Mostly, these shooter games share the same purpose of shooting the opponents and proceeding through the missions without the player's character being killed or dying due to any reason. Any shooting game emphasises entirely on the conquest of the character's enemies using the armaments allotted to the players.
Let us take a look at the best android games in this category:
Call of Duty Mobile:
Racing:
This genre comes under video games can either be played in the first-person or third-person perspective. In these racing games, the participant can take part in the race with any land, air, water, or space vehicles. These may be based on either the real-race leagues or completely on a fantastical idea and hence, they can be distributed anywhere between the hard-core simulations, and simpler arcade racing games. The following are the Best Mobile Games in the racing genre:
GRID Autosport:
Puzzle:
The puzzle genre includes numerous types of puzzle themes such as sequence solving, spatial recognition, word completion, logic, and pattern recognition. These puzzle games mainly focus on conceptual and logical challenges. They generally offer a series of puzzles instead of just presenting a random collection of puzzles. The various types of puzzle games are logical, physics, coding, hidden object games, trial-and-error, tile-matching, reveal the picture game, and the traditional puzzle game. Here are some of the best android games as listed below:
Solitaired
Solitaired offers an impressive collection of classic and new card games such as solitaire, freecell, klondike, and dozens more. The user-friendly platform is suitable for players of all skill levels as each game features a guide explaining the rules and strategies to excel.
Many of the games can be played in a variety of difficulty settings, and in addition, players can try out features like the undo, redo, and hint buttons. This, combined with customizable settings such as custom card decks and backgrounds makes Solitaired the premiere Android card-gaming app. Download Solitaired on Google Play or play solitaire online on their website.
Monument Valley 1 and 2:
The Role-Playing Game, commonly abbreviated as RPG, is a category where the players adopt the roles of the characters in a completely fictional setting. These players act according to the roles within a narrative, either through literal acting or via certain decision-making concerning character development.
There are several forms of role-playing games but the original one is sometimes called the tabletop role-playing game (TRPG). This is conducted via a discussion while in a live role-playing game has the players performing the actions of the characters physically. In both these forms, there is an organiser called the Game Master (GM) who generally decides the rules and the settings of the game. This GM acts as the referee and then the players take on to the single specific roles of the characters.
The several types of RPG existing in the electronic media are multiplayer text-based Multi-User Dungeons (MUDs), massively multiplayer online role-playing games (MMORPGs), and single-player role-playing video games. These online games generally emphasize on the character development and on the collaborative story-telling as they sometimes share the settings and rules of tabletop RPGs. The Best Mobile Games in this category are:
Genshin Impact: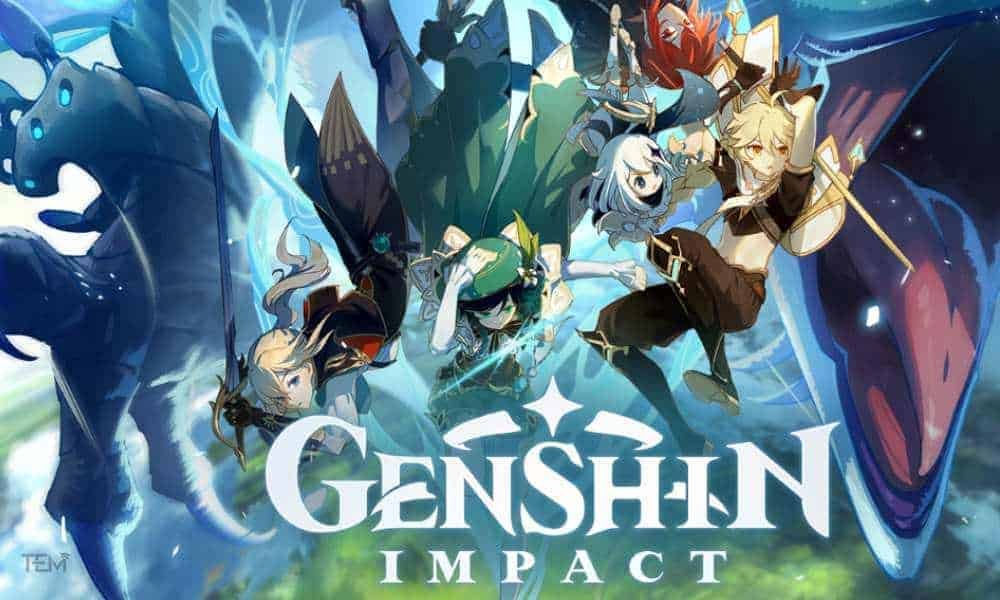 Genshin Impact is an action RPG which contains gacha mechanics. This game received a wide commendation because of its impressive visual settings and outstanding gameplay. This game features a fantasy-based open world and was released for Android, Microsoft Software, iOS, and PlayStation 4. There is some similarity with Zelda: Breath of the Wild, in terms of the looks and acts. The game has a party system wherein you can summon new gacha characters through a gacha system. This is an addictive game and is available for free.
Square Enix Games:

Square Enix is one of the best game developers who have started building mobile gaming apps from scratch and crawled their way to the top. They have seriously developed some of the best mobile games in recent times. The remakes of Final Fantasy 1-7 and 9, Chrono Trigger, seven Dragon Quest games, and Final Fantasy XV: Pocket Edition are very amusing to play and they are really worthy. These games are mainly free to play but it can vary for some games. Keeping aside these games, there are many others for strategy shooters enthusiasts namely Secret of Mana for an action RPG, Heavenstrike Rivals, and Final Fantasy Tactics: WotL for tactical RPGs. The additional freemium games like Dissidia Final Fantasy Opera Omnia and Final Fantasy Brave Exvius are entertaining and fun. Square Enix is definitely a champion of this genre without any doubt and these are some of the recent titles: Romancing SaGa Re; univerSe, SINoALICE, and FFBE War of the Visions.
Sports:
The sports is one of the oldest and famous genres in the gaming collection because it simulates the practice of sports. Most of the games are being created with the inclusion of team sports, track and field, extreme sports, and combat sports. In this category, there are some games which throw light on actually playing the sport whereas some games concentrate on strategy and sports management. Let us check out some of the best android games in sport genre:
eFootball PES 2020:
Platform Games:
Platform games are often simplified as platformers or jump-n-run games. These are characterised because of their heavy jumping and climbing to navigate the player's environment for them to reach their goal. Climbing, swinging from objects such as vines or grappling hooks, jumping off of walls, air dashing, gliding through the air, being shot from cannons or bouncing from springboards or trampolines are the mechanics which are often categorised as platforming. The below-mentioned games are some of the best android games for platform enthusiasts:
GRIS:

GRIS is an adventure game with puzzle-platformer elements, developed by a Spanish developer Nomada Studio for android, iOS, Nintendo Switch, macOS, and Microsoft Windows platforms. This game has sold over one million copies overall. In this game, there is a young girl named Gris, who is lost in her own world and deals with the painful experiences in her life. In this game, the players can explore her world, solve some puzzles, and enjoy as there is no death in this game. GRIS has no textual elements but tells the story visually. This game is amongst the best android games is available for $4.99.
Levelhead:

This game is featured by Butterscotch Shenanigans, the same developer of Crashlands. This game is a platformer game with 90 levels, surprisingly satisfying controls, and some extraordinary humour. What truly sets this game apart is the custom level building. This feature enables the players to create a new level and upload it in the game itself and the other players can download them. The most popular ones end up in the prestigious vault of the game. As this game has speedrunning features, each game comes with its own leaderboard. The game also comes with a cross-platform for cloud saves and covers all the bases for a mobile platformer. This game is for $6.99 and is free if you have the Google Pass Play subscription.
Nintendo Games:

Nintendo has a pretty decent number of android games and they all are good to play. Along with Super Mario Run, they have one premium game and many people believed it to be very expensive but mechanically, it is one of the best platformers on mobile. Some of the freemium games Nintendo has developed are Fire Emblem Heroes and Animal Crossing: Pocket Camp. These games can be the best despite Nintendo being rough around the edges sometimes. Nintendo games can be free or paid depending on the game to be downloaded.
Augmented Reality:
As the gaming industry embraced Augmented Reality, a number of games were developed using the same technology. AR technology has allowed the video gamers to experience gameplay in a real-world environment. The best example for this category is the Pokémon Go. The other games included in AR category are Harry Potter: Wizards Unite and Game of Thrones: Conquest.
Pokémon Go:

This game was launched in July 2016 and it immediately became the best android game of all times. It is quite similar to Ingress where the players walk around the real world to catch Pokémon, complete their little missions, a battle for Gyms and hit up the Pokestops for the restocking of items. It has regular updates and the recent features include an AR camera mode, new Pokémon, and a bunch of other neat stuff. This game is free for playing on both android and iOS platforms.
Strategy Games:
A strategy game mainly focuses on the skilful thinking and planning to achieve victory and it accentuates on the strategic, tactical, and sometimes also on the logistical experiments. The most famous android game in this genre is:
Legends of Runeterra:
Sims:
Sims is a simulation game genre which is generally designed to meticulously simulate the real-life experiences in the form of a game to train, analyse or predict. Generally, there are no strictly defined goals in the game, but the player is allowed to control the character or the environment according to his free will. The top android games in this category are as follows:
Minecraft:

Minecraft is a popular game for all the age groups and is developed by Mojang Studios. In this game, the player is expected to mine stuff, build stuff, beat up bad guys, and do pretty much whatever the player wants. Also, there is a survival mode wherein the player has to mine his own resources and food along with a creative mode that gives the player unlimited everything. The frequent and recent updates has added loads of new content and possibilities. The players can play on multi-player servers along with other players on the same platform. Minecraft comes at $6.99 along with some in-app purchases.
Stardew Valley:
(Content Writer)
Also Read,
Sustainability YouTubers Worth Subscribing For Green Life
The Real Tarzann: Michael Holston Stresses New Animal Education