Every good tree makes good fruits. And every good father makes a happy family. From teaching us how to ride our first bike to celebrating all of our life's victories, our dads have always been our constant source of strength and support. He has been your silent but a best friend for life. To make you feel special, we've compiled caring and sweet Fathers Day Wishes to celebrate all the joy of your father-hood.
Dads will always hold a special place in our hearts. Most ordinary but the men turned by love into heroes, adventurers, story-tellers, and singers of song. Here are Father's Day quotes to remain nostalgic about the good old days and feel what dads are supposed to do–be there.
"A father is a man who expects his son to be as good a man as he meant to be." — Frank A. Clark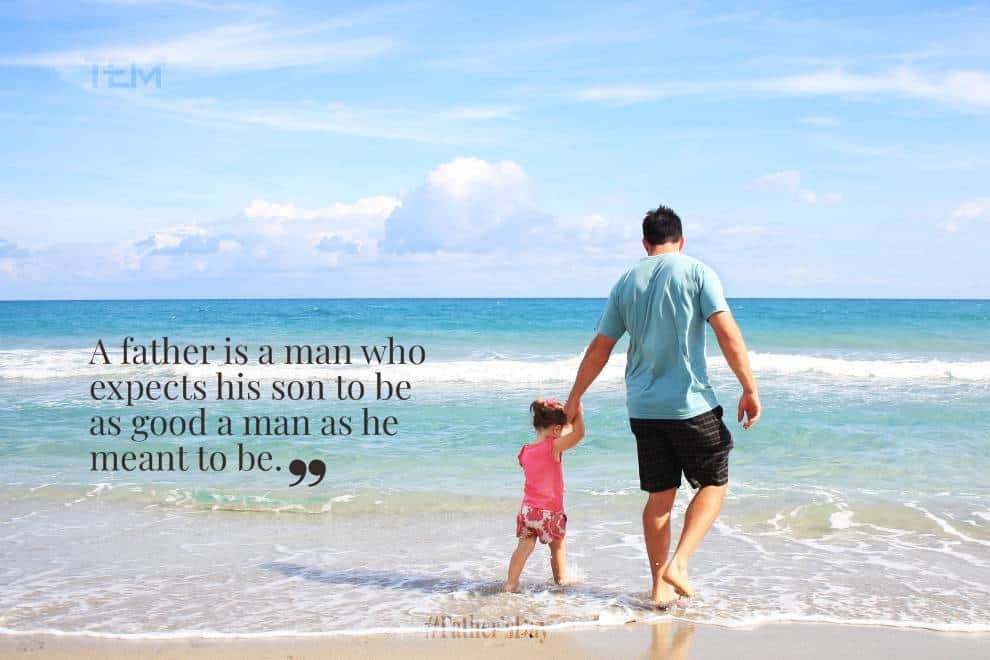 Like Father, Like Son
A child resembles his father in some way in terms of appearance or behavior. A father always wants to see his reflection on his child.
"The power of a dad in a child's life is unmatched." — Justin Ricklefs

Promotes inner growth and strength
A child looks to his father with the hope to get a feeling of security, both physical and emotional.
"It is a wise father that knows his own child." — William Shakespeare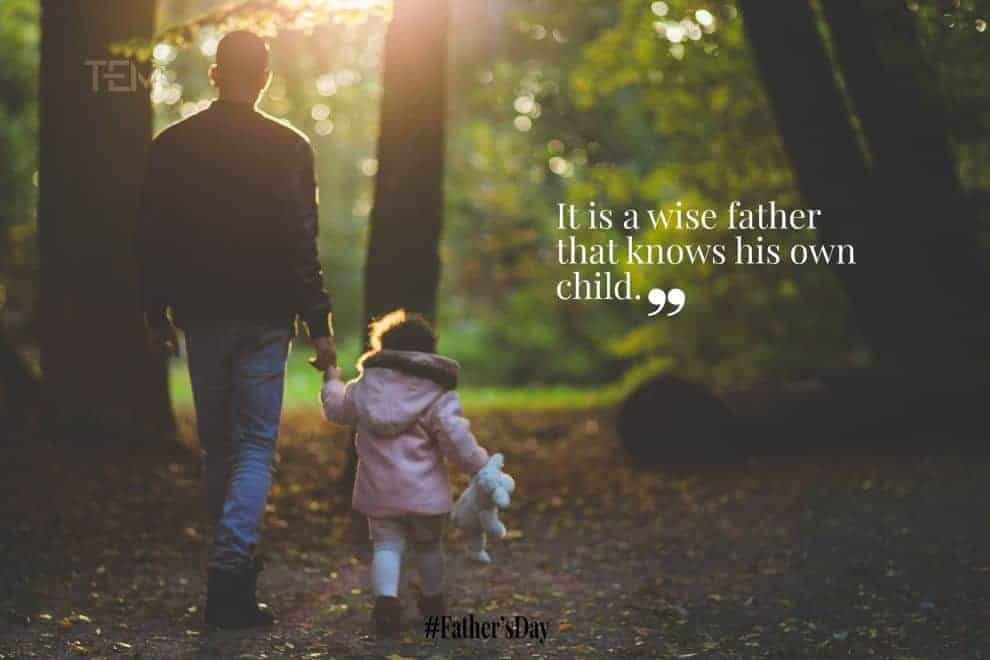 Fathers do figure out
A wise father observes his child's behavior every day and brings what needed to grow him.
"A father doesn't tell you that he loves you. He shows you." — Dimitri the Stoneheart

Love from a hero
A father is more particular, a guiding light whose opaque love shows us the way.
"One father is more than a hundred schoolmasters." — George Herbert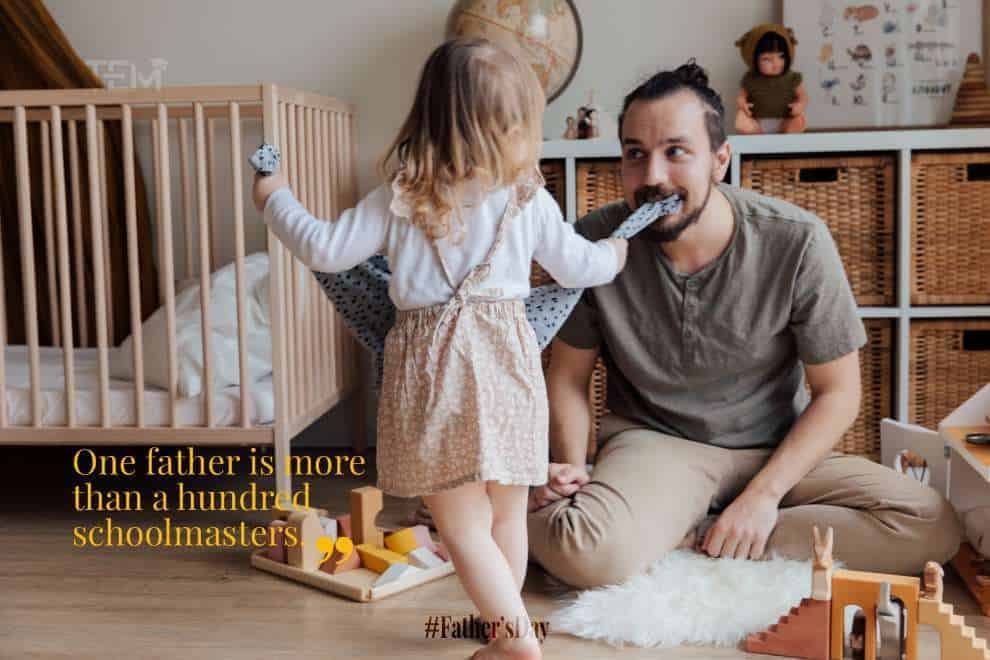 A father's effect
A father teaches the lessons that participate in family life. He spends a minimum amount of time together but spends the quality time to make most out of life.
"I cannot think of any need in childhood as strong as the need for a father's protection." — Sigmund Freud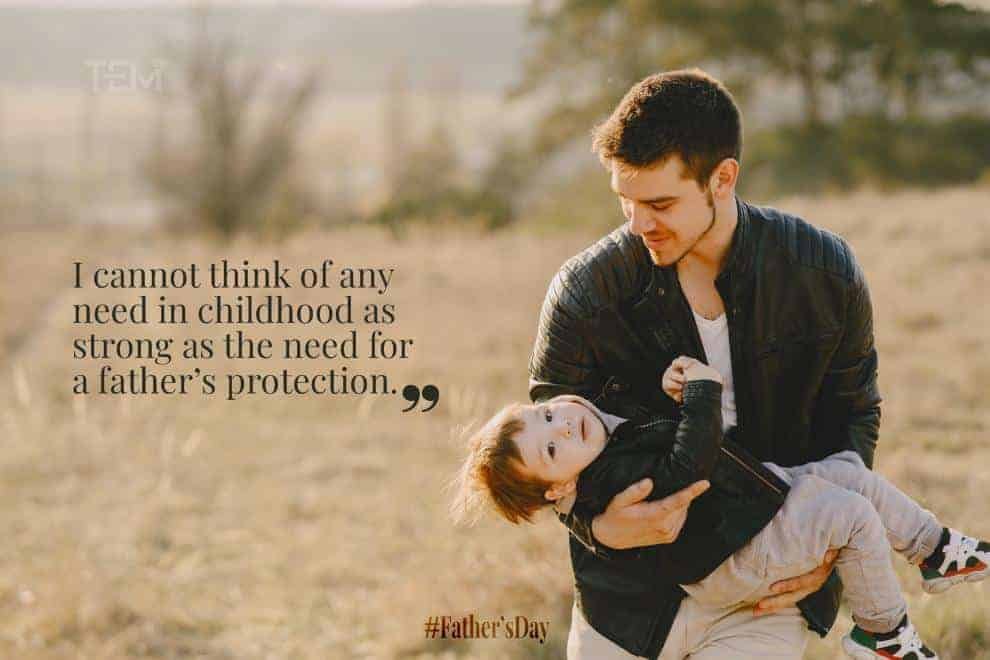 The strongest armor in childhood
A father's protection influences a child's psychological, cognitive, and social development. It strongly steers us toward well-being.
"It's the courage to raise a child that makes you a father." — Barack Obama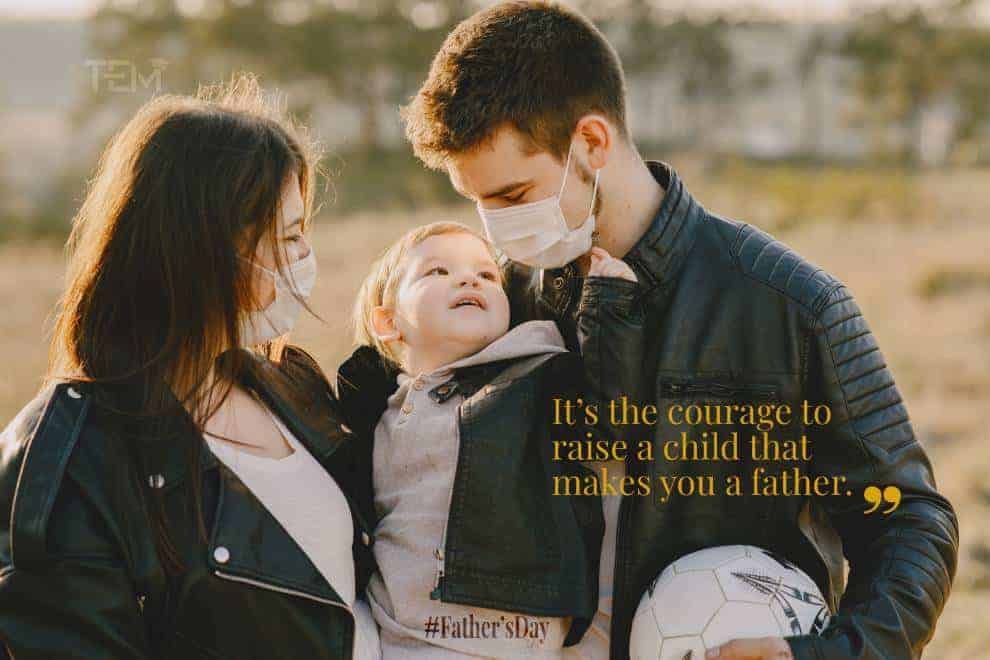 It's not only about having a child
Your dad was there guiding you through each step, from your school lessons to help you learn how to ride a bike.
"A girl's first true love is her father." — Marisol Santiago

Most potent moral force in her life
No one in this world can love a girl more than her father.
"The greatest mark of a father is how he treats his children when no one is looking." — Dan Pearce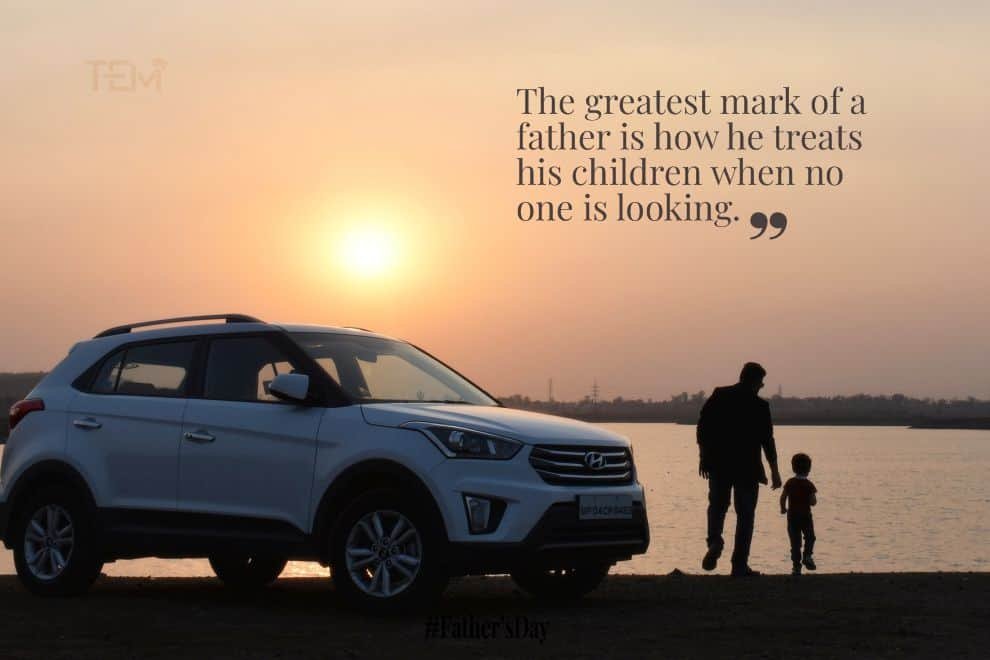 He never lets you stand alone
A father is someone who wants to catch you when you fall. Instead, he picks you up, brushes you off, and lets you try again.
"A father's smile has been known to light up a child's entire day." — Susan Gale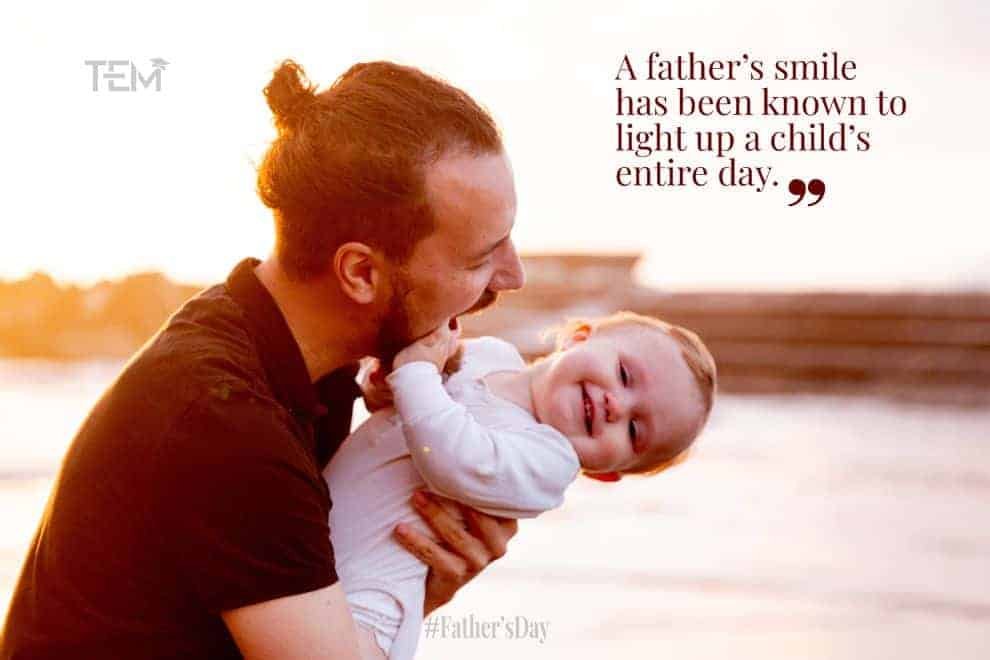 But he rarely smiles
Every son quotes his father, in words and in deeds.
 "When you need real understanding when you need someone to care when you need someone to guide you … A father's always there." — Thomas J. Langley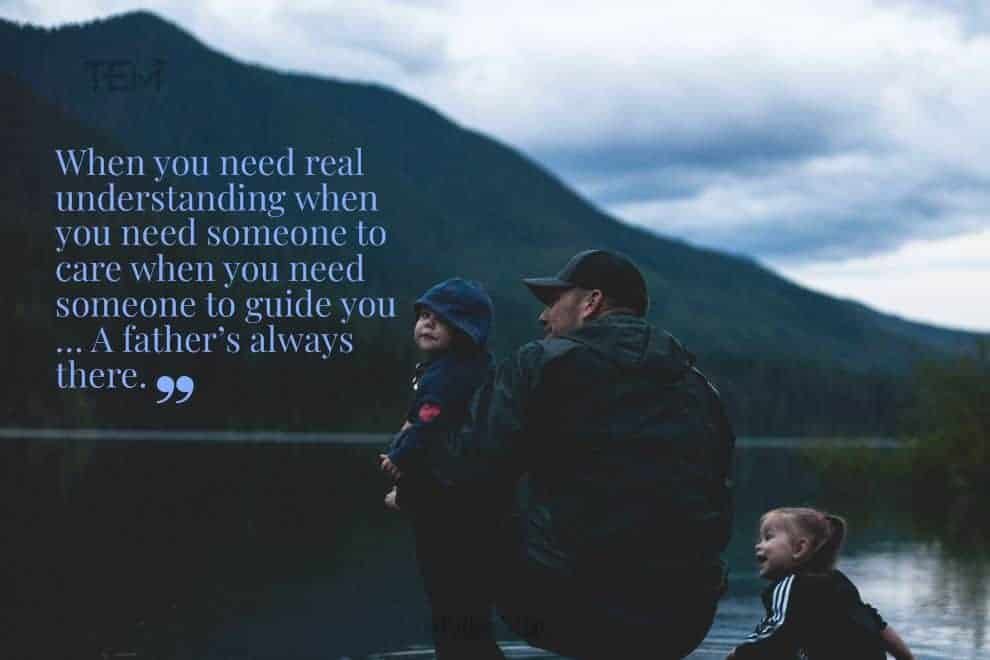 No matter where you are
When your father didn't have your hand, he had your back.
"What a father says to his children is not heard by the world, but it will be heard by posterity." — Jean Paul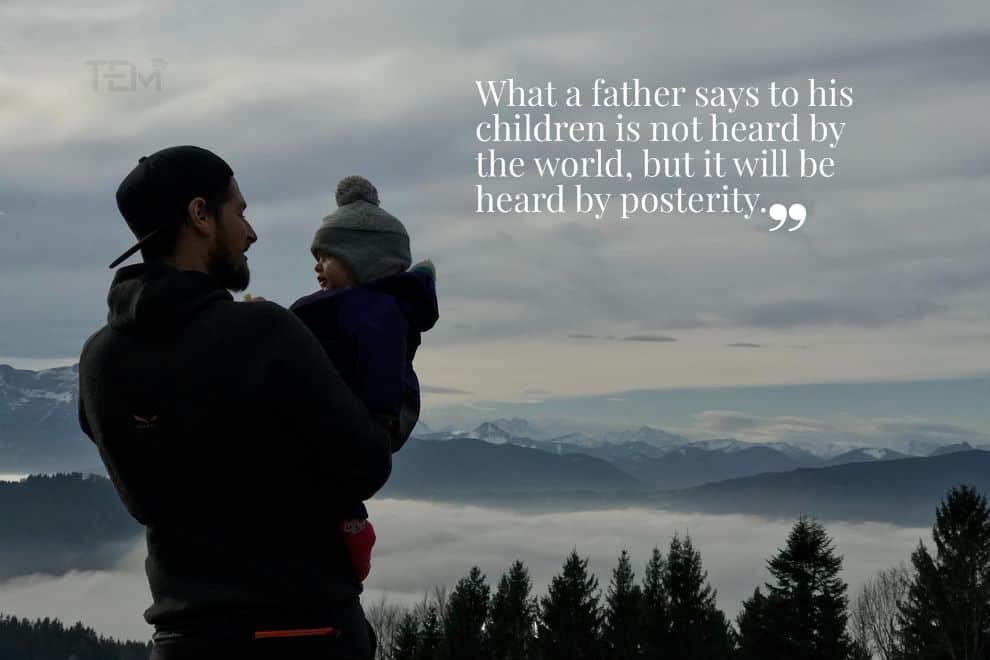 Sometimes your personal PR officer
He believed in you and made sure the world did too."There will always be a few people who have the courage to love what is untamed inside us. One of those men is my father." — Alison Lohman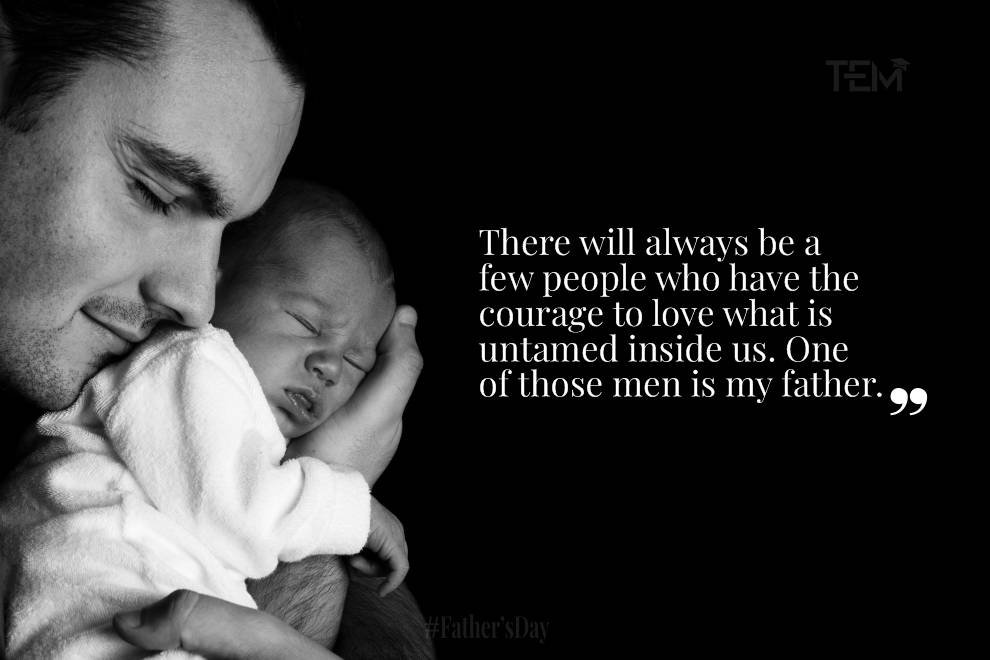 Actually, you never really know
True fatherhood teaches about unconditional love, pride, and inspiration.
"A man knows when he is growing old because he begins to look like his father." — Gabriel Garcia Marquez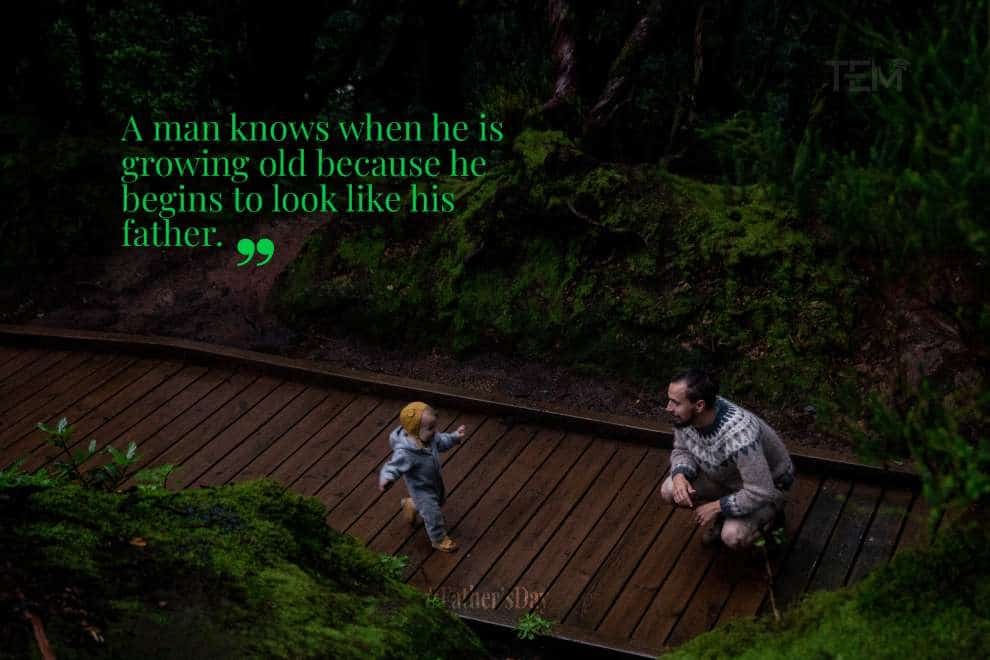 Even you share the same shoes
When you're young, you think you'll be Superman. Then you grow up and realize that you just look like your father.
"A man's worth is measured by how he parents his children. What he gives them, what he keeps away from them, the lessons he teaches, and the lessons he allows them to learn on their own." — Lisa Rogers

You never know till you become a parent
Your father taught you everything you know. Unfortunately, he didn't teach you everything he knows.
"A man never stands as tall as when he kneels to help a child." — Knights of Pythagoras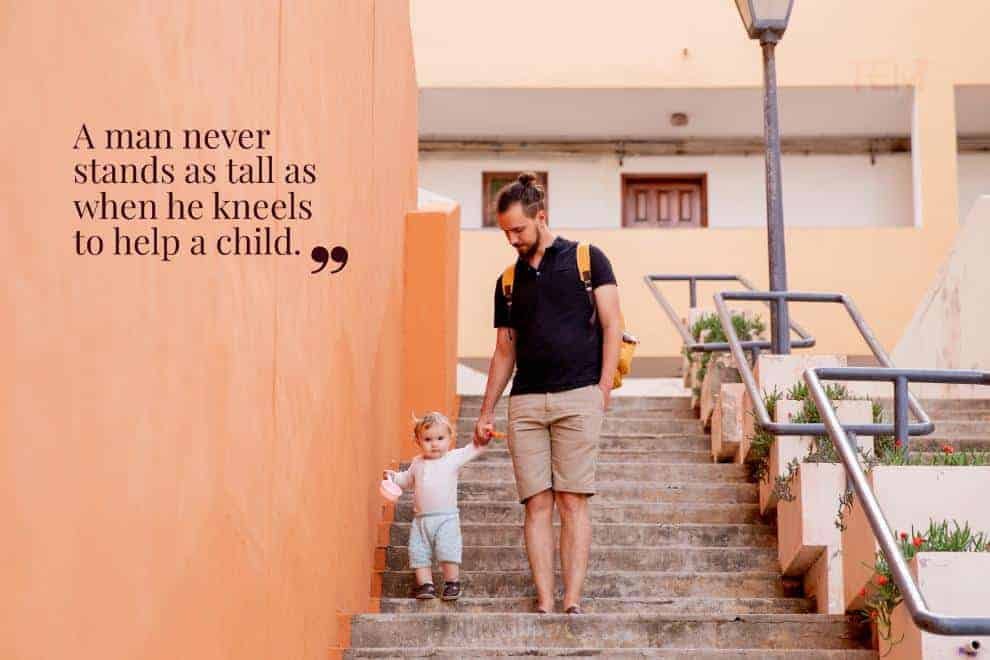 A father's right for shaping his child's future
He who kneels before his child to help stands to anyone and anything. He is someone you look up to no matter how tall you grow.
A good father is one of the most unsung, upraised, unnoticed, and yet one of the most valuable assets in our society. He is a guide, a counselor, a person who'll keep you in check and still manage to be your best friend. Fathers, we love them.
Consider pairing your upbringing with these Fathers Day quotes and celebrate your father-hood.
Also Read,
Inspirational Teachers' Day Quotes From Teachers And World Leaders
7 Things to Consider on International Education Day