With the fast-paced dynamics of education, various universities and colleges are offering multidisciplinary study programs by incorporating global trends and unique study requirements of students. Promoting broad-based interdisciplinary learning across various fields of study, Yale-NUS College is redefining liberal arts and science education for an interconnected world. It is currently recognized as a leading liberal arts and sciences college in Asia that offers a full residential program with integrated living and learning.
Yale-NUS College was established in 2011 through a partnership between the National University of Singapore (NUS) and Yale University. The college is home to a community of 1000 undergraduates, including 300 faculty and staff who hail from over 70 countries. The students and the staff are currently living and learning together on the college's purpose-built campus and harnessing diverse perspectives to make a difference in Singapore and beyond. Professor Joanne Roberts is the college's Executive Vice President (Academic Affairs) and President-Designate. She has been overseeing all academic and student programming, including admissions, financial aid, and others while working closely with the faculty and staff.
Offering Diverse Learning Experiences
Yale-NUS College's curriculum and pedagogy draw on the strengths of established traditions in the liberal arts and sciences while introducing students to the diverse intellectual traditions and cultures of Asia and the world. This interdisciplinary learning allows students to engage with various academic disciplines, multiple traditions and ways of interacting with knowledge. It also enables students to develop critical thinking, cross-cutting competencies and the skills needed to address global issues. All Yale-NUS students take the Common Curriculum, a two-year foundational program organized around fundamental questions (e.g. What does it mean to be human? How do we know what we know?) shared across the arts, social sciences and sciences vs specific to unique disciplines. This seeks to encourage a reflection on induction and deduction, fostering an appetite for discovery and an appreciation of the learning process.The courses have been designed in concert with one another and students are led to draw connections between multiple fields, discover links between the humanities, social sciences, and sciences, and connect these discoveries to topics and problems of contemporary society. Alongside the Common Curriculum, students begin to deepen their intellectual exploration through electives from the second semester of their first year.
Yale-NUS offers 14 majors. Students interested in topics such as public policy, computing, and others, can apply for concurrent degrees or special programs with the founding institutions of the college. In addition, the college's small classes emphasize student-led discussions that produce rich and challenging learning experiences. Such a setting ensures that students have extraordinary opportunities to work closely with faculty to conduct original research in laboratories, field settings, or to gather archival data, contributing to new knowledge and scholarship.
Pedagogical Curriculum
The full-residential program at Yale-NUS complements its academic learning by providing an immersive experience where living and learning are intertwined. The college is home to students from various countries who live and learn together on campus during their undergraduate years and explore and engage in diverse experiences in the community of learning. The Yale-NUS Residential Curriculum is an intentionally curated sequence of programs, discussions, and activities that students experience. It is designed to maximize learning, growth, and engagement opportunities outside of the formal classroom. Through committed engagement in the residential colleges, students become active community members, practice intercultural engagement, and learn the skills of self-care and care for others.
In addition, the Residential Curriculum complements the academic curriculum to nurture well-rounded graduates and prepares them to tackle everyday challenges. Other opportunities and resources offered by Yale-NUS include student-led organizations, athletic teams, intercultural engagement initiatives, wellness programming, and professional counseling services. Experiential learning is also an integral part of the student experience at Yale-NUS College. Believing that learning occurs inside and outside the formal curriculum, exposure to experiential learning helps students explore themes of the Common Curriculum outside the classroom–and continues throughout their undergraduate experience in many forms.
Leadership programs also offer students the opportunities to develop skills and generate a positive impact. About 70% of Yale-NUS students spend a semester abroad, gaining authentic international perspectives and cross-cultural experiences. These diverse experiences collectively equip Yale-NUS students with the means to appreciate and understand complex issues, the capacity to think critically and solve problems along with the skills to communicate effectively and lead.
Facilitating Technology Incorporated Learning
Yale-NUS offers various means of technology-incorporated learning. These include a wide range of laboratories, field resources and computing infrastructure. Its fabrication studios offer customized support in building research prototypes to meet the needs of faculty and students across the Sciences, Humanities, and Social Sciences.
To enhance teaching, promote learning, and enable research, the College's Educational Resources & Technology team works dynamically and in an integrated fashion to support the College's innovative and holistic approach to education. Moreover, resources such as the College Library, art spaces and facilities, and technological solutions support the diversity and richness of intellectual stimulation at Yale-NUS.
In addition, the Library provides a variety of spaces and technology to cater to different learning styles and preferences. Art spaces, which include a Performance Hall, Black Box Theatre and visual arts studios, support students' curricular learning and personal projects. The classrooms at Yale-NUS are equipped with the required technology to enable an optimal e-learning experience. Moreover, students who are overseas are able to continue accessing their required readings on the college's learning management system, and access library e-resources.
Commitment to Diversity, Equality and Inclusion
The Yale-NUS College intentionally cultivates and celebrates diversity, with the international students making up to 40% of each cohort. It ensures diversity within the student body with a robust financial aid program that is available to all students. To create inclusive classrooms at Yale-NUS, the college adopts inclusive pedagogy. Under this initiative, its teaching and course design places enthusiastic and empathetic attention on student and faculty differences, harnessing the full learning potential of diverse classrooms.
In addition, Yale-NUS's commitment to diversity, equity and inclusion (DEI) is reflected through its living-learning communities, student life programming, and support services which include accessibility features, gender-neutral housing and bathrooms, and many more. The college also continues education on various topics related to DEI and provides it throughout the year for students, faculty and staff. These include initiatives such as the Intergroup Dialogue and the annual Diversity Week, an eight-week course and a weeklong event respectively.
Distinguishing in the Marketplace
Yale-NUS students graduate with Bachelor's degree in Arts or Science along with skills and aptitudes that are highly sought-after in the marketplace. Moreover, the graduates live across five continents in cities with diverse populations and work across diverse sectors such as technology and startups, finance, public sector, consulting, and others. Students graduating from Yale-NUS pursue their further studies from leading institutions where they obtain prestigious fellowships and scholarships.
Yale-NUS graduates stand out by distinguishing themselves among a plethora of graduates worldwide. A liberal arts and sciences degree has the potential to offer several skills such as the ability to manage a diverse workforce, to make connections across disciplines, working across cross-cultural teams, and others that are highly valued by employers. Education at Yale-NUS offers an experience where every student has an international along with an internship experience that offers a key competitive advantage as they seek to distinguish themselves in the marketplace.
The college emphasizes interdisciplinary learning where its programs prepare students for the world beyond Yale-NUS. As a result, this enables students to hone their abilities to communicate and show potential employers and graduate or professional schools what they are passionate about and excel in. In addition, Yale-NUS College takes pride in cultivating an ethic of service in its community. Its students have the flexibility and imagination to adapt and solve problems in the ever-changing landscapes while harnessing different perspectives to create a world of impact not only in Singapore but beyond.
Note to Students: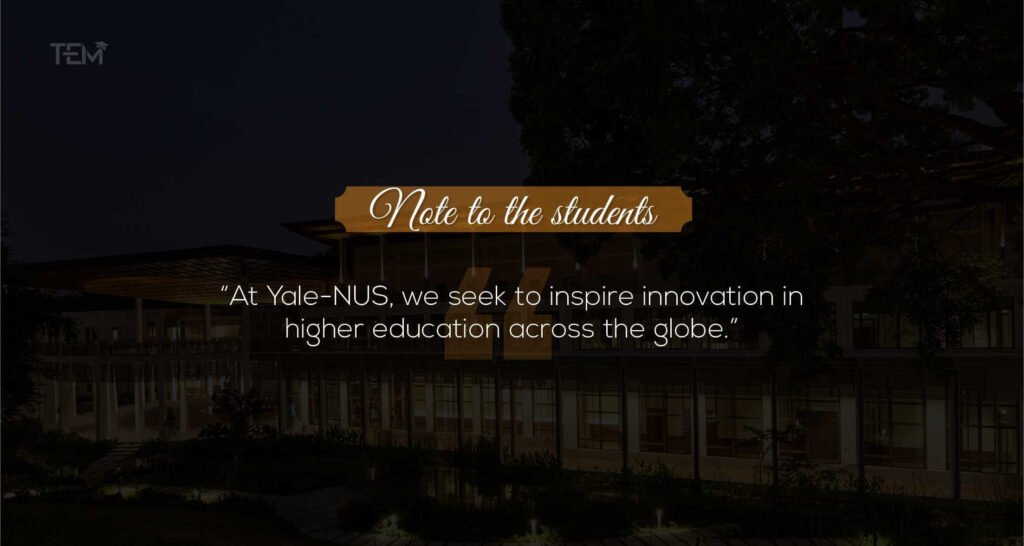 Also Read: 10 Most Prominent Arts and Science Colleges, 2022