Personality, self- and people-management, and the ability to run a department or an entire business are three essential qualities required to propel oneself forward in the hospitality industry. Education in hospitality management or a relevant concentration is helpful to build a generation that serves people in a professional manner. With the purpose of providing quality education in hospitality, many universities and colleges offer hospitality programs. However, Pacific Link College is an exception.
Pacific Link College (PLC) provides high-quality, innovative and practical hospitality education. Established in 2011, the college is creating innovative programs to help students achieve their dream careers in the hospitality industry.
Distinguished Beginning
Previously, Pacific Link college was established as a language school. In 2017, it introduced career-focused programs specialized in IT, business, and hospitality fields and expanded from its first cohort batch of 100 students to 1000 students per year presently. Its first career-centered campus is at Guildford, Surrey, British Columbia, while the second campus is located in Burnaby.
PLC has grown significantly due to its strong focus on student services and assistance as well as quality teaching techniques. Its hospitality-related programs focus heavily on skills such as management and business development, both in terms of course content and co-op. The college provides paid internships where students are offered opportunities to practice those skills they acquire during the courses. One of the most popular programs offered by PLC is its 2-year Business Hospitality Management Advanced Diploma.
Versatile Programs
PLC has expanded internationally and strives to provide global exposure and professional experience to students. The college affirms that hospitality is a global work sector— one that PLC is familiar with, with its partners across the globe, from Dubai to Singapore. The hospitality programs offered by PLC draw on international partnerships from various countries.
PLC has connected with highly trained and talented industry professionals who guide the students. Students receive certificates for components such as hosting, along with hands-on experience in co-op. Within its hospitality faculty, the college offers three programs:
A 2-year Business Hospitality Management Advanced Diploma
A 1-year Tourism, Hospitality, and Service Co-op Diploma (Shorter Canadian Workspace skills)
A 2-year Global Restaurant Entrepreneurship Diploma (New addition)
All the programs include a co-op that offers paid internships in the industry. Through these programs, graduates acquire a deep understanding of hospitality management, exceptional marketing skills and techniques, excellent public speaking skills, and real experiences in the industry. Additionally, PLC's co-op programs offer flexible study formats such as combined learning (online+offline), industry-leading faculty, and a robust student support system.
Fostering Diverse Culture
PLC has expanded its education at a global level, with numerous international students pursuing hospitality management at the campus. The college has emphasized the importance of diversity on-campus where students, faculty as well as the staff are encouraged to celebrate diversity. Since 2018, PLC has primarily focused on diversity. The college hence hosts a student body that includes 90% international students and advisors who can speak more than 15 languages. Moreover, it celebrates multicultural events such as Holi, Eid, Chinese/Tet New Year, and many more cultural festivals throughout the year on its campus.
Providing Practical Education
Practical education is vital for students as it is applicable in future careers. With that said, PLC's structure focuses more on labs/practical learning environments rather than emphasizing lectures. The college also offers co-curricular and extra-curricular programs to increase student engagement. Its extra curriculum includes field trips, guest lecturers from the industry, and practical learning exercises.
Preparing for Industry
Over the past 20 years, the hospitality industry has undergone significant growth, both in terms of job opportunities and quality education. Career opportunities demand exceptional skills and knowledge in the industry. PLC focuses on providing quality, innovative and practical education. Students are taught the newest ideas in the industry that qualify them for work in the fast-paced world.
Through the hospitality program offered by PLC, students gain the ability to acquire industry experience in various fields. These include hotels, airline companies, cruise ship companies, recreational resorts, motels, convention & catering firms, private inns, and tour companies.
PLC provides career-focused programs and numerous career opportunities. Additionally, the paid co-op is a part of each program.
The co-op department works with every student to find and prepare them for work opportunities in hospitality, tourism, and restaurant service. It also takes follow-ups of students to the end of the co-op to ensure each student has a rewarding co-op work experience.

Future Preparation
Strategic initiatives by PLC are helping it grow nationwide and worldwide. Quality education attracts students around the globe and the college plans to expand education in hospitality and the presence of the college in Canada as well as outside the country. For this, it is planning to add a new campus in Montreal, Canada. Along with its hospitality study programs, PLC plans to introduce programs to fulfill the human resource demands in Canada that include trades, healthcare, and information technology.
PLC has envisioned developing a full independent campus that can provide education to 5000 students by the year 2030. The college has also planned to establish partnerships with the governments and ministries of many countries, adding to ones it already holds such as that with the ministry of education of Morocco.
Within the hospitality faculty, the anticipated program for the upcoming year is a post-graduate diploma in hospitality. PLC proudly admits that this particular program has been requested by students, professionals, and institutes around the world. The PG diploma program will be ready by the fall of 2022.
Note to the students: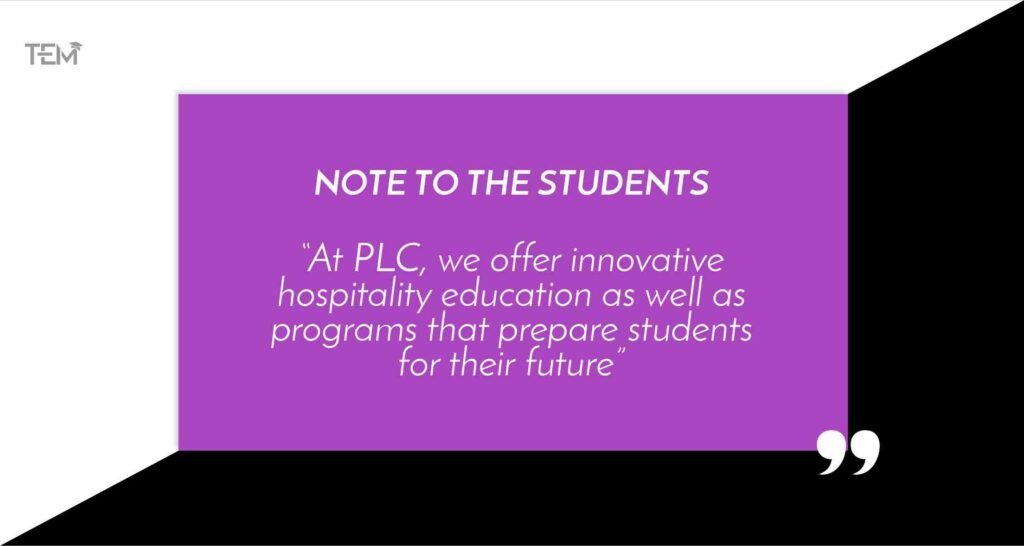 READ MORE: The 10 Best Hospitality Institutes to Look out for in 2022