Online learning is the future of higher education. The pandemic accelerated the entire education system and emphasized the importance of distance education by introducing new methods of learning. Online learning is one of the latest educational advances that has been accepted by the world at every level. It increases accessibility, flexibility, and affordability.
Many universities have started providing online education in which students can study asynchronously at any time from anywhere in the world. However, there are very few universities that offer affordable as well as excellent quality online education for all students.
University of the People (UoPeople) is one such educational institution that makes higher education available to all qualified applicants. It is the first online, tuition-free, American, accredited university that provides affordable quality education.
Inspired by a Visionary Founder
With the belief that education is a human right, educational entrepreneur Shai Reshef established the University of the People in 2009. He decided to create an entirely new university that provides affordable, equitable, and accessible education opportunities to the maximum number of people around the globe.
UoPeople also serves the purpose of promoting world peace and global economic development. Over the last five years, the institute has seen significant growth in its enrollment. It has doubled its enrollment every year with an increase from 44,000 students to more than 117,000 students during the past year. Today, UoPeople is recognized as the fastest-growing online university in the world.
Effective Academic Programs
University of the People is popular for its online tuition-free university programs that are designed by leading academic minds to help the students advance in their careers. All courses are led by qualified faculty members and they guide and support students throughout each course. The university offers associate and bachelor's degree programs in business administration, computer science, and health science as well as graduate level MBA, M.Ed. and MSIT programs.
Additionally, UoPeople offers a variety of certificate programs in business and health sciences. These programs enable students to gain a comprehensive education and extensive understanding of business and the tools needed for the industry as well as science related to community health and development. In addition, the computer science programs provide theoretical and practical knowledge of analyzing and managing IT networks and systems for the constantly changing IT industry.
All learning materials and textbooks at UoPeople are Open Education Resources (OER) and are available for free. The courses are designed using reading assignments and other OER materials carefully selected by the faculty and course developers. An online Learning Management System (LMS) is used by the university to deliver the courses.
Exclusive Approach to Online Education
UoPeople aims to provide access to higher education globally and helps qualified high school graduates overcome financial, geographic, political, and personal constraints that keep them away from education. The university's mission and educational model differs from other online universities. It is dedicated to providing higher education opportunities to as many people as possible, regardless of their financial state. Instead of offering a variety of programs, it offers education in the sectors having the greatest demand in the job market.
Known for its affordable education, UoPeople's innovative and sustainable higher education business model provides quality accredited programs that cost up to 95% less than the fees charged by other American universities. The university does not charge any tuition and all the course materials are free to use.
The university must charge some fees to keep its operations running and to maintain high-quality academic programs and services to students. UoPeople charges a one-time $60 application fee and a nominal assessment fee of $120 at the end of each undergraduate course and $300 for each graduate-level course. Students can complete their bachelor's degree for $4,860 or less than $4,000 for a graduate degree. To fulfill the mission that "no qualified student is left behind,"UoPeople offers various scholarships for those who are unable to afford the modest course assessment fees.
Effective Distance Learning Programs
To be effective, online learning programs need to offer accessible and quality education through flexible, affordable and accredited degree-granting programs. The learning methods need to be adjusted in order to build communication and cooperation among students.
With that said, UoPeople's idea of effective distance learning involves employing peer-to-peer learning. Peer-to-peer learning pedagogy makes sure that students spend time learning together and interacting with each other on a regular basis while assessing each other's work and collaborating on group work.
Robust Online University Culture
There is a significant difference between face-to-face and digital social interactions in education. Faculty need to be trained on how to teach online and how to best address the challenges online students face that include motivation, self-discipline, and the ability to learn independently. A robust university culture needs to be created online so students do not feel isolated. This includes providing students with support services and academic advising.
Ensuring a smooth learning process and students' success, UoPeople strives to create a balance in online education with human touchpoints that include student advisors, study spot-checks, and well-trained faculty.
Boosting Student Participation
UoPeople's robust learning environment results in maximum student engagement. All the courses are taught by qualified and experienced faculty. They also guide and support students throughout each course. On an average, each class has 20 students and the student to faculty ratio is 14:1. These small classes and the international composition of the student body encourage student participation. Compulsory online discussion forums and peer-to-peer reviews in small classes with personal attention increase students' engagement. Additionally, students make connections from all around the world that boosts their participation in online classroom discussions.
Strengthening Future Education
UoPeople provides an array of excellent online programs in numerous disciplines. It is constantly looking for ways to strengthen its academic courses and enhance the quality of its programs while adding value to its degree programs. In addition, the university consistently reviews and makes assessments of its courses to ensure they meet high standards.
Message to Students: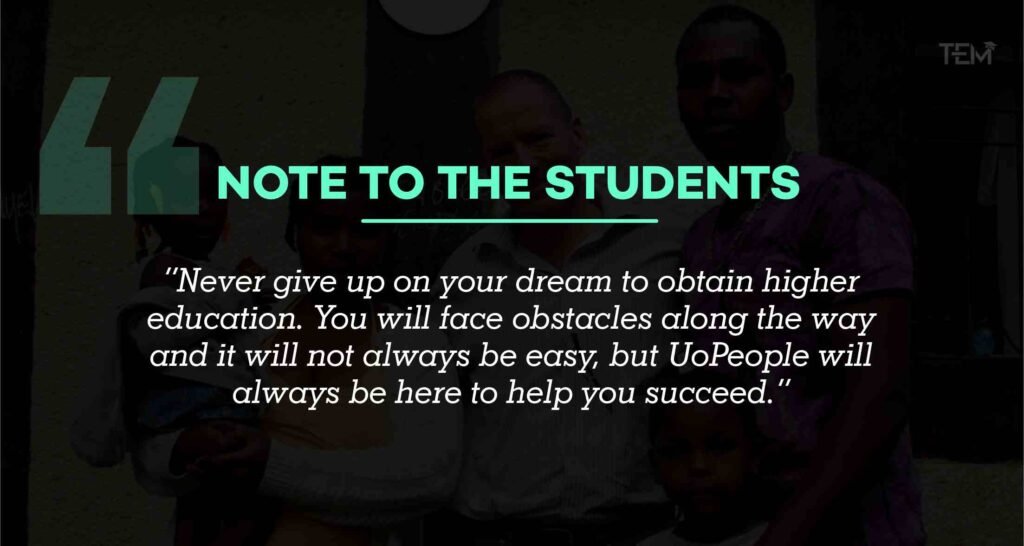 ALSO READ: The 10 Best Distance-Learning Institutes to look out for in 2022